Penpix of the Australia squad that will play the cricket World Cup final against New Zealand at the Melbourne Cricket Ground on Sunday
Michael Clarke, 33, right-handed batsman. 244 matches, 7907 runs, wickets 57. Highest score: 130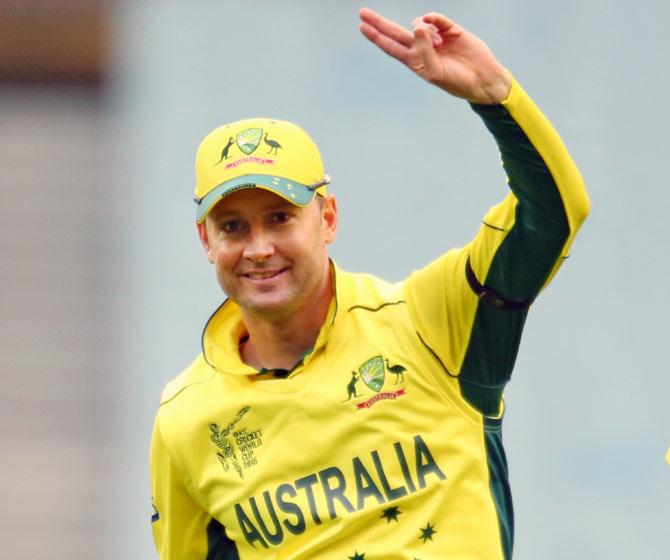 Australia captain Michael Clarke gestures. Photograph: Scott Barbour/Getty Images
Returning from a hamstring surgery, Clarke played his first match of the tournament in the narrow defeat to New Zealand.
Will New Zealand bully 'big brother' Australia? Tell Us!
Dharmasena, Kettleborough to take charge of World Cup final
How the underarm incident changed cricket's fate in New Zealand
Apart from being one of Australia's finest batsmen, Clarke's creative approach to the captaincy has been key to his country's revival.
One of only five squad members to have played at the World Cup before, he knows what it takes to win the title even if he has not set alight the tournament with his bat.
George Bailey, 32, right-handed batsman. 57 matches, 2017 runs. Highest score: 156
After relinquishing the Twenty20 captaincy and with a test recall unlikely, Bailey is a rarity in the squad as a 50-over specialist.
His 478 runs at an average of 95.6 as stand-in skipper on the 2013 tour of India established him as the go-to man when Clarke is injured.
With Clarke back in side, Bailey is set to sit out of the final.
Pat Cummins, 21, right-arm fast bowler. 12 matches, 19 wickets
Few bowlers have made more of an impression on their test debut than Cummins did as a teenager when his 6-79 led Australia to a two-wicket victory over South Africa at Wanderers in November 2011.
While the last three years have been mainly spent recovering from back and foot injuries, his body has held up well enough this season to gamble on selecting him in their youthful pace attack.
With Josh Hazlewood cementing his position as the third seamer in the side, Cummins may have to bide time.
Xavier Doherty, 32, left-arm spinner. 60 matches, 55 wickets
Doherty was a controversial selection ahead of test spinner Nathan Lyon but has not had much game time on the pace-friendly Australian pitches.
With Glenn Maxwell, Steve Smith and Michael Clarke all able to offer a part-time spin option, Doherty is unlikely to get an opportunity in the final.
James Faulkner, 24, all rounder (left-arm pace, right-hand bat) 43 matches. 814 runs, HS: 116; 57 wickets, BB: 4-48
The left-arm seamer is one of the first names on the squad even though he missed the first half of the group stage with an abdominal injury.
Faulkner can swing the ball both ways, has good control and has developed into a ruthless finisher who can be relied upon to get Australia over the line.
Aaron Finch, 28, right-handed batsman. 48 matches, 1,727 runs. Highest score: 148
The big-hitting opener has had a stop-start international career but always forced himself back into the reckoning by weight of runs.
The 156 he hit off 63 balls with 14 sixes in a Twenty20 against England in 2013 illustrated his brutal firepower in the shorter forms of the game.
Brad Haddin, 37, wicketkeeper. 125 matches, 3122 runs. Highest score: 110. Dismissals: 179
A tough competitor with a sure pair of hands, Haddin seems to have been on the verge of losing his place as Australia's first-choice wicketkeeper for the last four years.
His ability to launch a lower order counter-attack and his contribution to the leadership of the group have helped keep at bay the contenders to his spot behind the wickets.
Josh Hazlewood, 24, right-arm fast-medium bowler. 12 matches, 19 wickets
Long compared to fast bowling great Glenn McGrath, Hazlewood was one of the youngest players to play one-day cricket for Australia when he made his international debut in 2010.
The right-arm quick has played only seven matches since but all but one of them were this season and he grabbed his first five wicket-haul in a losing cause against South Africa at the WACA in November.
Seems to have cemented his place as the third seamer.
Mitchell Johnson, 33, left-arm pace bowler. 152 matches, 236 wickets. Highest score: 73 not out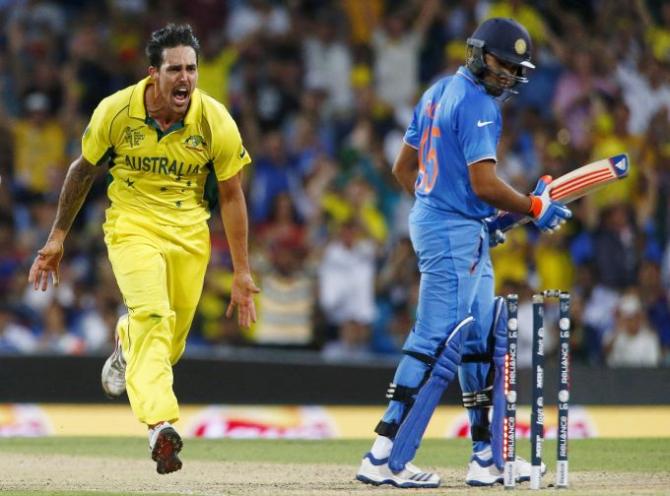 Australian bowler Mitchell Johnson (left) celebrates after dismissing India's Rohit Sharma during their World Cup semi-final match in Sydney. Photograph: David Gray/Reuters
Described by Dennis Lillee as a "once-in-a-generation bowler," the tall pace bowler now has two ICC Cricketer of the Year awards.
After spending a long period in the doldrums, Johnson returned to form with the white ball on the 2013 tour of India and has barely put a foot wrong since.
His 236 wickets at 25.45 in 152 ODIs tell only part of the tale of one of the few bowlers who can genuinely scare a batsman and turn a match in a couple of spellbinding overs.
Mitchell Marsh, 23, all-rounder (right-handed bat, right-arm medium) 17 matches, 451 runs, 11 wickets. Highest score: 89
Another of Australia's band of young all-rounders, Marsh's career has been plagued by the same hamstring problems that have dogged his brother Shaun.
Assured performances in his first two tests in the ill-fated series against Pakistan last year gave him the chance to put together a sustained run in the international game.
Glenn Maxwell, 26, all rounder (right-handed bat, right-arm off-spin). 48 matches, 1367 runs, HS: 102; 33 wickets, BB: 4-46
An enigmatic and destructive batsman, he will have to go some way this year to erase the memory of his embarrassing golden duck in a T20 tournament in December, where he shouldered arms to a straight ball.
The brain freezes, though, are the trade-off for a potential match-winning talent with both bat and ball, as he proved in the final of the tri-series against England earlier this month.
Maxwell has enthralled fans with his breath-taking 360-degree batting and scored his maiden ODI century against Sri Lanka.
Steve Smith, 25, right-handed batsman, occasional leg-spin bowler. 57 matches, 1,493 runs, HS: 105; 27 wickets, BB: 3-16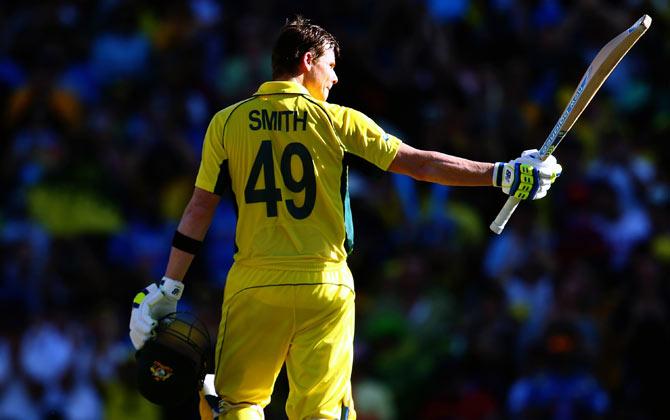 Steven Smith celebrates after reaching his century. Photograph: Mark Kolbe/Getty Images
Smith burst onto the international scene in 2010 as a leg-spinning youngster who could make useful contributions with the bat.
Having long put bowling on the back burner, his form with the bat earned him the test captaincy when Clarke was injured late last year.
Scored a career-best 105 that secured Australia's semi-final victory against holders India.
Mitchell Starc, 25, left-arm fast bowler. 40 matches, 81 wickets, BB: 6-28
The other left-armer in Australia's pace attack, Starc deputised for the rested Johnson in the triangular series against India and England and was impressive with the new ball.
His 6-43 in the victory over the world champions in Melbourne helped take his career haul to 61 wickets at a shade over 20 runs apiece.
Starc has emerged as the best Australian bowler in the tournament and his tally of 20 wickets makes him second only to New Zealand's Trent Boult (21) in the wicket-takers' list.
David Warner, 28, left-handed batsman. 61 matches, 2002 runs, HS: 178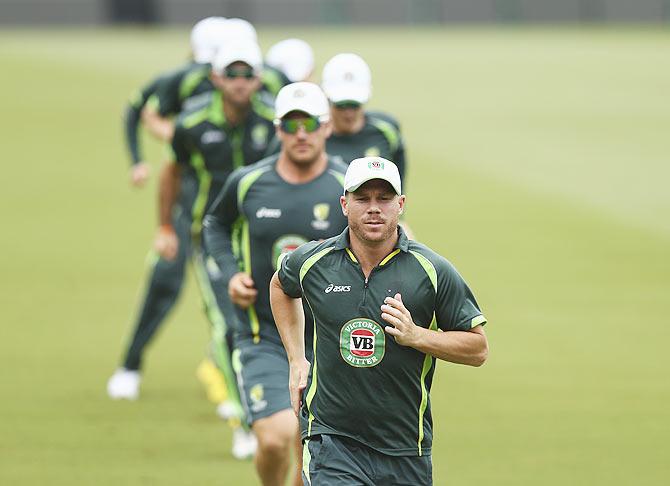 David Warner of Australia trains during a nets session on Tuesday. Photograph: Ryan Pierse/Getty Images
Aggressive, belligerent and when in full flow one of the most destructive batsmen in the modern game, Warner is a fixture in Australia's opening partnership.
His one-day batting average of 34 is a good 14 runs lower than in tests, however, and he has possibly suffered from being rested from two one-day tours in the last couple of years.
His 127 runs off 115 balls against England in Sydney in January amply showed his potential value to the team.
Warner blasted a career-high 178 against Afghanistan but is yet to register another significant score in the tournament.
Shane Watson, 33, all rounder (right-arm medium pace, right-handed bat) 186 matches, 5684 runs, HS: 185 not out; 166 wickets, BB: 4-36
Watson is a belligerent batsman and a World Cup winner in 2007 but often seems to throw his wicket away with a rash shot when looking set for a big score.
When free of the injuries that have plagued his career, Watson is always likely to contribute to his team's cause with 10 tidy overs and a wicket, often a key one.
Dropped for the match against Afghanistan, Watson has made a comeback in the playing side where his experience has stood Australia in good stead.