Former IPL Commissioner Lalit Modi says it is "nonsense" to let BCCI dictate terms on the usage of Decision Review System and the ICC should ignore the Indian Board's rejection to make DRS mandatory in every international series.
"...it is now high-time the ICC took a stand to invoke consistency across world cricket. It is nonsense to allow an individual body to dictate an inconsistent policy to the rest of the world," Modi wrote on his website.
"DRS was considered reliable enough for the World Cup and the technology should now be fully embraced. Otherwise, the public will lose faith in a product that television companies across the world will independently show is continually flawed. Cricket must use it or risk its credibility. The ICC cannot let the BCCI dictate any longer," he said.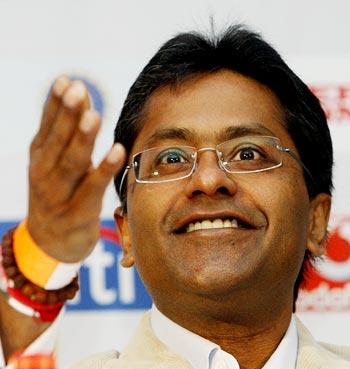 BCCI maintains that DRS is not 100 per cent accurate without the hot-spot and snickometer technologies and refused to allow its usage in next month's series against England.
"It is disappointing to see the BCCI continuing to turn its back on the wider use of the technology during India's tour of England this summer," he said.
"DRS was in use and apparently working effectively during last winter's Ashes series and the recent World Cup. But it won't be used in England because the BCCI continues to oppose technology the ICC clearly believes is reliable, accurate and significantly improves decision-making," he added.
The BCCI, which has opposed DRS since its very inception, has been facing flak from several countries for refusing to use the technology in Test matches. Recently English players such as James Anderson, Graeme Swann and Chris Tremlett criticized the Indian cricket board for rejecting it for next month's Test series.
In fact, Swann went on to suggest that India was intimidated by the prospect of losing out on close calls due to DRS.
Indian cricketers in batting maestro Sachin Tendulkar and captain Mahendra Singh Dhoni are opposed to it in its current form, while Rahul Dravid and Virender Sehwag have, in the past, supported it.
- Tendulkar all for DRS but with Hot Spot and Snickometer
- Former India coach Gary Kirsten bats for DRS
Tendulkar recently stated that he was not against the system as such but would want it to be more consistent by incorporating Hot Spot and snickometer for close LBW and caught-behind decisions.
Dhoni has repeatedly said he was not comfortable with a product that does not come with a life warranty.
However, neither Hot Spot nor the Snickometer, is part of the ICC's list of minimum technology requirements for the DRS.
Seeking to put a lid on the controversy, the BCCI issued a statement on Saturday that it does not consider DRS reliable in its present form.
"The BCCI would like to reiterate that it does not accept the reliability of the ball-tracking technology, which is an integral part of the DRS. The BCCI's position has been consistent," the Indian Board said.
© Copyright 2021 PTI. All rights reserved. Republication or redistribution of PTI content, including by framing or similar means, is expressly prohibited without the prior written consent.