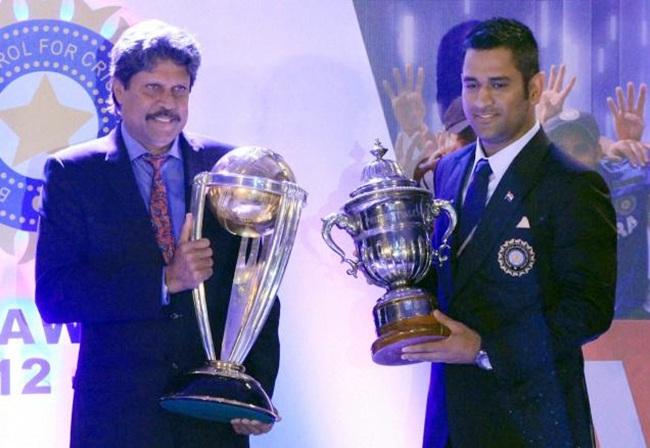 Image: Mahendra Singh Dhoni with Kapil Dev, left. Photograph: PTI
As the teams fine-tune their preparations for the 2015 World Cup, there were no surprises in India's preliminary list of 30 probables for the mega event in Australia and New Zealand.
- Yuvraj, Sehwag, Bhajji left out of World Cup probables list
Apart from captain Mahendra Singh Dhoni, the other survivors from the 2011 World Cup-winning squad are Virat Kohli, Suresh Raina and Ravichandran Ashwin.
The 33-year-old Dhoni, who led India to the title last time around, will be playing his third World Cup.
He believes India can become only the third side in history to clinch back-to-back World Cups by winning the tournament Down Under after their triumph at home in 2011.
Dhoni's winning six that took India to victory in the final against Sri Lanka at the Wankhede stadium in Mumbai not only helped clinch a second World Cup crown after 1983, but become a milestone moment in Indian cricket.
Virat Kohli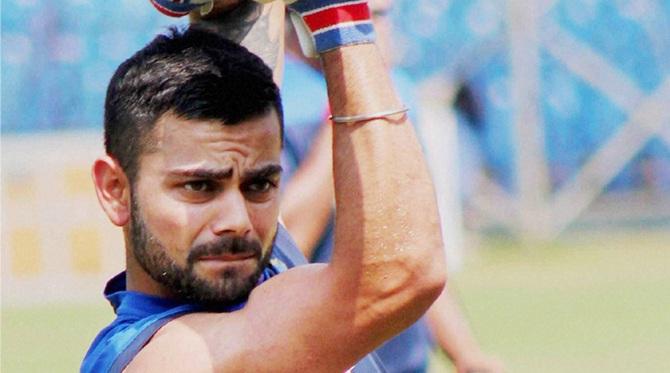 Image: Virat Kohli. Photograph: PTI
A young Kohli played his first World Cup in 2011, scoring 282 runs in nine matches, including a century.
However, since then he has grown as one of India's most dependable batsmen. Now, he leads the team's hopes in the 2015 event.
Suresh Raina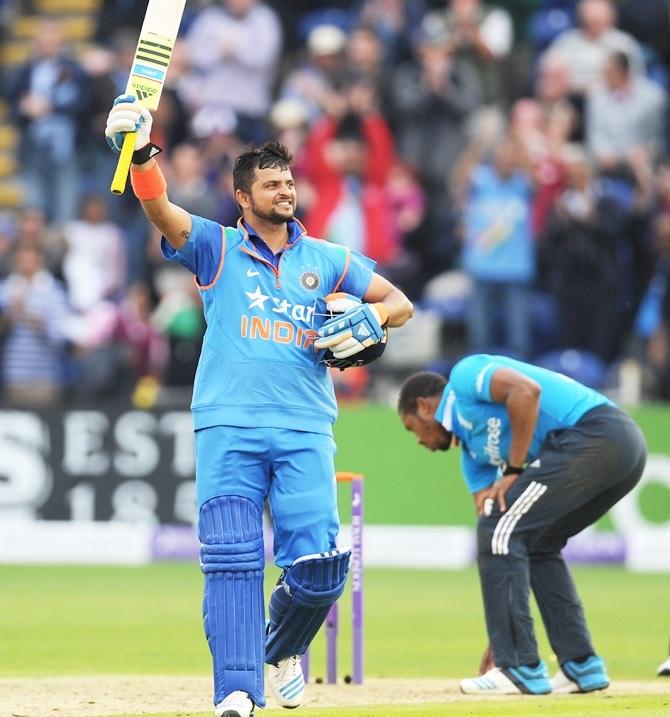 Image: India's Suresh Raina celebrates his century. Photograph: Stu Forster/Getty Images
Suresh Raina featured in only four matches in the last World Cup, but made quite an impact with the bat.
His 28-ball 34 in the quarter-final against Australia proved crucial for the hosts; he also played a key hand of 36 not out in a high-voltage semi-final against Pakistan.
This time India's middle order hopes rest on the big-hitting left-hander's shoulders.
Ravichandran Ashwin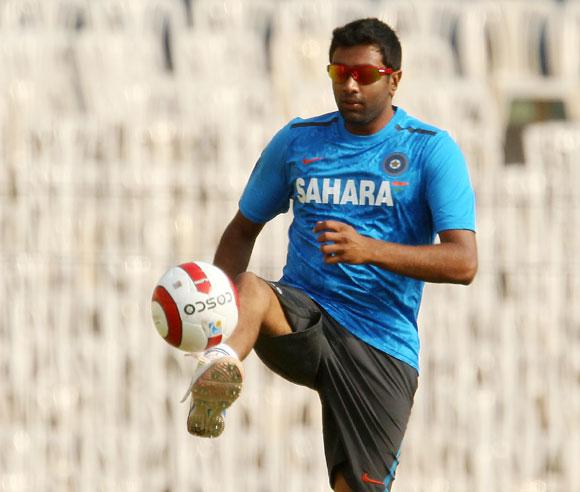 Image: Ravichandran Ashwin during a training session. Photograph: BCCI
Ravichandran Ashwin is one of India's most consistent spinners in the limited-overs' format.
He featured in only two matches in the 2011 edition, claiming four wickets, but this time around goes into the tournament as India's leading spinner.
In the absence of Harbhajan Singh, he has a chance to make a mark.