- 'What is happening is that the guys in power introduce names to the selectors and the selectors then act according to these people's whims.'
- 'I was just playing my game and not thinking that I have to score quickly or do something different except when I joined the team and wanted to bat like Tendulkar.'
- 'I would love to commentate in Hindi as most people who watch the game are more comfortable with Hindi in India rather than English.'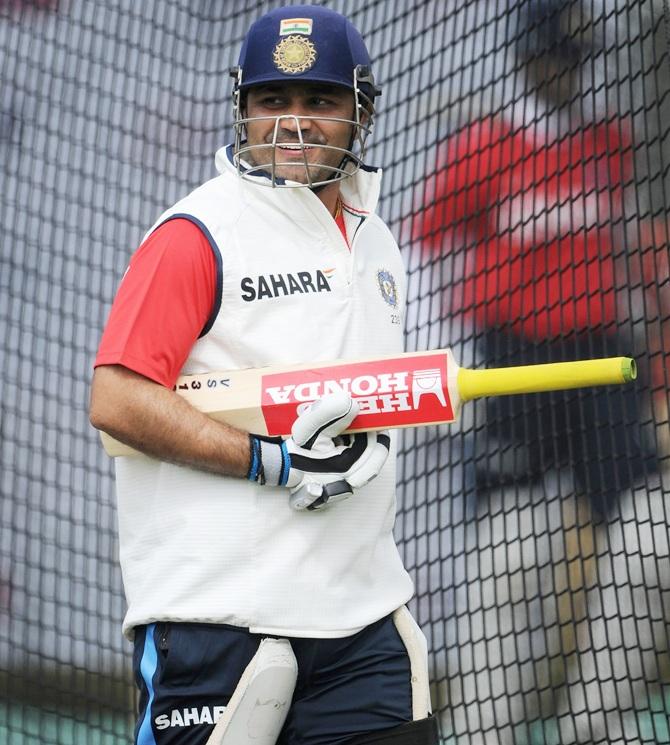 IMAGE: Virender Sehwag smiles during a nets session. Photograph: Gareth Copley/Getty Images
Swashbuckling former India opener Virender Sehwag, who recently retired from international cricket, has lashed out at selectors who picked players under the influence of 'people in power' and at inefficient running of state associations.
- 'Sehwag had a special gift from God, his hand-eye co-ordination'

Asked if it's a problem that state associations were not run efficiently, Sehwag, who recently shifted to Haryana from Delhi in domestic cricket, said, "Yes. It's not just Delhi. There are other associations which have problems.

"You need to change things at U-19 and U-16 level because that's problem area. If you pick over-age players, it is a problem that needs to be identified. If you have a player whose name and stature is big, you won't have this problem," he told ESPNCricinfo.

Sehwag said that he cannot become a selector as that could be a 'conflict of interest' as he has opened a school where young cricketers would be groomed but would love to be part of a state association in another capacity.

"No, there is a conflict of interest. I have my Sehwag International School (in Haryana). So I cannot be a part of it. I cannot be a selector but if any association wants me to be a part of it, I would love to do that. There are other cricketers who have a reputation but they are not getting the opportunity to be a part of the selection panels.

"What is happening is that the guys in power introduce names to the selectors and the selectors then act according to these people's whims," he said.
Sehwag also revealed that he made changes in his techniques early in his career to emulate iconic Sachin Tendulkar.

"When I was growing up, I played a lot of 10- and 12-over games, I would bat in middle order. I got only 10-odd balls to face and I tried to score as much as I could. I applied the same approach in domestic and international cricket and people were appreciating my strike rate being more than 80 or 90 in Test cricket," Sehwag said when asked if his approach changed how batsmen opened the innings in a fundamental way.

"I was just playing my game and not thinking that I have to score quickly or do something different except when I joined the team and wanted to bat like Tendulkar. I realised there could be only one Tendulkar and I changed my stance and backlift. I realised I should change my game and I did it. After that, I was playing with my own technique," he told ESPNCricinfo.

Sehwag, 37, who last played for India in 2013, retired last year after a stellar career in which he scored 8586 runs from 104 Tests and 8273 runs from 251 ODIs.

Asked if there was only one Sehwag as well, he said, "Yes, because of my mindset and the impact I had on the team but there was only one Tendulkar."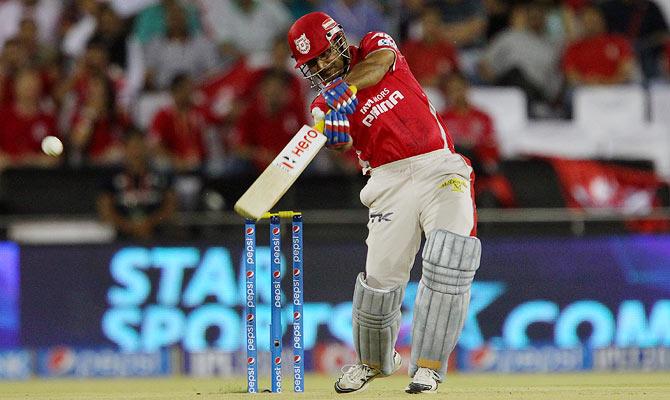 IMAGE: Virender Sehwag in action for Kings XI Punjab during IPL 7. Photograph: BCCI
The spot-fixing scandal in the Indian Premier League in 2013 rocked the cricketing world like never before, but Sehwag would still bat for the cash-rich T20 event, saying that it was the right platform for youngsters to get noticed.

"I think it is a platform for a young Indian player. If you look at 2000-01, when I joined the team, we took 20 games to get used to international cricket. Now, someone like Shikhar Dhawan, who has played in IPL, is used to the pace, and he scored 180-odd on Test debut against Australia. When I or Yuvraj joined, our game was not great and we took 20-25 games to score 150 or 100. Look at K L Rahul. He went to Australia and got a hundred in his second Test there. That's the impact IPL has had on a domestic player.

"There has been the negative impact of spot-fixing and match-fixing but it is the individual player's responsibility to look after that because if a player wants to do that it is difficult to stop him. It is the individual player's responsibility to play fairly," he reasoned.

"Players like Ravindra Jadeja, Yusuf Pathan, Warner, Glenn Maxwell were noticed at IPL first. It is a platform for players all over the world. If a player is playing IPL and earning money, it's not his fault that he's not playing for India. He is not quitting. He is playing first-class, one-day cricket and IPL. If selectors don't pick him, what can he do?"

Sehwag said he decided not to not play in IPL as he is no longer aiming for a India berth.

"Indian players play in IPL to get into Indian team. There is no point playing in IPL when I have retired from international cricket. I did not want a youngster to miss out because of me. Manan Vohra can now play all 14 games and if he does well, he can also get into Indian team. I didn't want to stop a youngster from playing," he said.

"I have earned a lot of money. I am not playing the game for money. If I do commentary, write articles or am an expert on a news channel, I can still earn money."

He said he will not reconsider his retirement decision announced last year.

"No. Thirty-seven is a benchmark for me. Ashish Nehra is lucky that his body is so fit. He bowled really well in the IPL and deserved his place in the team. I am really happy for him and Yuvraj Singh and Harbhajan Singh. They are just 34 or 35, they can play international cricket for another two to three years, subject to fitness and performance. There are no regrets or reconsiderations and I'm happy living the retired life and getting ready for the MCL (Masters Champions League T20)."

Talking about the domestic cricket structure, he said the gap between matches should be increased.

"I played three seasons and the gap between matches is three or four days. You play eight games in a row and only get three or four days off. You play one-dayers immediately after that and it is not fair on fast bowlers to play back-to-back one-day games. Batsmen and spinners can manage.

"That's how Mohit Sharma got injured and he could not be a part of the Indian team. If you give two days off, his body will get rest and he can play. That's the problem. They want to finish first-class cricket as soon as possible instead of giving it more time.

"I would give suggestion to BCCI. If they can consider this, and give respect to domestic cricket and the same rest period as international cricket, players have a chance of performing better. You can start in October and finish in March or February. Let's have a five-match window for domestic cricket. You have eight games, followed by the quarter-finals, semi-finals and the final, and give proper rest periods, which will keep players fresh."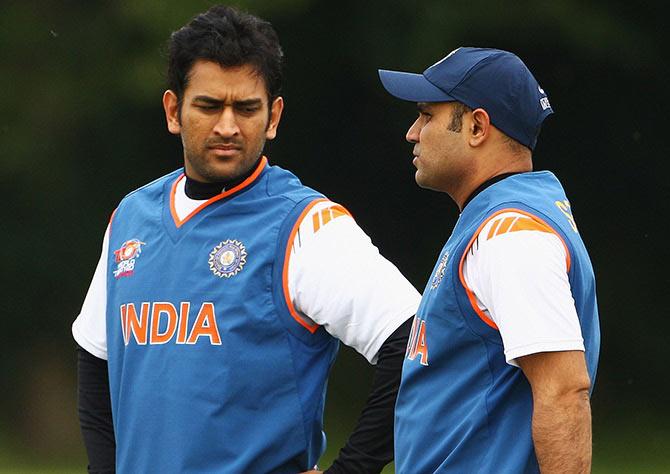 IMAGE: Virender Sehwag (right) with Mahendra Singh Dhoni. Photograph: Matthew Lewis/Getty Images
Asked if he would have liked to captain India more, Sehwag said, "I did captain India in all three formats. When Rahul (Dravid) resigned, I was not a part of the team. If I had been a part, probably I could have captained for a couple of years. I could have continued had I done well as a captain then, but it is all about opportunities.

"Dhoni was the right guy and he did a great job as captain. The important thing is that we won the World Cup and became the No. 1 Test team, which is what we sought to achieve. You can't fight with your luck."

He said he had a good relationship with current India limited-overs captain Mahendra Singh Dhoni despite the media portraying differently.

"We had a good relationship. People complained that I didn't thank him (during his retirement speech) but I thanked all my colleagues. So that includes him.

He said he was "absolutely" fine when he was dropped when Dhoni was at the helm of affairs.

"...you have to ask Dhoni as well. We went to London to play a charity game this year and had a good chat. That shows that we are friends because only friends have a chat, or else you mind your own business. We spoke about Indian cricket and strategies and we had a good time."

Asked about his future plans, he said, "I would love to be a coach, mentor or a batting consultant. I would love to commentate in Hindi as most people who watch the game are more comfortable with Hindi in India rather than English. If any IPL team wants me to be a mentor or a batting consultant, I would love to do that. I can share my knowledge with the youngsters."
© Copyright 2021 PTI. All rights reserved. Republication or redistribution of PTI content, including by framing or similar means, is expressly prohibited without the prior written consent.