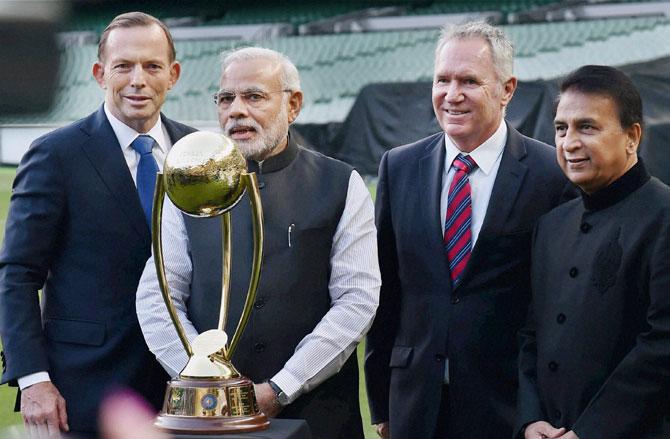 Prime Minister Narendra Modi and his Australian counterpart Tony Abbott with legendary cricketers Sunil Gavaskar and Allan Border during a function at Melbourne Cricket Ground. Photograph: PTI
Speaking about the forthcoming India's tour of Australia, the legendary Sunil Gavaskar has admitted that he felt that the Indian team would face a very tough time.
"Indian players will need to be patient. They will need to keep extravagant shots in their pockets when they play in Australia. This is not T20 or One-day Internationals.
"Australian pitches are the best to bat on but the players have to be patient."
Meanwhile, Gavaskar also shared some lighter moments with Prime Minister Modi while the World Cup and Border-Gavaskar trophies were being displayed for the two PMs of the two countries.
"When the photo opportunity was on, I saw Modi was holding the World Cup trophy. Abbot held the Border-Gavaskar trophy. I told the PM that you are holding the right trophy.
"This is the one we want next year. India already holds the Border-Gavaskar trophy, we don't need it just now."
Gavaskar was in Australia at the invitation of Prime Minister Narendra Modi to attend a special reception at the Melbourne Cricket Ground, which was hosted by Australian PM Tony Abbot.
Several Indian and Australian cricketing legends such as Kapil Dev, VVS Laxman, Steve Waugh, Glenn McGrath, Allan Border, Jason Gillespie also attended the reception on Tuesday.
Gavaskar said that there should be zero tolerance against match-fixing and betting and if any player is found guilty of having participated in wrong acts then he should be jailed and his entire cricketing history deleted from the record books.
Gavaskar said, "New Zealand has come up with a new law on betting which says that guilty players will be jailed. India should have the same law."