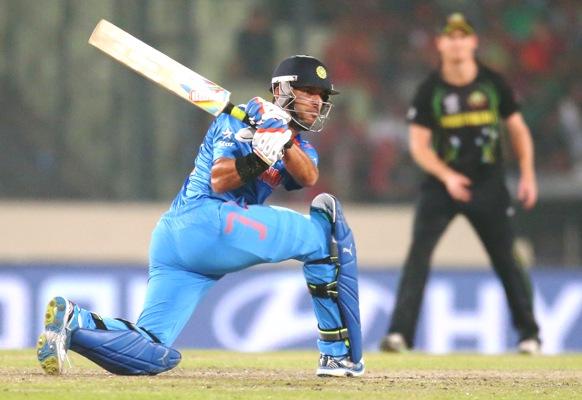 IMAGE: India's Yuvraj Singh plays a shot. Photograph: Getty Images
Once a limited-overs giant, Yuvraj Singh has been in and out of the Indian team in recent years but the all-rounder believes he still has enough cricket in him to look forward to the 2019 World Cup in England and Wales.
The 34-year-old left-handed batsman has seen it all in an international career that started as an 18-year-old in the 50-over ICC KnockOut Trophy in 2000.
He was crucial for India during their 2007 World Twenty20 victory in South Africa and was also player-of-the-tournament in the team's 50-over World Cup win on home soil in 2011.
But later in 2011 he was told he had a golf ball-sized non-malignant tumour in his lungs. It was later re-diagnosed as a cancerous condition called "mediastinal seminoma".
That started a phase of comebacks for the hard-hitting middle-order batsman, once considered a certainty in the international limited-overs formats.
"I think it's the passion for the game," Yuvraj told Reuters when asked what kept him going.
"I don't want to sit one day and think 'Oh, I should have played a few more years'.
"I want to end where I feel this is it and this is how much I would have played. Given the opportunity, I still feel I have a few more years to excel."
One of the cleanest strikers of the ball, as England fast bowler Stuart Broad found out when he was bludgeoned for six sixes in an over during the 2007 World Twenty20, Yuvraj cut a sorry figure at the crease during his 21-ball 11 against Sri Lanka in the 2014 World T20 final.
Many blamed that knock for sapping India's momentum and wrote off Yuvraj's international ambitions in the wake of the defeat.
But he again went back to the domestic circuit and scored enough to earn a spot in the squad for the recent World T20.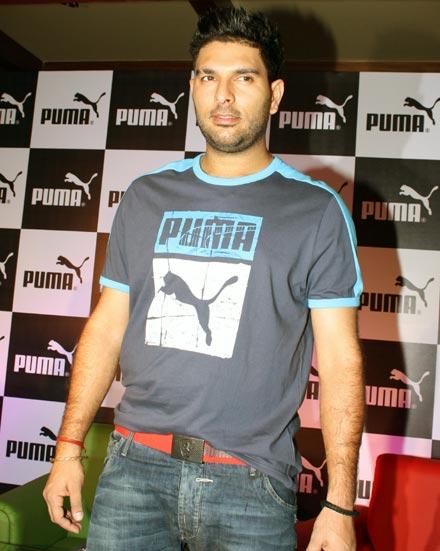 He injured his ankle in India's final Super 10 match against Australia and was ruled out of the semi-final against West Indies, which India lost.
"It was pretty disappointing," Yuvraj said on the sidelines of sportwear brand Puma's launch of a new collection of shoes.
"You have an injury before the World Cup semi-final and I was preparing to play the World Cup for a while.
"(The 50-over World Cup in) 2019 would be a goal for me to achieve," said Yuvraj, who plays for the David Warner-led Hyderabad franchise in the Indian Premier League.
"But for that I need to work very hard and I would have to perform very outstandingly. I will try and look forward to do that. If I can reach 2019 it will be huge for me."
For the early part of his career it was virtually impossible for Yuvraj to break into a Test-playing 11 boasting the likes of Rahul Dravid, Sachin Tendulkar, Sourav Ganguly and VVS Laxman in their batting order.
But Yuvraj, who played the last of his 40 Tests in 2012, is not ruling out another run in the format with India slated to play about 12 matches in the next 12 months at home.
"Definitely, I am a big underachiever in Test cricket," Yuvraj said. "But I can't really take out anything because I didn't have many opportunities.
"We had lot of greats playing in the team. For seven years of my career I was mostly the 12th man for Test matches.
"When I actually had a spot, I got diagnosed with cancer. So it's been unfortunate but I've been lucky that I've been able to play again."
Image (Bottom, left): Yuvraj Singh
Photograph: Hitesh Harisinghani/Rediff.com