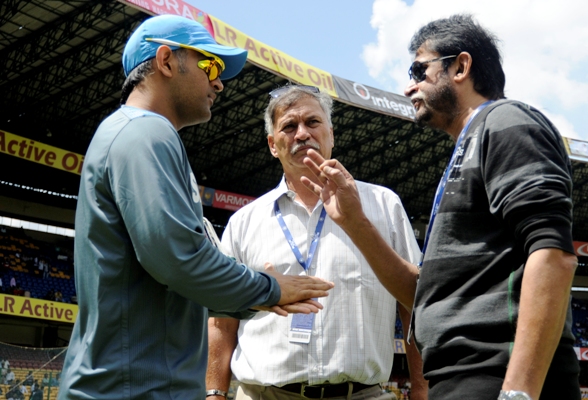 IMAGE: India's limited-overs' captain Mahendra Singh Dhoni, Roger Binny and Sandeep Patil in a discussion. Photograph: BCCI.
The high-profile Cricket Advisory Committee of the Board of Control for Cricket in India appears to have overlooked Selection Committee chairman Sandeep Patil's candidature for the team's chief coach's job.
Patil told PTI on Tuesday that he hasn't received any invitation from the Board or the Committee to make a presentation, but wished luck to whoever is selected for the coveted job.
"No, I haven't received any invitation," Patil said.
With CAC member Sourav Ganguly confirming the last round of interviews will be conducted on Tuesday, it is evident that Patil's application was not considered.
Asked if there was any communication on the part of the BCCI to inform him why he did not even get a chance to present his case, Patil said, "No news on that front as yet."
He, however, said he has full faith in the CAC, which has big names like Sachin Tendulkar, Ganguly and VVS Laxman.
"BCCI has a fabulous advisory Board and I am sure they will make the right choice. I will wish, whoever takes the charge, all the best."
Asked if he felt short-changed about not even being considered for an interview or presentation, he refused to be drawn into the debate.
"No regrets and no complaints. I have been given more than I deserve by the BCCI. I have total confidence in BCCI advisory board and know for sure that they will make the right choice," said one of the heores of the 1983 World Cup-winning team.
It is learnt that there is a different thought processes in the BCCI on Patil's application.
Since he is currently chairman of the selection committee, and was part of the process to select the squad for the West Indies tour, many felt that it is not right to consider one who selects the team.
Patil's term ends in September and had he been called for the interview and selected, he would have straightaway shifted from one designation to another.
While Patil was a success with smaller teams like Kenya, whom he coached to the 2003 World Cup semi-finals, and Oman, his only stint with the Indian team lasted barely six months during which the team lost ODI tournaments in Singapore, Sharjah, Sri Lanka and Canada apart from Tests and
ODI series in England.
Interestingly, current CAC member Sourav Ganguly's Test debut at the Lord's in 1996 was when Patil was the coach of the team.