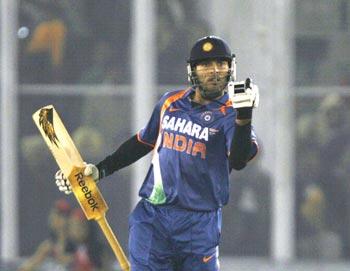 Yuvraj Singh's dreadful innings of 11 from 21 balls in the World T20 final against Sri Lanka in Mirpur last year led to his exclusion and the stylish left-hander admits that it 'always remained' at the back of his mind during the past year and half.
Back in the T20 squad for the tour of Australia, Yuvraj is confident that he would be again able to redeem his international career.
"I didn't end it well in 2014. I had a bad run in the final, and that was always at the back of my mind. I had to really work on my fitness, fielding and batting. I have done that in the last year and a half, and hopefully the results will show in the coming seasons," Yuvraj told bcci.tv on Thursday.
- I realised if I have to play for India again I have to be fit: Yuvraj
For him, the entire focus is on making it to the Indian squad for the World T20 to be held at home, next year.
"We won the tournament in 2007 and we really enjoyed every bit of it. The whole country was thrilled for us. If we can repeat that somehow, after the 2011 World Cup, it would be a huge victory for the guys," the veteran southpaw said.
The hero of India's 2007 and 2011 World Cup triumphs said that for any top international player, it is difficult to motivate themselves while playing domestic cricket but that is the only way to get their career back on track.
"Yes, you want to play the game till you enjoy it, whether you are playing at the domestic or international level. It is hard to motivate yourself to play domestic cricket but you also have to realise that it is the only way back. That was my motivation key to do well at that level -- having an eye on the prize."
Yuvraj feels that there will always be a phase in a long international career when things won't go one's way but one needs to maintain focus and work hard.
"When you play international cricket for 13-14 years, it is always tough to maintain one level. Especially with my body -- I have worked really hard in the last two-three years since my recovery -- it has been up and down.
"But this year at the domestic stage I have been batting really well, especially in the one-dayers, and I am feeling really good. I really believe that if I get a number of opportunities, I can deliver again."