IMAGE: AB de Villiers of South Africa during a training session. Photograph: Getty Images
Newly-appointed Test skipper AB de Villiers has it in him to become one of South Africa's greatest captains, says Cricket South Africa (CSA) supremo Ali Bacher.
"AB should just be the captain and focus on his batting," Bacher told the Afrikaans daily Beeld following the appointment of de Villiers as captain after the surprise resignation by Hashim Amla last week.
"With the self-confidence that AB exudes, I think he has the capacity to become one of the greatest South African captains," said Bacher, himself once a South African national team captain and the man largely credited with unifying the racially segregated cricket unions after the release of Nelson Mandela in 1990.
Bacher, who spearheaded South Africa's return to the international cricketing fold after decades of isolation due to apartheid policies, said it's a good move to make de Villiers the captain.
"AB is an inspirational player and with the brilliance that he shows, I foresee that he's going to be successful as Test captain," Bacher said.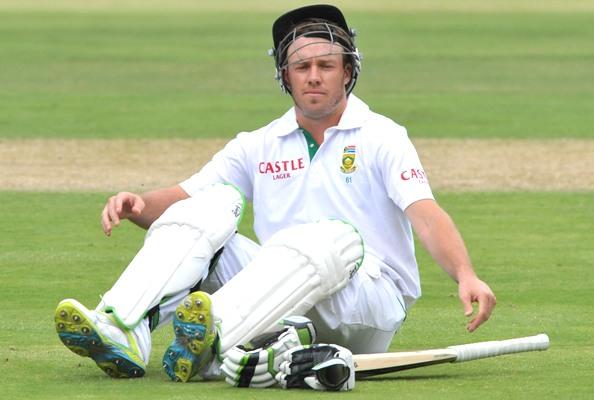 IMAGE: AB de Villiers of South Africa takes a breather during a game. Photograph: Getty Images
"De Villiers, Amla and Faf Du Plessis (the T20 Proteas captain) all get along very well and I think handing over the captaincy will be an easy process." Bacher commended Amla for his decision to step down as captain.
"I have nothing but the greatest respect for Hashim (Amla) as a person and cricket player," Bacher said, adding that in personal discussions he had found Amla to be the most honourable person that one could find.
"I take my hat off for him because he's retiring at such a high point by showing his fighting spirit with his double century at Newlands (during the second Test against England).
"His determination and capacity to fight back is unparalleled. (Amla) played a great role to rescue his team from what at one stage looked like a big hiding.
"I think it is important that he is now given the chance to just concentrate on his batting, because he's definitely going to play some big innings for his country," Bacher concluded.