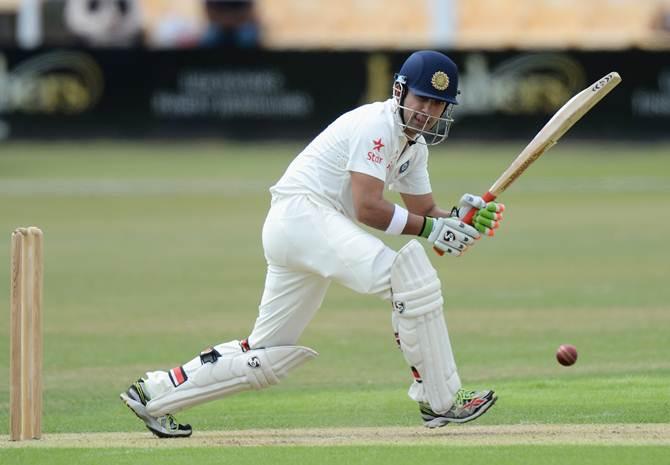 IMAGE: Gautam Gambhir. Photograph: Tony Marshall/Getty Images
With age not on his side, the chances of a national comeback look relatively bleak for Gautam Gambhir despite his golden run in domestic cricket, but the feisty India opener says he won't give up just yet.
For Gambhir, regarded one of the most complete batsmen in Indian cricket, what matters is "motivation" and the day he loses it, he won't shy away from calling it quits.
Gambhir continues to turn up for Delhi, which made it to the final of the premier Ranji Trophy this season after 10 years after they beat Bengal in the semi-final on Tuesday.
Gambhir might be out of national reckoning, but he has been in ominous form this season and that is precisely one of the reasons behind Delhi's success.
"Keep scoring runs, that is what you can control and you can do. You can't control things which are not in your hands. The only thing you can control is to get a bat in your hand, go out there, perform and score as many runs as possible," Gambhir told PTI in an interview.
"That is what you are meant to do and that is what I am trying to do. This year is no different from what I used to do last year. The motivation is exactly the same. The day I don't feel the same I will not hang around."
At 36, it is unlikely that Gambhir would get a look in for the national team again, especially in a fitness freak Virat Kohli's team, but that hardly bothers the feisty left hander, who was once India's regular in all three formats of the game.
"I don't speak to the selectors and I don't need to speak to the selectors. Ultimately, my job is to score runs and that is what I only focus on," Gambhir said.
The last time Delhi made the Ranji Trophy final was way back in January 2008, under Gambhir's captaincy. That season Gambhir played a key role with the bat and this year too the left-hander was one of the reasons behind Delhi's rise.
This Ranji season, Gambhir has scored 632 runs, inclusive of three centuries and two fifties.
He is eight in the top-scorers chart.
"We reached the final, so obviously the achievement is great. Hopefully we can go one step ahead and win it after 10 years which is going to be great," Gambhir said.
"So far it's been decent. Obviously, when you get 600 plus runs it's good. The most important is that you have contributed in the games which are very crucial as well, whether it was the quarter-final or the semi-final. As a senior player you have to be good in the crunch games and there is still one more game to go," he said about his own form.
Gambhir has always been known to be outspoken and didn't shy away from confronting even Delhi Ranji coach KP Bhaskar over differences in the handling of the team last year.
Gambhir was handed a suspended four-match ban from first-class cricket for his ugly confrontation with Bhaskar.
"Ultimately, it's not the coach or the support staff that matters. What matters is the performance of the team. If the players are performing that is all that matters," he said.
Refusing to pinpoint any particular player for the success this season, the senior-most player in the Ranji team, however, feels that Delhi has a long way to go to be in the leagues of sides like Mumbai and Karnataka.
"I don't like mentioning about one or two because it's unfair. Most of the guys have grabbed their opportunities and that is why we are where we are. I don't believe in talking about individuals in a team sport. People have done well, people have taken their opportunities and that is a good sign for Delhi cricket," he said.
"There is still a long way to go. Consistency is all that matters. Look at someone like Karnataka, look at some like Mumbai they have won so many times consistently. They are the most consistent teams going around.
"Let's see how we do next year because the follow-up year is very important and that is what will show where you stand. Any team can have one good one season but ultimately it is the consistency that really matters," Gambhir signed off.