'I think I wasn't good enough, rather I was not consistent enough'
'There was someone called Mahendra Singh Dhoni breathing down my neck'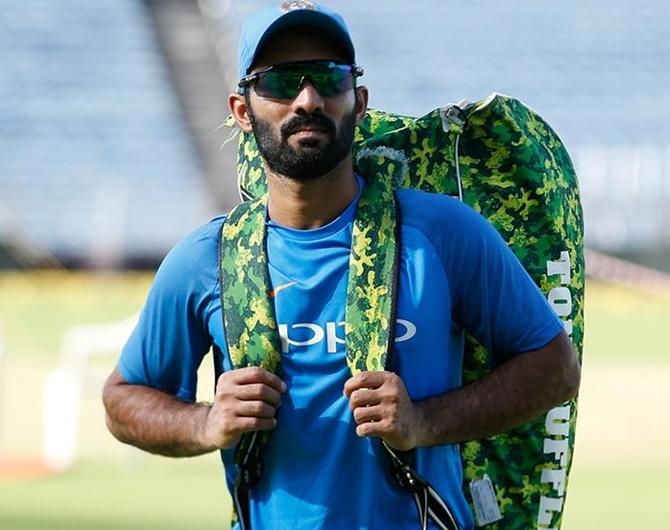 It wasn't easy being Dinesh Karthik in an era where Mahendra Singh Dhoni redefined the role of a keeper-batsman.
Having last played a Test match way back in 2010, Karthik, during all these years of soul searching, was honest in his analysis as to why he didn't get a chance to wear the white flannels.
"Look, I think I wasn't good enough, rather I was not consistent enough. That was a highly competitive environment and there was someone called Mahendra Singh Dhoni breathing down my neck, which caused a lot of stir in world cricket at that point of time. He went on to become one of the greatest captains India has ever produced," Karthik said ahead of his comeback Test against Afghanistan.
Karthik, who came in as a replacement to injured Wriddhiman Saha, has not played 87 Tests since he played the last of his 23 Tests against Bangladesh in 2010.
In fact, a statistician will reveal the plight of the keepers during Dhoni era'. Karthik's 87 Test match gap is an Indian record but then the earlier record was held by Parthiv Patel, who made a comeback after 83 Test matches and eight year hiatus from the longest format.
"So, I didn't lose my place to some normal cricketer; he (Dhoni) was special. I respect him for that. At that stage, I could not produce enough performance to hold on to my side. I need to be honest with myself. Now, I have another opportunity and I guess, I will try my best," the Chennai stumper said in an honest assessment.
If Dhoni kept him out of Test squad till 2014, the next four years saw emergence of Wriddhiman Saha as one of India's most technically accomplished wicketkeepers.
While Saha's injury has opened the door for Karthik, he wouldn't like to over-burden himself by thinking how he could hold onto his place.
"If you go deep into the question on what I should do to keep out someone else, then you are taking energy away from the fact that you are competing with somebody (Afghanistan). That puts extra pressure to what already is there," Karthik said.
"What I am trying to do -- as cliched as it may sound -- is trying to be the best cricketer that I can be, not on the field but also off the field. I am trying to be consistent there, even if I don't get an opportunity. Even if I don't play the sport at the highest level, I want to be content with the fact that I have given everything I had -- both on and off the field," he said.
"If I go into your question and start thinking about that aspect, then it will be subjective -- I need to score this, I need to score that. I don't want to keep it that way. I want to keep it in a way which is try and prepare as much as I can. And given a chance, try and deliver. I am keeping my whole process that way."
The dashing keeper-batsman also feels that playing Ranji Trophy for Tamil Nadu kept him on his toes as the team was playing Ranji Trophy knock-outs almost every two years.
"I enjoyed playing the Ranji Trophy. It is a totally different challenge. There are not many people coming and watch you play, yet we play the sport because we enjoy playing it. I am lucky that way because I have always done that subconsciously. I have enjoyed being a part of Tamil Nadu team.
"Credit to them (TN Ranji side) as well for having put up with me over the tough years. I am really indebted to them. It is very easy to fade away but for Tamil Nadu to constantly competing in Ranji Trophy, that was challenge. Every alternate year, we put up performances. We were consistent. Every two years we would hit the knockouts and go to semis or final," he said.
As a senior, Karthik was expected to perform and he has done that with aplomb over the years.
"As senior players, they (TNCA) expect you to perform well. I am happy to do that for the team. Along the way, if I have been able to help young guys, then it's great. At the end of the day, I was happy to play for a team like Tamil Nadu which has backed me all these years. Today, I am really happy that I am sitting here."
Dinesh Karthik praises Afghanistan's beautiful journey
Dinesh Karthik has praised Afghanistan's rise to the top of the sport under tough circumstances, saying it was an honour to face the South Asian nation in their landmark first test starting on Thursday.
Afghanistan will play India, the top-ranked Test nation, after becoming full members of the International Cricket Council (ICC) last year.
They are coming off a commanding Twenty20 series win over Bangladesh this month and Karthik paid tribute to their inspiring journey.
"It's been beautiful," Karthik told reporters on Tuesday
"Their journey has been an inspiration for international cricket. Not many knew they play... We all know what a tough place it is and the kind of turmoil they go through and despite that, they are able to inspire people with their performances."