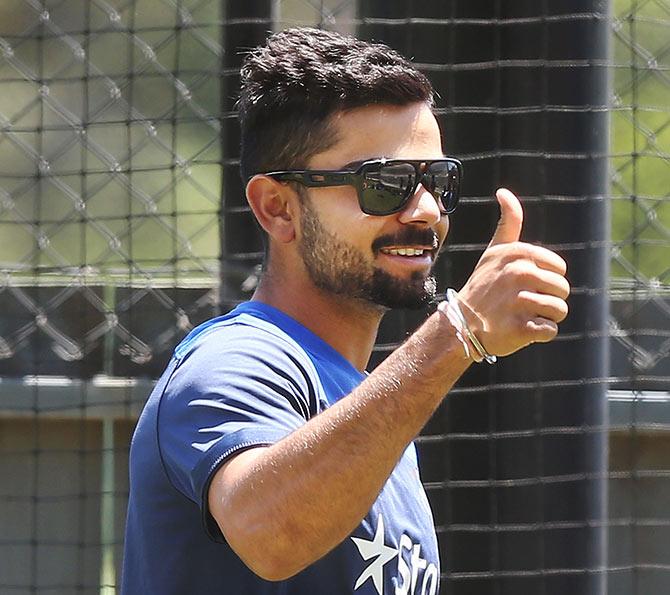 IMAGE: Virat Kohli gestures during an India training session. Photograph: Michael Dodge/Getty Images.
He is among the best in the world, but New Zealand captain and batting mainstay Kane Williamson prefers to be modest.
He says he has "learnt watching Virat Kohli", terming the Indian swashbuckler a "great player".
"Virat's a great player and his ability to dominate attacks through all three formats is very special.
"Certainly that I admire, I love watching him play and learn from a player like that," the current world No. 3 in the ICC Test rankings told reporters during a media interaction in New Delhi on Tuesday.
Williamson, Kohli, Joe Root and Steve Smith are the 'Big Four' among world cricket's premier batsmen and the New Zealand captain said each has different strengths.
"Smith and Root are both great players as well. All of us are different players, have different strengths. Trying to stick to his own gameplans, that's the sort of beauty of this game.
"That everyone can do things differently and have a bit of success," said the 26-year-old, who has a fantastic Test average of 51-plus, with 4393 runs, including 14 centuries.
Williamson said he doesn't have any problems balancing captaincy and batting.
"I am enjoying the challenge. We have a great bunch of guys and we are enjoying our cricket. We have to keep improving and that's my focus as a captain. When I take that hat (captaincy) off, it's my job as a batsman to play a role. It's a slightly separate thing."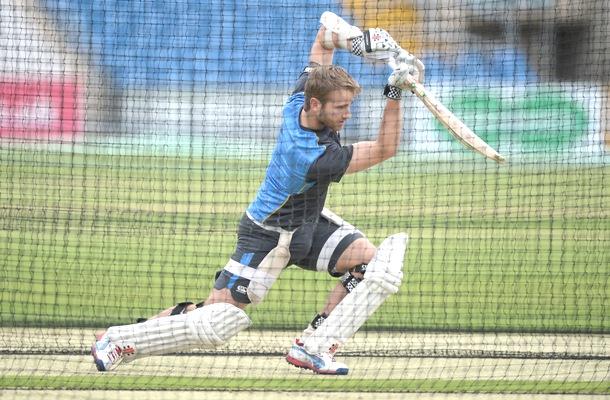 IMAGE: Kane Williamson of New Zealand bats during a nets session. Photograph: Gareth Copley/Getty Images.
Part of the IPL jamboree for a few years, predictably, Williamson has good things to say about the cash-rich league.
"IPL has added to international cricket. The part of the beauty of this game is that you can be on the park and be extremely competitive and then off it you know a lot of these guys. One of the many positives is that you meet a lot of international cricketers."
"IPL is fantastic, as a number of our guys are playing in the IPL. I have been a part of IPL. No doubt those experiences help. The focus being on Test cricket at the moment, we can draw a little bit of help in terms of preparation.
"We also need to take into account that pitches in the last few years have been different from what we have played in IPL. We have to take that into account," said Williamson.
He refused to pick any particular Indian batsman as a specific threat in the three-Test series, starting September 22 in Kanpur.
"They have a lot of good players and we see them all as threats. They are good players at home in their conditions," said the skipper.
One of his batting mainstays, Martin Guptill's form in the longer format has been patchy, but Williamson reckoned that he will come good.
"Martin (Guptill) is working very hard and he is a world class cricketer. He has shown that a lot in white ball format. We are backing him to see him do that in red ball format."