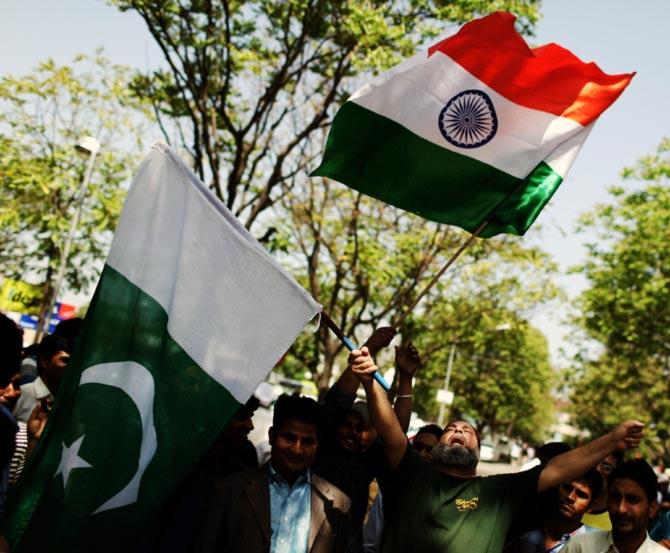 IMAGE: India and Pakistan cricket fans. Photograph: Daniel Berehulak/Getty Images
The online sale of tickets for the much-awaited India-Pakistan clash in the World T20 tournament in Dharamsala on March 19 has received an overwhelming 138101 registrations in just two days, Himachal Pradesh Cricket Association officials said on Saturday.

The International Cricket Council had announced the sale of tickets through a unique lottery system for all the high profile games, including India versus Pakistan.

Out of the total registrations of nearly 14,000 over the span of two days, 115681 were received on day one itself.

To ensure a fair opportunity and equal distribution of tickets amongst all cricket enthusiasts, the fans were required to register for the tickets. The fans have to fill an online registration form indicating their preferred match which would enroll them automatically into a draw. The winners will be chosen randomly and receive a payment link in order to complete their booking.

The window to register has been initiated February 25 onwards, with a window of seven days only ending on March 2.

To ensure maximum people get to watch the game, not more than two tickets per person can be purchased for any of the India matches, or either of the semi-finals or the final.