There was large demand for India vs Pakistan, England vs Australia and the final, all of which were oversubscribed at every price band.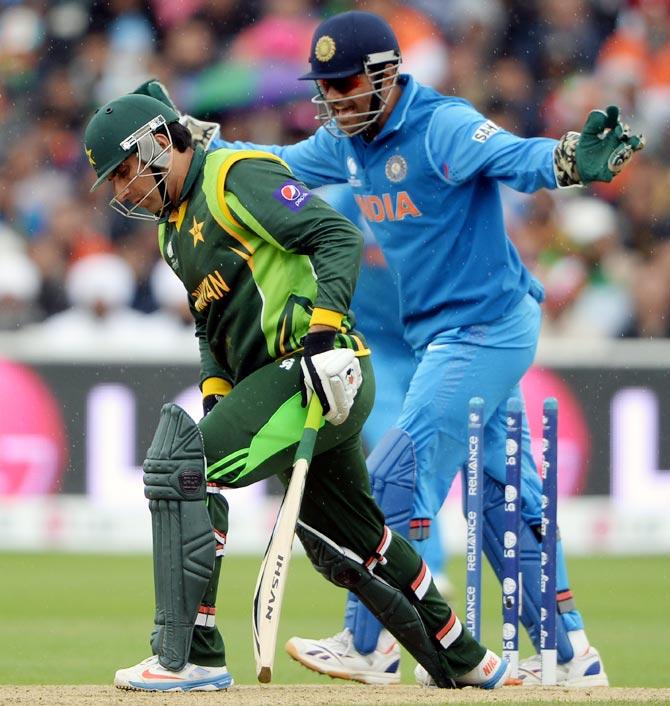 IMAGE: India captain Mahendra Singh Dhoni celebrates the wicket of Pakistan's Misbah-ul-Haq during the ICC Champions Trophy match at Edgbaston, on July 15, 2013. Photograph: Gareth Copley/Getty Images
The ticket sales for next year's ICC Champions Trophy has received an overwhelming response with 60 countries applying for as many as 4,17,000 tickets during the application period.

Such has been the demand for tickets that 11 of the 15 matches were oversubscribed in at least one price band.

The remaining tickets will go on general sale at 2pm on October 2 via www.icc-cricket.com/ticket .

This follows the ticket application period which ran during September and saw 417,000 tickets applied for from fans across 60 countries.

There was large demand for India vs Pakistan, England vs Australia and the final, all of which were oversubscribed at every price band, along with the opening fixture between England and Bangladesh and India's match against South Africa.
- Will India forfeit next year's Champions Trophy match against Pakistan?

To ensure fair allocation, any oversubscribed matches were run through a ballot. 11 of 15 matches had ballots run in at least one price band. Fans have been notified via e-mail if they have been successful with their ticket application.

ICC Chief Executive, David Richardson, said: "This is superb response from cricket fans not just in the UK but from around the world. To see 11 of the 15 matches oversubscribed shows the popularity of the game and Champions Trophy format where every single match counts.

"I am delighted that this many tickets have been sold so far out from the tournament, it means we can now focus on selling the remaining tickets and creating the best possible atmosphere at every game."

While five matches will not go back on general sale, additional tickets are expected to become available in the spring following the return of any that are not required by tournament stakeholders.

There will also be a resale function made available from February 2017 for fans to sell any unwanted tickets at face value to other fans.

Steve Elworthy, Tournament Director of ICC Champions Trophy 2017, said: "We are delighted with the great response we have had from fans wanting to be part of the tournament next summer. With availability for 10 matches, including England and India fixtures, people still have the chance to buy tickets to watch the world's best teams in what promises to deliver exciting cricket.

"So far fans have only been told what matches they have got tickets for and will be told full allocation details, such as seat and stand, closer to the tournament. This means that any tickets currently being advertised on secondary ticketing sites with allocation details listed are misleading and cannot be guaranteed. We are monitoring this situation with the ICC and are taking the appropriate legal measures against these sites."

The ICC Champions Trophy sees the top eight-ranked ODI sides on the ICC ODI Team Rankings as on 30 September 30, 2014 go head-to-head from June 1 to 18 at three venues in England and Wales.

The Oval will stage the opening match of the tournament on June 1 as well as the final on June 18.

Cardiff Wales Stadium will host four matches, including the first semi-final on June 14, while Edgbaston will host four matches, including the India vs Pakistan and Australia vs England matches as well as the second semi-final.
The schedule:
| | | | |
| --- | --- | --- | --- |
| Date | Match | Venue | Time |
| June 1 | Group A: England v Bangladesh | Oval, London | 1500 IST |
| June 2 | Group A: Australia v New Zealand | Birmingham | 1500 IST |
| June 3 | Group B: Sri Lanka v South Africa | Oval, London | 1500 IST |
| June 4 | Group B: India v Pakistan | Birmingham | 1500 IST |
| June 5 | Group A: Australia v Bangladesh | Oval, London | 1800 IST |
| June 6 | Group A: England v New Zealand | Cardiff | 1500 IST |
| June 7 | Group B: Pakistan v South Africa | Birmingham | 1800 IST |
| June 8 | Group B: India v Sri Lanka | Oval, London | 1500 IST |
| June 9 | Group A: New Zealand v Bangladesh | Cardiff | 1500 IST |
| June 10 | Group A: England v Australia | Birmingham | 1500 IST |
| June 11 | Group B: India v South Africa | Oval, London | 1500 IST |
| June 12 | Group B: Sri Lanka v Pakistan | Cardiff | 1500 IST |
| June 14 | First semi-final | Cardiff | 1500 IST |
| June 15 | Second semi-final | Birmingham | 1500 IST |
| June 18 | FINAL | Oval, London | 1500 IST |