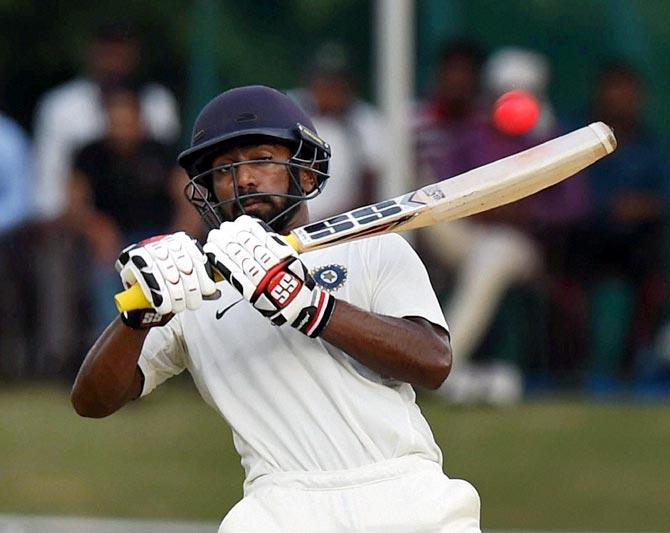 Yuvraj Singh feels it moved a bit more than SG Test ball while Robin Uthappa's observations varied from colour change to lack of reverse swing as the first set of inputs on the much talked about 'Pink ball' Day-Night experiment in the Duleep Trophy came to the fore.

While there is no denying that Day-Night cricket always brings in more people as one saw at least 800-1000 spectators during peak evening hours on all three days of the inaugural Duleep Trophy match, the Board of Control for Cricket in India will still need to figure out a few things before they seriously think of pursuing the idea of a Test match.
Left-arm chinaman spinner Kuldeep Yadav finished with career-best figures of six for 88 for combined match figures of nine for 120 as India Red crushed India Green by a comprehensive 219-run margin at the Greater Noida Sports Complex Ground, in Greater Noida, on Friday.

For starters, there has been varied opinions on whether an individual batsman has been able to sight the pink kookaburra ball well or not but everyone agreed that not much effort was required to 'maintain the ball' unlike the conventional red kookaburra, SG Test or Dukes.

While Yuvraj did not have a great time with the willow but his input will be the most valuable one for the BCCI.

"I thought the pink ball moved a bit more than the SG ball. It was pretty exciting, the pink ball doesn't go old. It was coming onto the bat nicely," the India Red skipper and a two-time World Cup winner said after the match.

Veteran glovesman Parthiv Patel sees future in Pink ball Test but he conceded that this ball skids a bit more.

"I had no problem in sighting. During the day, I could see the ball better. Not used to getting the pink ball coming to you. It's a matter of getting used to it but visibility was not a problem."

"As far as future is concerned, too early to say. Definitely there is a future. But dew could be a factor. The ball skid and moved more. Also I don't think you can have Tests in sub-continent using this much of grass," said Parthiv.

However, both Robin Uthappa and Parthiv feel that reverse swing will be difficult with pink ball as the shine and gloss of the ball doesn't seem to wear out.

"We tried hard but there was no reverse swing. There is conventional swing but the shine is maintained so well that there is no chance of reverse swing. I also found that colour varied at different times of the day. At one point, it looked light pink, followed by orange at one point of time before it looked bright pink under lights. I think we will get used to it as much as we play," said Uthappa.

If one goes by Abhinav Mukund, who scored the maximum runs from either side including a fifty and a century in the two innings, there were initial difficulties during the net sessions but in the match he did not have problems sighting the ball.

"I think a lot of people had issues sighting the ball, but I didn't have any issues with visibility. The wicket was damp, that's perhaps why so many wickets fell on the first day. But I feel the swing was a conventional one and not because of pink ball," claimed the left-hander, who hit 77 and 169 in the two innings to steer India Red to a crushing 219-run victory in the four-day match.

Spinner Kuldeep Yadav, who got 9 wickets in the match said: "Pink ball was dipping well and the drift was also good but there wasn't much turn on offer as you don't require to maintain the ball."

One of the centurions Sudip Chatterjee spoke about the dew factor.

"On the third evening, the ball was getting heavier due to the dew so it was difficult for bowlers to grip the ball. But while batting, I did not face much problem and a good batting pitch also contributed to it," he concluded.
Image: Abhinav Mukund in action during the Duleep Trophy match
Photograph: PTI
© Copyright 2023 PTI. All rights reserved. Republication or redistribution of PTI content, including by framing or similar means, is expressly prohibited without the prior written consent.