- 'I was in domestic arena from 1986 to 1993 and I gave stellar performances. I wasn't found wanting in fitness nor I was surrounded by any controversy, and yet I wasn't picked.'
- 'Why should I respect our own man? He would do better than me. He will earn more than me, so cut him off. Why this ego? Instead of appreciating his talent and sincerity, you put him down, which is not right.'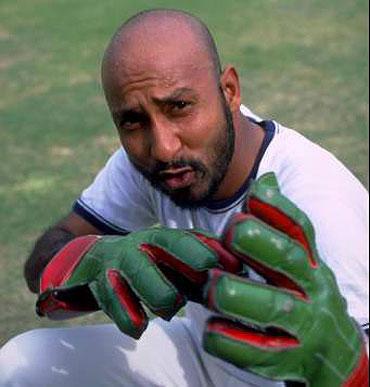 Former India wicketkeeper Syed Kirmani says he will reveal discrimination he faced at the hands of fellow cricketers in his playing days in a soon-to-be-released autobiography.
"I have been a victim of ego. It has happened with me. The players who played with me became selectors. I was in domestic arena from 1986 to 1993 and I gave stellar performances. I wasn't found wanting in fitness nor I was surrounded by any controversy, and yet I wasn't picked, this is going to be in my book," Kirmani said on Wednesday.
Kirmani said he was keen on releasing the book during the 2011 World Cup, but was advised against it.
"There is a time for everything as the time has come for me to be nominated for Col C K Nayudu Lifetime achievement Award," he said.
Kirmani said he wouldn't disclose the name of the book yet.
"The title of the book will be catchy. If there is any controversial title, it will be an absolute sellout," he said.
Kirmani also expressed his disappointment over not being asked to continue as the director of the Karnataka State Cricket Association (KSCA).
"I was the director of the KSCA for six years and then they say thank you very much. What for? Was I doing bad? On what basis? This is sheer ego, man," he said.
Asked who disappointed him, Kirmani said, "Who else? Their chair power speaks. Their money power speaks," he added.
Talking about Indian Premier League teams being captained by foreign players instead of Indians, Kirmani said every country should respect its own players first because there is no dearth of captaincy or coach material.
"Why don't we encourage our own people? We have enough guys who can be captains and coaches," he said.
Delhi Daredevils, Kings XI Punjab, Sunrisers Hyderabad and Rajasthan Royals had foreign players in the eighth edition of the IPL earlier this year.
"This word ego is problematic globally, which is embedded into every creation."
"Why should I respect our own man? He would do better than me. He will earn more than me, so cut him off. Why this ego? Instead of appreciating his talent and sincerity, you put him down, which is not right you see."
Image: Syed Kirmani