Sri Lanka may revert to four-bowler strategy against World No. 1 India, who have won eight consecutive Test series in the last two years, including two against the Lankans.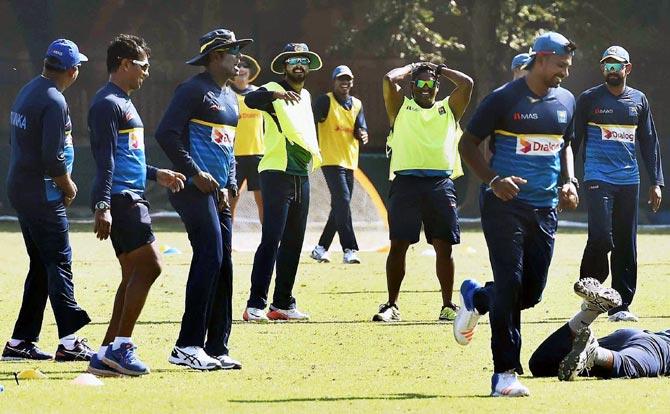 IMAGE: Sri Lanka's players during a practice session in Kolkata. Photograph: PTI
Sri Lanka captain Dinesh Chandimal dropped hints that unlike the five-pronged bowling attack, which yielded results against Pakistan in the humid conditions in the United Arab Emirates, he may revert to four-bowler theory against India in the forthcoming three-Test series.
"Against Pakistan, we played six batters and five bowlers that worked really well especially in the heat (in the UAE). It was never easy to play four bowlers and win a game. But India have got some really good bowlers, so we need to think about that all-rounder position. We will see the pitch and come up with our plans," Chandimal said in Kolkata on Thursday.

It was a clean sweep for India -- 9-0 across the three formats -- when they travelled to Sri Lanka but since then the island nation beat Pakistan 2-0 in an 'away' Test series but lost 0-5 in the ODIs.
Infact, Sri Lanka have lost to India in their last five Test matches, and all at home.
The Virat Kohli-led side has been on a roll in Tests, winning eight consecutive series in the last two years, including two against the Lankans.

"We all know India are No. 1 team at the moment. They have played some really good cricket in last two years. We have done really well against Pakistan. We did well as a team. I am sure guys are looking forward to take this challenge," he added.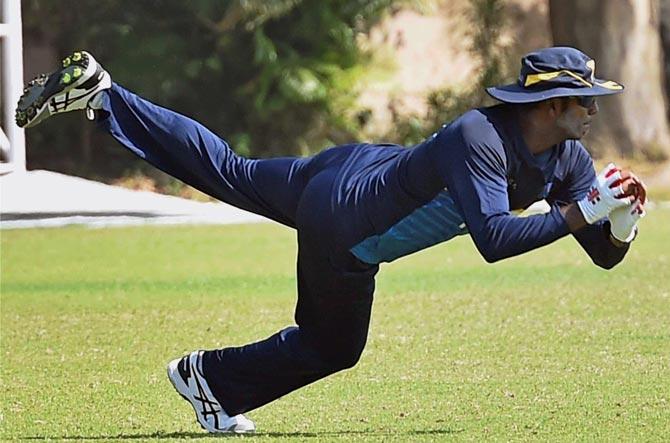 IMAGE: Angelo Mathews during a practice session in Kolkata. Photograph: PTI
Chandimal accepted that playing India in India is a big challenge but he does not want to dwell on past results and would rather look forward. The visitors have played 17 Tests in India, losing 10, while seven have finished in draws.

"This will be a challenging series for us. It's nice to be here with the spectators, we love to play here. I don't want to look back but look forward. We have done well versus Pakistan. The boys are in a good shape and we look forward to take the challenge against India," said the right-hander.

Chandimal said that Sri Lanka have plans in place to tackle the Indian spin twins Ravichandran Ashwin and Ravindra Jadeja -- who are the top two ranked bowlers in the world in Test cricket.

"As a team, we have something up our sleeves, we need to execute that on the field then we can compete with the Indian team," he said as the visitors had their first net session in Kolkata following their arrival on Wednesday.

"But we have something up our sleeves. You will see our plans in one week's time and what are we going to do against them."

Sri Lanka has been touring India for official Test matches since 1982 but till date have not been able to win a single Test match leave alone a series.

"We have never won a Test in India, it's a dream for everyone. This is a first game we are playing in Kolkata. It's always a pleasure playing in front of Kolkata spectators. We need to start well as a team and looking forward," said the Sri Lanka skipper.

"This is my first Test tour to India. Apart from Angelo (Mathews) and Rangana (Herath), others having a first tour here in India. It's really good challenge for each and everyone."
Schedule: Sri Lanka's tour of India 2017
| | | | |
| --- | --- | --- | --- |
| Date | Match | Venue | Time |
| Nov 16-20 | First Test | Kolkata | 0930 IST |
| Nov 24-28 | Second Test | Nagpur | 0930 IST |
| Dec 2-6 | Third Test | Delhi | 0930 IST |
| Dec 10 | First ODI | Dharamsala | 1330 IST |
| Dec 13 | Second ODI | Mohali | 1330 IST |
| Dec 17 | Third ODI | Visakhapatnam | 1330 IST |
| Dec 20 | First T20I | Cuttack | 1900 IST |
| Dec 22 | Second T20I | Indore | 1900 IST |
| Dec 24 | Third T20I | Mumbai | 1900 IST |