'I have followed Shane Warne since childhood. He is my idol. My life will be a success if I could achieve 50 per cent of what he has achieved. I stay in touch with him.'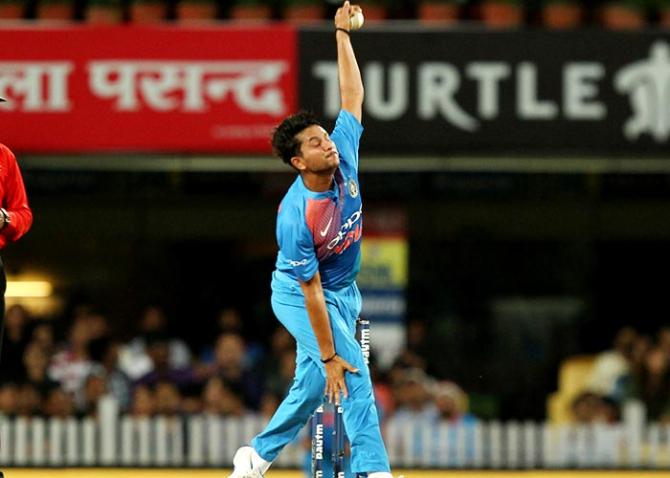 IMAGE: Kuldeep Yadav bowls. Photograph: BCCI
He may have become India's latest spin sensation but chinaman bowler Kuldeep Yadav says he is not thinking about being seen as Ravichandran Ashwin and Ravindra Jadeja's replacement.

India's ploy of playing two wrist spinners has worked well in the limited overs series against Australia, as Kuldeep along with Yuzvendra Chahal have been instrumental in the team's 4-1 series win in the ODIs, and a 1-0 advantage in the ongoing three-match T20I series.

"I don't think of that far. Both Ash (Ashwin) and Jaddu bhai (Jadeja) have been consistent performers for India in all the three formats. There is no question of thinking about replacing them," Kuldeep said in Guwahati, on Monday, on eve of the second T20 International.
"We are very young, and there is a lot of cricket left in us. It has never cross my mind," the 22-year-old added.

The Australian batsmen have struggled to pick Kuldeep time and again but the chinaman spinner said he is not a mystery bowler.

"I am not a mystery bowler who will bowl from different hands. Obviously after two-three years they will pick you and it becomes easy for them. For me, if your basics like alignment and accuracy are right, it becomes easy for you.

"For me it does not matter if someone tries to pick you from video analysis. If you bowl in right areas, have good variations, landing on the spot and beating the batsmen in air, no matter how many times you see the video it won't matter," said Kuldeep, who credited Aussie duo of Brad Hogg and Shane Warne for his transformation.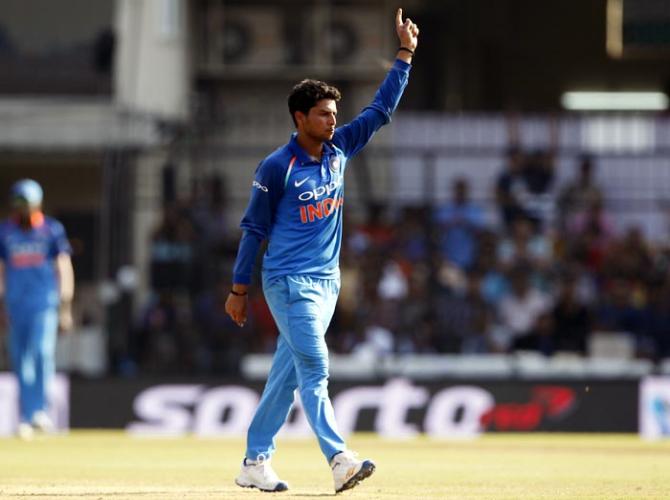 IMAGE: Kuldeep Yadav celebrates a wicket. Photograph: BCCI
Underlining the need to do the basics right, he said: "In T20s you can get wickets anytime as batsmen always try to hit you out of the park. Your basics need to be right without thinking much about the batsmen. If you focus on your strengths, you become more successful."

Kuldeep said he has learnt a lot by playing with Australia's chinaman specialist Hogg at Kolkata Knight Riders in the Indian Premier League, while he is also in regular touch with his idol Warne.

"Both play a very important role in my career. I have followed Shane Warne since childhood. He is my idol. My life will be a success if I could achieve 50 per cent of what he has achieved. I stay in touch with him.

"I have been with Hogg in KKR for two seasons, I have learnt a lot from him as well. I still talk to Hogg on my bowling. It is very important when you talk with senior players who have played a lot and legends in their games. Your career gets a boost even if you gain some experience from them," he said.

On what he is learning from Warne, Kuldeep said: "His wrist work, flight and drift, and the way he deceives any batsman. I will be successful if I get to learn something from him."

Asked about Hogg's contribution, Kuldeep said he has picked up the "flipper or wrong one" from the veteran sponner.

"He is 46 now with a career span of over 23 years. For me, it is just the start of my career. It is great to learn from him. All these small things are useful for me."

Kuldeep and Chahal have a share of 16 wickets among them in four ODIs and one T20I in the ongoing limited-over series against Australia and the former feels that their chemistry is working.

"I have a very good partnership going on with Chahal. We know each other for five years. It is easy to understand each other's plans. It helps on the ground if we keep talking to each others. There is a good understanding going on between us. We bowl in partnerships in a match as well, the difference is evident.

"We talk about the wicket, whether it's fast or skids. I ask him how the ball is responding on a particular wicket, and things like that. It's very useful for me and the team."

The Assam Cricket Association's Barsapara Stadium is set for an international debut with Tuesday's T20 International with Guwahati earlier hosting matches at the Nehru stadium.

The fans in Guwahati will witness international cricket match after seven years.

"We were welcomed with traditional culture. It is very overwhelming to experience different cultures of the country. Every part of India has a different culture," he said about the traditional reception the team received at the airport, on Sunday.
© Copyright 2022 PTI. All rights reserved. Republication or redistribution of PTI content, including by framing or similar means, is expressly prohibited without the prior written consent.