'My plan when I went out yesterday was to put the loose balls away and be positive and have a very aggressive intent'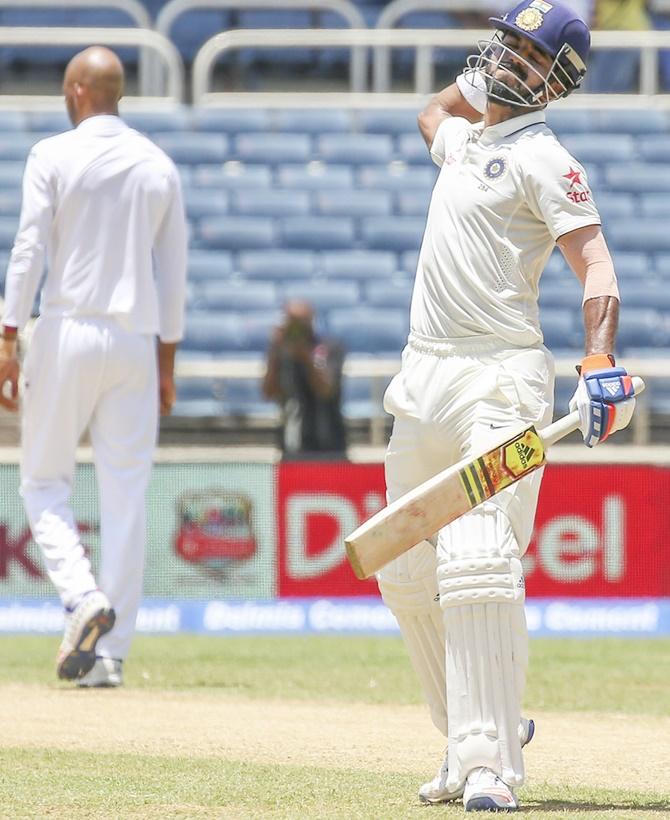 IMAGE: India's KL Rahul reacts. Photograph: WICB Media.
Centurion Lokesh Rahul says his intention to stay positive and aggressive on the second day paid off, as India took command of the second Test against the West Indies, in Kingston, on Sunday.
Opening the innings, he scored a composed 158 to help India finish on 358 for 5, a lead of 162 runs, with three days' play still to go.
It was the highest individual score for Rahul, who had notched his maiden ODI hundred on debut in Zimbabwe.
This is his third Test ton overall and all three of them have come outside India -- Australia, Sri Lanka and now in the Caribbean.
Even so, his place in the eleven is not confirmed yet, as he was a replacement for the injured Murali Vijay.
That could change in the near future.
"To me, it didn't look too difficult. I went in there and started hitting the ball from the first or second ball. Obviously, I've been spending a lot of time in the nets. It's a different challenge once you go out there and when you have the pressure of the game," said Rahul, after the end of the second day's play.
"I tried to keep things simple. I've been in good form for the last 3-4 months. I've been moving well, and hitting the ball really well.
"My plan when I went out yesterday was to put the loose balls away and be positive and have a very aggressive intent. I am really happy with the way I batted. I don't know whether it is easy or tough, but the simplest things if you do it right, it pays off all the time.
"That is to play to the merit of the ball; you think the ball is there to be hit, and you feel confident, then you hit the ball. I tried to keep it simple," he added.
"It is very easy to find motivation and inspiration because you are always sitting out and you see other guys doing well; it makes you hungry. It makes you do well. You want to score that winning hundred or a winning fifty. It is easy to look for motivation and inspiration, but the hard thing is to remain patient and keep working on your skills and keep working hard. Sometimes you feel like you want to take a couple of days off as you are not playing the game. That's a challenge and, as professional cricketers, we understand that we need to be ready for any opportunity that might come anytime," he told BCCI tv.
The 24-year-old from Karnataka said he is enjoying his consistent run in all three formats of the game.
"The last couple of months I've been performing well. I've been consistent in all the three formats and that's what I want to do as a cricketer.
"I'm only watching the ball and trying to judge the ball and if I think the ball is there to be hit, I'm hitting the ball. I'm very happy with the space I'm in and the focus levels have been great.
"The biggest challenge was obviously the weather, it was a very hot day. When I went into bat yesterday, the wicket was still a little two-paced and a little damp, and the ball was doing a little bit.
"Those were the challenges but once I got a few runs under my belt, and once I spent a little time on the wicket, I felt comfortable. To have Virat Kohli, R Ashwin and the other guys speak highly of me definitely gives confidence."
Rahul batted for much of the second day, and put on two solid partnerships, first with Cheteshwar Pujara and then with skipper Virat Kohli.
Talking about the West Indies' bowling, which was very disciplined and didn't give free runs, he said, "Shannon Gabriel was challenging in every spell. We obviously know that he is one of their strike bowlers.
"Our plan with him was to see him through and give the ball the respect it demanded and put the bad balls away. We were in no hurry, so we could take out time and wait for the loose balls. At the end of the day, we have still gotten the amount of runs we wanted to get. We are very happy as a batting unit."
India now lead by 162 runs, with Ajinkya Rahane (42) and Wriddhiman Saha (17) at the crease.
Thunderstorms are predicted for the third day, but the visitors will be looking to force the issue and bat for as long as possible.
"It's a Test match, and you have all the time in the world. We have bundled them out for 180 (196), and we still had four days to go. We were in no hurry," Rahul said.
"On this wicket, since yesterday, it has been doing a little bit with the new ball. I think they bowled really well from the first ball this morning, and they kept the pressure on us and didn't give easy runs.
"They got a couple of wickets in the last session. All in all, we're happy and there are no complaints at the end of the day."