'I always knew what the grip was, and then I learned it on my own. I have been practising it for a long time. It didn't come easily.'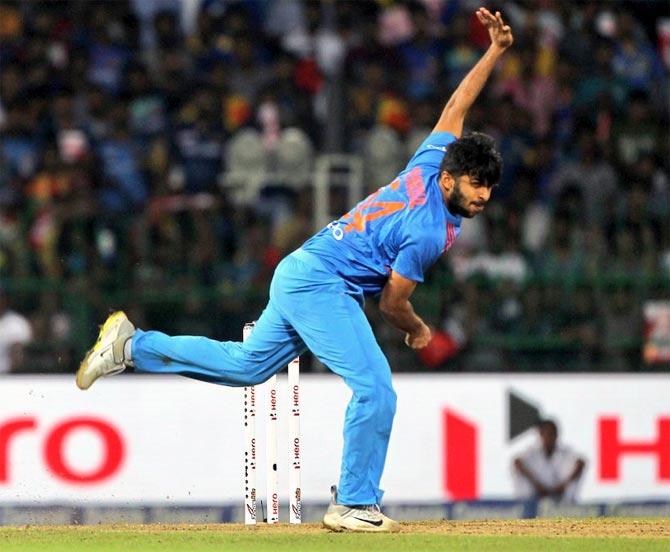 IMAGE: India fast bowler Shardul Thakur. Photograph: BCCI/Twitter
Shardul Thakur knows that opportunities in a settled limited overs line-up won't come easily and that's the reason he is ready to 'step up' in the role of India's stop-gap third seamer in absence of Bhuvneshwar Kumar and Jasprit Bumrah.

Thakur's four-wicket haul was instrumental in India restricting Sri Lanka to a moderate 152 in 19 overs in the rain-hit match on Monday and he deservingly bagged the man of the match award after his team's six-wicket win in the fourth match of the Nidahas T20 tri-series.

Asked about the challenge of being a back-up pacer, the Mumbai speedster replied:"I have told one thing before: I love challenges. I am taking it as a challenge."
"If other senior bowlers are missing from the team, then I have to step up. I have done this previously for other teams that I have played for. I have come in place of Zaheer Khan, Dhawal Kulkarni and Ajit Agarkar while playing for Mumbai (in Ranji Trophy). I had to step up in that role. When senior bowlers are rested, I have to step up and fill that role to lead the pace attack," the young fast bowler stated.

The 'knuckle ball' -- a variation of slower delivery -- is being used as a variation by a lot of Indian bowlers currently including pace spearhead Bhuvneshwar Kumar.

However, it was Zaheer, who had first started using that varation but Thakur insists that he has learnt it all by his own.

"(Zaheer) did it actually, but I didn't watch much of his videos," Thakur said. "I always knew what the grip was, and then I learned it on my own.

"I have been practising it for a long time. It didn't come easily. Whenever I found time to play with white ball while playing domestic cricket, I used to try knuckle ball. Probably for two years, I have been practising it now."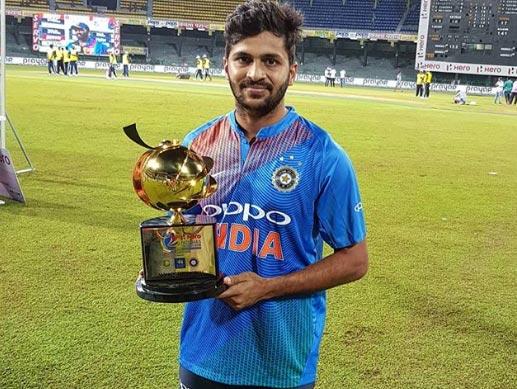 IMAGE: Shardul Thakur with the man of the match award. Photograph: BCCI/Instagram
Thakur said getting the wicket of Upul Tharanga, who was dismissed by Vijay Shankar, and Thisara Perera quickly enabled them to cut down on atleast 20 runs.

"The way they (Sri Lanka) were going, they would have scored at least 165 to 170 but we got Upul (Tharanga) out when he was coming hard at us. Thisara then came in and hit a few boundaries. So I think those crucial 2-3 wickets kept coming and we were probably able to cut down the total by 15-20 runs," Thakur said.

Thakur is happy that the Indian bowlers have come back well after getting hit in the opening game.

"In T20 cricket, you need to be ready for surprises. The first game was a surprise and an eye opener for us. I was hit for 27 runs and also some overs went for above 15 runs. I feel the game against Bangladesh and in this game, we came back strongly and executed our plans well."