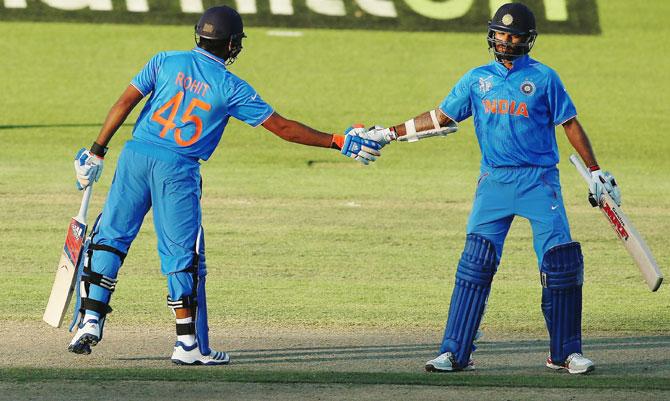 IMAGE: India's opening batsmen Rohit Sharma and Shikhar Dhawan. Photograph: Hannah Peters/Getty Images
Their understanding of each other's game improving with every match, Indian opener Shikhar Dhawan has said that he and Rohit Sharma would look to not just emulate, but surpass the success of the legendary opening pair of Sachin Tendulkar-Sourav Ganguly.
"Me and Rohit have been opening for a long time. We understand each other very well, we know each other's nature very well. I know what he likes to do in the middle. We are quite comfortable. We both have a lot of strokes, so if he plays fast I can play the role of rotating the strike," Dhawan said in the open media session ahead of the team's departure for the Asia Cup in Bangladesh.
"The way Sachin and Sourav had a long career in opening, we can also have that in time. Maybe we can break more records. It's surely going to benefit both of us as well as the country," he added.
Earlier, Rohit had also spoken about emulating the success of the Tendulkar-Ganguly combo.
Speaking of his own game, Dhawan said he is in a good space having done well in the recent series against both Australia and Sri Lanka.
"I am enjoying that I am scoring runs at the moment. Looking forward to continue in the same way and do better in Asia Cup. I want to continue stretching that good form till the time I can," he said.
"It's a journey, getting more experience and mature with time. With time I am knowing my game better (sic). In bad patches, I tried to stick to those things. I believe in my abilities," he added.
Questions on his famed debut Test hundred against Australia still follow Dhawan, who looks back fondly.
"I was enjoying the flow. My instincts had taken over my mindset and it worked for me. I feel it's a balance of both," he said.