'With sweep shots we put pressure on India's spinners'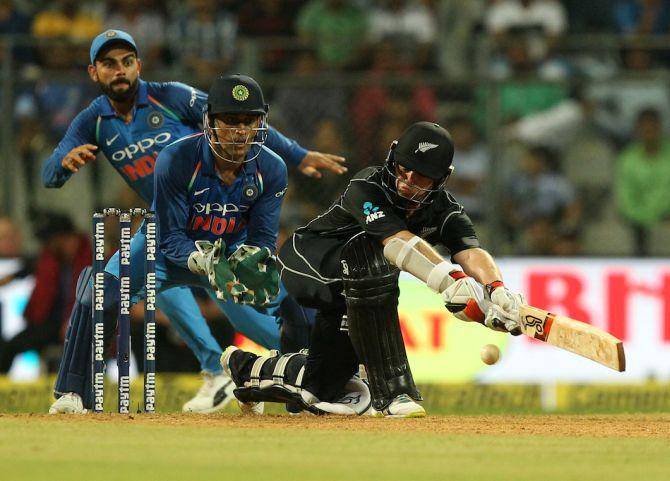 IMAGE: New Zealand batsman Tom Latham delicately sweeps, as wicketkeeper M S Dhoni and captain Virat Kohli watch anxiously, during the first ODI against India, in Mumbai, on Sunday. PHOTOGRAPH: BCCI
Senior New Zealand batsman Ross Taylor is happy that centurion Tom Latham paid heed to his advice to play the sweep and reverse sweep, which disturbed the length of Indian spinners Kuldeep Yadav and Yuzvendra Chahal in the first One-Day International, in Mumbai, on Sunday.
Taylor scored 95 and added 200 runs with Latham, who struck an unbeaten 103 in New Zealand's successful chase of 281.
Kuldeep and Chahal bowled 20 overs among themselves, conceding 115 runs with only a wicket in return.
"With the sweep shot we were able to put pressure on the spinners and force them to adjust their lengths. I thought he (Latham) did that outstandingly well. I told him to reverse sweep and he did it, and he kept doing it," said Taylor, at the post-match press conference.
Taylor said after fielding for over three hours in searing heat and unbearable humidity, they needed a good start, which Martin Guptill and Colin Munro provided them.
"Having to field out there for over three-and-a-half hours, we knew we had to get off to a good start and try and negate their spinners. Traditionally, New Zealand come here and struggle up-front in our innings.
"Being able to rotate the strike with the right-left combination with Tom, I think you have got to give credit to Gup (Guptill) and Munners (Munro). They set the platform for us and we were able to rotate the strike and take it deep and then we knew we were in a good position in the game," he said, providing an insight to their run-chase.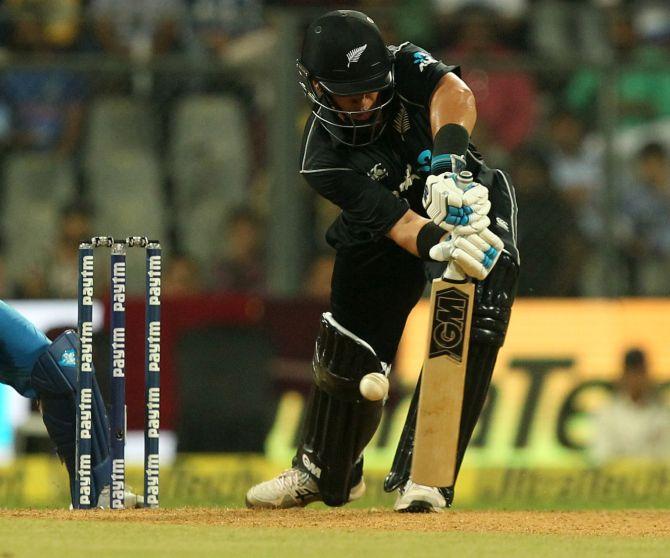 IMAGE: New Zealand batsman Ross Taylor plays a defensive stroke during the first ODI against India, in Mumbai, on Sunday. PHOTOGRAPH: BCCI
Numerous tours to India with the national team and stints in the Indian Premier League certainly came handy for the 33-year-old.
"I have come here many times before, whether it's international cricket or IPL. I am not getting any younger and just wanted a bit of a push and just had a bit more intent, I think.
"Through those middle stages in the past, you take up a far too many dot balls, so made a conscious effort of being a bit more busier at the crease, work on a few shots and open up the off side. Tom and I got some runs in the warm-up game and it was nice to bring that form into Wankhede," Taylor said, referring to their respective hundreds in the second warm-up against the Board President's XI.
Taylor is expecting India to come hard at them in the second game at Pune.
"As long as you win, it doesn't matter who steps up. Today it was Tom and myself. You have got to give credit to the bowlers as well; it was pretty warm out there.
"Boulty (Trent Boult) bowled outstandingly well, but still a long way to go.
"We know India are going to come at us hard and now it's one more victory to take the series for us. But we know Pune is going to be a tough wicket to play on and we have to start again and not dwell on this too much."