- 'The experience and exposure you get in IPL is quite amazing. You get to meet Ricky Ponting and practice with him.'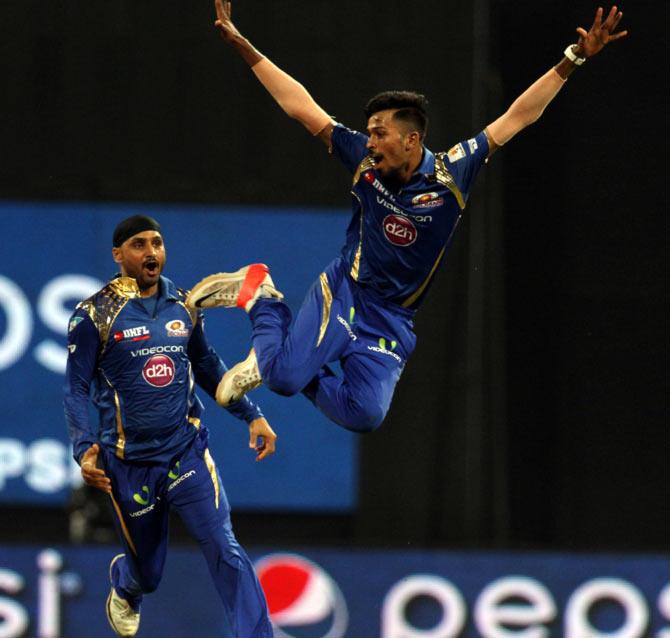 IMAGE: Hardik Pandya (right) celebrates as Mumbai Indians team mate Harbhajan Singh looks on during IPL 8. Photograph: BCCI
Hard-hitting Baroda all-rounder Hardik Pandya said his selection to the Indian team for the T20 series boosted his confidence and is hoping to carry his good form in domestic cricket into the upcoming three-match Twenty20 series in Australia.

"Obviously when you get into the national side the confidence level goes very high. I knew I will get picked for the Australia series, so I had to put in more hard work in the practice sessions. So even that helped me a lot. The kind of form I have had in this tournament, I am going to carry it in Australia," said the rookie, after blasting 86 not out with eight sixes in 46 balls against Vidarbha in the Mushtaq Ali Trophy T20 domestic tournament, at the Wankhede stadium in, Mumbai on Friday.

"I have been batting quite well in the league stages so I had to carry on with that form. One batsman should play till the end and I am doing the role for Baroda. I was very happy when I was asked to bat at No. 3. I am a proper batsman and I have always batted at No. 3. I have said this during the IPL as well that if I take a few balls, I can cover it. In today's game as well, I started slowly and then shifted gears," the 22-year-old said.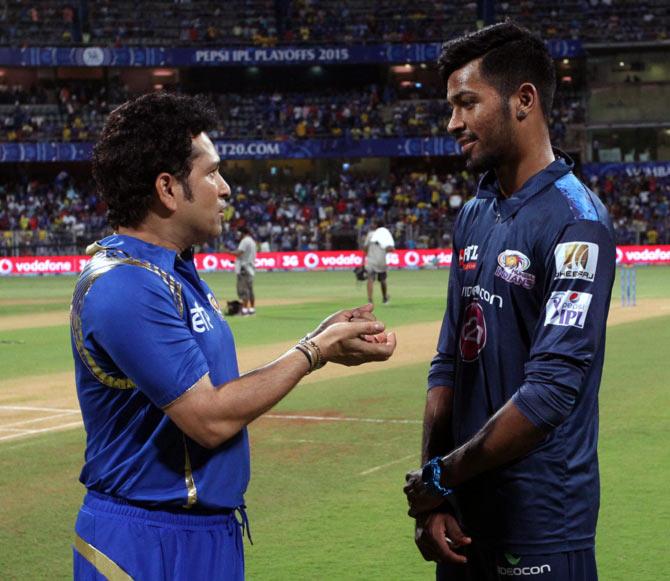 IMAGE: Hardik Pandya (right) speaks to Mumbai Indians icon Sachin Tendulkar. Photograph: BCCI
Pandya said last season's stint in the high-profile IPL for the Ricky Ponting-coached Mumbai Indians, the eventual champions, had helped a lot in his career which is on an upward curve presently.

"The experience and exposure you get in IPL is quite amazing. You get to meet Ricky Ponting and practice with him. Even if I would have played for India, I don't think he would have come and bowled at me. IPL has been a tremendous confidence booster for me. It helped me grow as a cricketer as well.

"He (Ponting) always tells the same thing that I need to keep working hard. Even (Mumbai Indians icon) Sachin (Tendulkar) said the same thing that you should keep working hard and the results will come," Pandya said.

He said the ability to hit a flurry of sixes was built by him brick by brick, in the last few years.

"I have been a proper batsman and I always had to bat at No. 3. My game was always about timing my shots. Later on, I added some power. When I was 16, I used to hardly clear 30 yards, but I still had the confidence to try and hit it over the fielder."