'You don't turn up to Australia thinking wickets are going to seam or spin around'
'It's very important to soak together good partnerships as a bowling group then try and knock them over'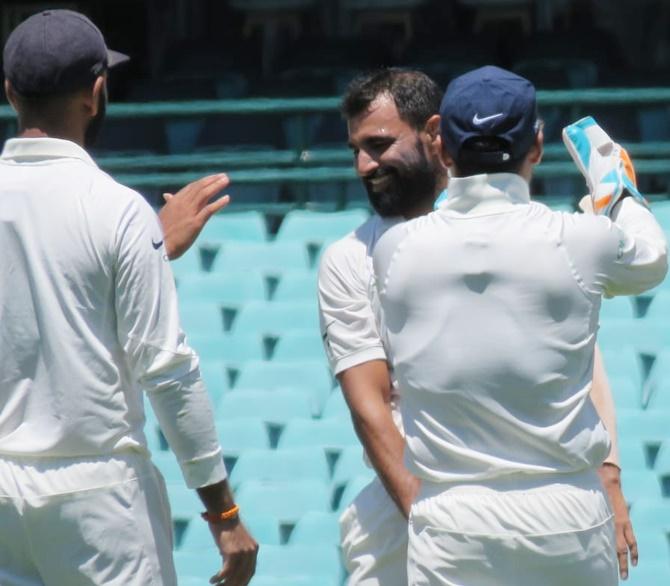 Partnerships will hold the key not just in batting but bowling as well during India's Test clashes with Australia as the hosts cannot really be blown away in a single burst, visiting off-spinner Ravichandran Ashwin said on Friday.
India and Australia begin a four-match Test showdown from December 6 in Adelaide.
Ashwin said India got good bowling practice in the ongoing warm-up game ahead of the first Test in Sydney. Cricket Australia XI finished day three on 356-6 with Ashwin taking 1-63 from 24 overs and Mohammed Shami picking 3-67 from 18 overs.
"You have to stitch together partnerships even when bowling and it's very important to ascertain your role to get what you can out of the game," Ashwin said at the end of day's play.
"It's very important to soak together good partnerships as a bowling group then try and knock them over. You won't blow oppositions away, it might happen once in a while - but you have to get your noses ahead and keep it ahead," he said.
Ashwin said he expects the wickets to be flat, which would require his teammates to play 'smart cricket through the series'.
Ashwin said bowling in partnerships will be of paramount importance especially since India will be missing a fifth bowler in injured Hardik Pandya.
Indian bowlers did well in England and South Africa but considering the nature of pitches, they are in for a long haul. Ashwin has his plans ready for the challenge.
"As a spinner it's important to stick it out there in the first innings, if I get some help in the second innings then try to pitch in. That's similar to how I came here last time, I had a very good series and that was one of the turning points in my career," he said.
"It's more about getting your noses ahead in Australia. Every hour, the game can get away from you really fast in the field. We have some quality batsmen who can take the game away from them."
On his own bowling effort in the practice game, Ashwin said he is quite pleased with the results he got.
"In practice matches, you are looking to get something out of it for yourself. I think we got pretty much what we wanted to get out of it."
"I thought the ball came out pretty well (off my hand). I haven't played an international game for a while so it felt good the way it came out. In the next 4-5 days I will prep up a bit more for the game," he said.
Proceedings on Friday were overshadowed by an ankle injury suffered by young batting sensation Prithvi Shaw, who landed awkwardly on his left leg while fielding early in the morning session, and was subsequently ruled out of the first Test in Adelaide.
"He is feeling a bit sore and it has swollen up a little bit. I hope he recovers fast. He has not spoken much. It has hit him pretty hard. He is a young boy who has come to play in Australia for the first time...," he said.
"It's unfortunate, what's happened, but these things happen...it's an opportunity for someone else. I believe everything happens for a reason," added Ashwin.
The off-spinner will be in direct competition with Australia's Nathan Lyon during the series. Ashwin said the duo cannot replicate each other's styles but expects an interesting duel with his counterpart.
"I also watch his videos. We started our Test careers at the same time so obviously mutual admiration is there. He has done well over the last couple years and he is bowling well."
"The ball is coming out well off his hand. What can I learn? Probably drop the ball at the right spots and probably as the series goes on look forward to a good competition," he said.
He did not comment on the troubles in the Australian camp owing to the after-effects of the ball-tampering scandal.
"There are a lot of headaches when you play international cricket, personally and for the teams you are part of, so it makes no sense to try and get your heads into another dressing room."
"That's for them to mind their own cricket...," Ashwin said.
Ashwin also refused to call India the favourites going into this series.
"...even when Australia came to India they were talking us up, and it looks like more of a strategy for us. I personally think you have to go one day at a time. It's never easy to come over to Australia and win series."
"In the Ashes they almost whitewashed England, knocked them over, and so as far as I'm concerned they are starting favourites," he signed off.