'If he gets a wicket in early overs his confidence is up. So if we can try to nullify that wicket-taking option that he's got straight away, then hopefully we can shift the momentum against him to us.'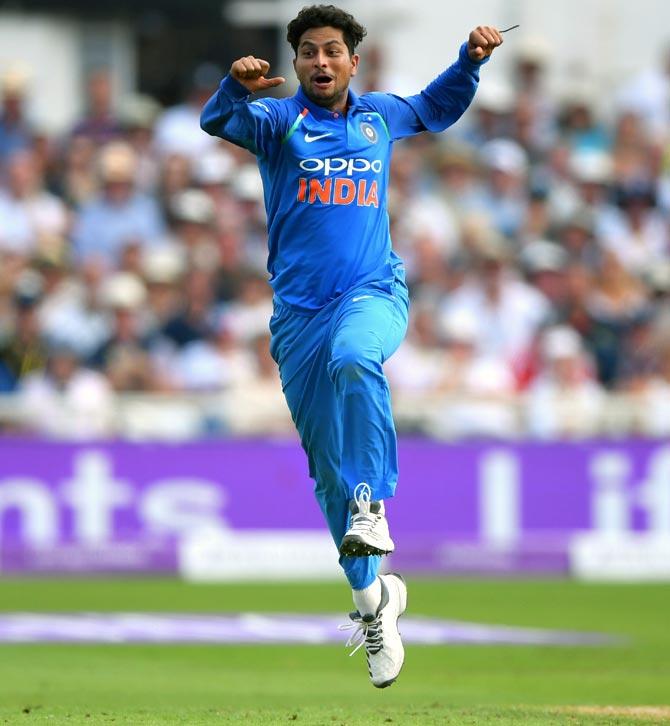 Pacer Mark Wood said that England are working on a plan to nullify India's wrist spinner Kuldeep Yadav by dening him early wickets, in the third and final ODI in Leeds, on Tuesday.

Kuldeep has been the key performer for India with the ball, picking up nine wickets in the two matches so far, including the match-winning spell of six for 25 in India's eight-wicket win in the first match.
"It's definitely a plus point for our players to bat well against him (in the second match). I know he still took (three) wickets but we managed to get some runs against him and put him under a little bit of pressure," Wood said at the pre-match press conference on Monday.

"I think the main thing is he keeps getting wickets in his first over. So I think that's the key going into this game. If he gets a wicket in early overs his confidence is up. So if we can try to nullify that wicket-taking option that he's got straight away, then hopefully we can shift the momentum against him to us," he said.

Wood said England will be considering the series decider against India as a must-win game akin to a World Cup semi-final or a final and adapt to pressure situations accordingly.
"Momentum is the right word. There was disappointment after the first game. We knew what we needed to address to get the second game right. It was a big performance in that game, a great win. Eoin Morgan keeps the side pretty even making sure highs are not too high or lows too low. We knew we needed to get better. It was not doom and gloom. We just knew what we needed to get better," he said.

"I think for Test match side of things, it is great to get certain people out or get runs against them but it is more of impact for World Cup. If we can use this game as a semi-final, or a final, a must-win with the pressure on we can learn what we are doing wrong if we don't win or what we are doing right if we do win. Over the past year we have dealt with these situations well and hopefully we can carry on that trend tomorrow," he added.

Even so, Wood highlighted that the opposition are still of world class quality and they don't want to get carried away thinking too much about replicating a knock out contest. He said that England are not playing to prove a point.

"It doesn't feel like a do-or-die game. I mean we are trying to treat it like that but it just feels like another game. It's a big game against a very good team and we want to try and impress. I wouldn't say it's much different, it's the same stuff.

"It is two very good sides, so when one is on top they are really on top. We have a few batsmen down the order who can score quickly. David Willey came in the other day when it was a little bit sticky and he managed to really press on. So I think big games call for big players. I definitely know Virat Kohli will be right up for it and he's the biggest of all. So if they're right up for it, we've got to make sure we are at the same intensity and level that they are," Wood said.

England's one major concern ahead of the third ODI is the form of all-rounder of Ben Stokes, who has looked woefully out of touch with both bat and ball. But Wood believes it is just a matter of time when the all-rounder would show his class yet again.

"It's a chance for him to prove how good he is again and he doesn't need to. Everyone knows how good a player he is but obviously coming back from a bit of time out, he's probably desperate to do well and be that match-winner again.

"Obviously India are a quality team so maybe they'll have a game like we'll have a game plan to certain batters, they'll have a game plan for him (Stokes) and it might just take him a little bit of time to work out certain situations that try to stay away from his strengths. But I mean he's got good game management on field I think."
© Copyright 2022 PTI. All rights reserved. Republication or redistribution of PTI content, including by framing or similar means, is expressly prohibited without the prior written consent.