- 'During those middle overs a lot of us get carried away trying to play too many big shots and not trying to take advantage of the big fields in Australia.'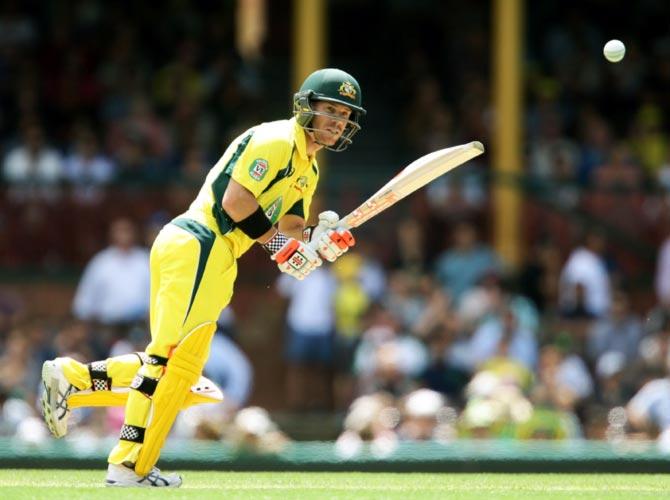 IMAGE: Australia opener David Warner. Photograph: Matt King/Getty Images
Holding the team's batting failure responsible for the 37-run defeat to India in the first Twenty20 International, Australian batsman David Warner on Wednesday said the hosts need to bat smartly against the Indian spinners and take full advantage of the big stadiums Down Under.

Apart from skipper Aaron Finch's 44, the rest of the Australian batting surrendered meekly against the Indian attack as they folded for 151 in reply to India's 188 in the first T20I in Adelaide.

Warner, who fell to debutant medium-pacer Jasprit Bumrah for 17, wants the Australian batsmen to learn from their mistakes.
"During those middle overs a lot of us get carried away trying to play too many big shots and not trying to take advantage of the big fields in Australia. I think in India you can actually get away with trying to hit boundaries cause it's a bit smaller and with either side of the fielders around the bat, you can actually get a more value for your shots," Warner said ahead of the second T20 game at the Melbourne on Friday.

"But definitely your basic batting wasn't there last night (in Adelaide) and that's trying to get twos on the big field."

Shane Watson, who claimed two for 24, was the pick of the Australian bowlers in India's tall score of 188 for three in the first T20 match and Warner welcomed his team mate's return to the international fold.

"Obviously his form over the last 18 months hasn't been as good as he would like. He knows that; we all know that. We always want him performing to the best of his ability and the one thing I think he's at strength is his bowling.

"It's such a great thing to see him work harder than that. In the Big Bash also he scored a lot for his side. Last night (in the first T20) I saw glimpses of him actually bringing it back a little bit for us. In the end his addition would be fantastic for us throughout middle overs and we know what he is capable of with the bat," said Warner.

The southpaw was also all full of praise for Steven Smith's contribution as a leader in ODIs and Tests and also as a batsman.

"The way he's matured and appeared in time. He feels no pressure out there when scoring runs. He has got a free mind when he goes out there. It's a great thing for the team at the moment and he deserves the accolades he gets," he said.