- 'It's nice to have good plans, but the plan only looks good when it is executed well.'
- 'Bumrah bowled really well; the second over that he bowled, he was under pressure with the field restrictions.'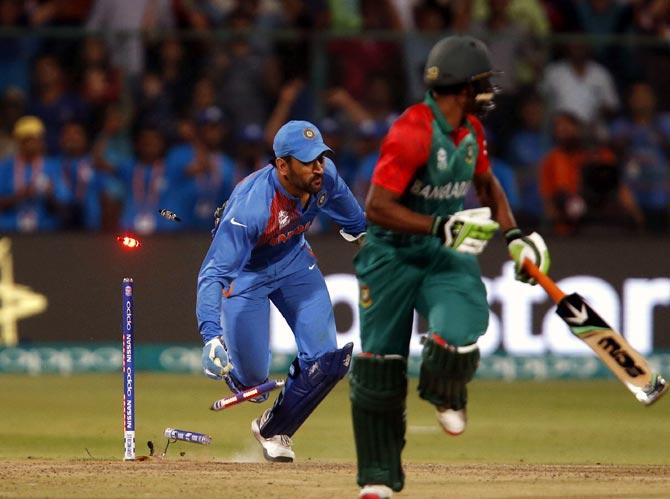 IMAGE: Mahendra Singh Dhoni runs out Mustafizur Rahman (not in picture) to seal victory for India in the ICC World T20 match against Bangladesh, in Bengaluru, on Wednesday.Photograph: Danish Siddiqui/Reuters
Mahendra Singh Dhoni played the finishing role yet again for India, but this time it was his gloves that worked the magic.
The captain effected a run-out off the final delivery of the match to lead India to an thrilling one-run victory over Bangladesh in the ICC World T20 match, in Bengaluru, on Wednesday.
But Dhoni was all praise for young Hardik Pandya, who held his nerve off the final delivery, with Bangladesh needing two runs to win, and executed instructions brilliantly by not bowling a yorker to Shuvagato Hom, which could have turned into a full-toss.
"There were quite a few stuff we were discussing; one thing was for sure, we did not want him (Hardik) to bowl a yorker. It had to be a back of a length, but how back of a length, that was the question.
:You don't want to bowl a wide. We were deciding out field and I think he executed really well. It's nice to have good plans, but the plan only looks good when it is executed well," Dhoni said, at the post-match presentation ceremony.
However, he did not reveal his mid-pitch conversation with Ashish Nehra.
"I don't want to say everything, but the decision was what length to bowl, what line to bowl. If you are going for yorkers, what is the field and also keep in mind about the strength of the yorker. And also I knew, once the 20th over starts, you can take all the time you want. I can't be fined."
Dhoni was sympathetic for Bangladesh batsmen Mahmudullah Riyadh, who perished in the final over, attempting a big shot despite the visitors needing two runs from two balls for victory.
"At times you look to finish it with the big shot. And if you think you have wickets in hand, you think others can finish it. And when you are batting well, you go for your shots. It is a learning curve for Mahmudullah, as it happens with all finishers. That's what cricket is all about. If that had gone for a six, it was a great shot. Great courage! That's what cricket is. A commentator can have a look later and say whether it was a bad shot or not," Dhoni said.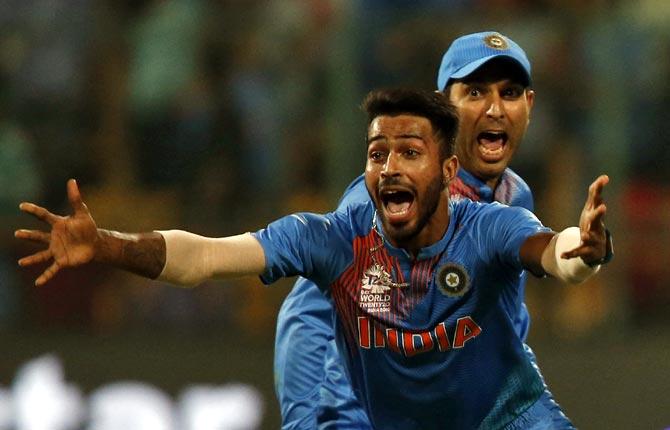 IMAGE: Hardik Pandya and Yuvraj Singh celebrate after India beat Bangladesh by one run in the ICC World T20 match, in Bengaluru, on Wednesday.Photograph: Danish Siddiqui/Reuters
Dhoni also praised young fast bowler Jasprit Bumrah, who bowled an unbelievable 19th over, conceding just six runs.
"Bumrah bowled really well; the second over that he bowled, he was under pressure with the field restrictions. It was a reflection of his mis-field and the dropped catch, but he had to forget about what happened and that's what we told him. I feel he is somebody who is very good with the yorkers and he did very well.
"There were two occasions when we had to make the game and instead of using our part-timers and we bowled our frontliners. It was a very good bowling effort."
Man of the Match Ravichandran Ashwin admitted that the team was very tense during the final few overs.
"We've never really got together and worried so much. I don't have anything left. I am drained after today's game. I will just crash now. Credit to Jasprit in the manner he bowled. He had put down a catch, he went for 22 in 2 overs. He was down but Bumrah came back for us.
"I probably gave him a cheeky idea to try a Mankading in the end. We might have taken flak, but why not. We have not probably batted well."
Ashwin also gave insight into what went on during the last delivery, bowled by Pandya.
"Before that ball, everybody got together and decided what we wanted to do. My idea was to bowl a bouncer; I think that's the toughest ball to hit for a lower-order batsman. He missed it and we won the game," Ashwin said.
On Dhoni taking off the right gloves for the last ball which helped him run out Mustafizur Rahman, Ashwin said:" It made sense to run to the stumps. It could have ricocheted off had he thrown with gloves on. If we didn't win, we could have had a Super Over and lost the match. I thought when Mushfiq hit that boundary, I thought they would nudge it around. But Hardik held his nerve. He had to bowl the last over; he and Nehra bowled really well. The other choice was Yuvraj Singh.
"After we made 146 we knew we had a task. It was a small ground. The thing that was spoken in the huddle was they could take off or they could commit hara kiri. Mushfiq wanted to lap him, but that slog was the game that sealed it. Mahmudullah's shot was the pressure and credit to (Ravindra) Jadeja; that was a brilliant catch. This is one of those games where it was very tricky.
"Initially, it was all about bowling good balls, but once Tamim (Iqbal) was dropped, I knew we were on the back foot. When I came back, it was a catch-22. I didn't know whether to go for wickets or contain. When I am confused, I just go for a wicket. I have seen one close game... that was the 2007 World Cup. This was it. It was the closest game."

Bangladesh captain Mashrafe Mortaza said they lost the match in the last three balls.
"We were on top till the last three balls; we could have taken singles. But, anyways, bad luck. The last three balls, we lost three wickets; we needed only two runs off three balls.
"Especially today, it is really disappointing. Overall, we played well, except (the) Pakistan (game). Today it is disappointing."