'I would have loved to see Dhoni play the first ever Test in Rajkot.'
Fans from Saurashtra share their excitement with Haresh Pandya.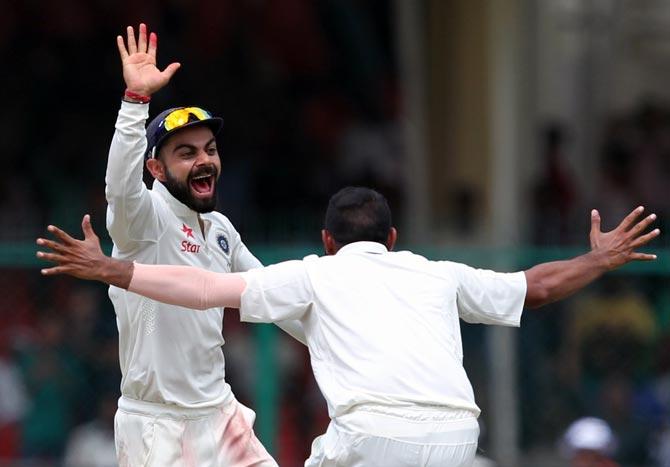 IMAGE: Indian Captain Virat Kohli, a big attraction for Rajkot cricket fans.
Saurashtra's contribution to cricket has been substantial.
Long before India became a full member of the International Cricket Council Saurashtra produced a Test cricketer.
Kumar Shri Ranjitsinhji, the immortal Ranji, put India on the international cricket map and showed the English what Oriental magic was all about with his artistic and elegant batting.
More than 100 years after Ranji mesmerised the world with his amazing exploits, Saurashtra will host its first ever Test in its industrial capital, Rajkot.
The first Test between India and England, scheduled to be played at the Saurashtra Cricket Association Stadium on the outskirts of Rajkot from November 9, has triggered enormous interest not only in Rajkot, but across Saurashtra and Kutch with cricket enthusiasts from Jamnagar, Bhavnagar, Porbandar, Bhuj and other towns making arrangements to witness the region's maiden Test.
"Being from the old school, I still prefer traditional Test cricket to ODIs and T20s. How can I remain at home when Test cricket has come to our doorstep?" asks Dilip Thaker 62, a retired government officer from Mandvi in Kutch, who has camped in Rajkot.
"I had been waiting for long for this Test and I am going to watch it from the best position in the stadium," Thaker adds.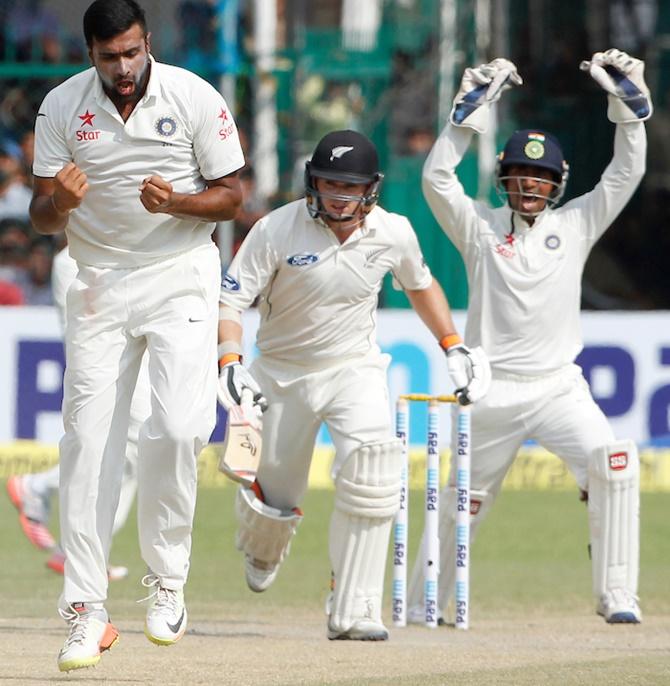 IMAGE: Ravichandran Ashwin, currently the world's top bowler.
While the traditional form of the game is what draws older fans like Thaker and Dhansukh Patel, 57, a businessman from Jamnagar, stars like Virat Kohli and Ravichandran Ashwin are the major attraction for young cricket buffs.
"I am a big Virat Kohli fan. I have not missed a single match in Rajkot, in which Kohli has figured," says Pratik Limbasiya 20.
"I would have come to Rajkot to watch Kohli in action even if it were a Ranji Trophy match," the third year BCom student from Junagadh adds.
"I did not like Test cricket earlier," says Limbasiya, "but after Kohli began plundering runs in this format, I am really in love with it. I think players like Kohli have rejuvenated Test cricket."
With Saurashtra's very own Cheteshwar Pujara (from Rajkot) and Ravindra Jadeja (Jamnagar) all set to feature in the region's first Test, there is much excitement in the air.
"Saurashtra and Rajkot has produced nearly a dozen Test cricketers over the years," says Kashyap Dholakia, a sports columnist for a leading local daily newspaper.
"I am very excited now that Rajkot is set to host its maiden Test, two Saurashtra players will feature in the playing XI," he adds.
"I expect both Pujara and Jadeja to perform brilliantly in Rajkot and ensure that India takes 1-0 lead in the series," predicts Kruti Devani, a young homemaker from Rajkot.
"They will enjoy full support of local spectators as will the entire Indian team," she adds.
"While I am delighted and excited that Rajkot is going to host a Test, I wish Mahendra Singh Dhoni were still a part of the Test team," says Bhavesh Rajyaguru, 37.
"I would have loved to see Dhoni play the first ever Test in Rajkot," says the schoolteacher from Rajkot. "I still cannot imagine an Indian team without my all-time favourite Dhoni."
With the first Test between India and England, Rajkot will join those centres in India that have staged all type of cricket matches -- Cooch Behar, Vijay Merchant, C K Nayudu, Wills, Deodhar, Ramakant Desai, Mushtaq Ali, Vijay Hazare, Ranji, Duleep Trophies, Irani Cup, ODIs, international Twenty20s and IPL games -- all except an ICC world event.