'In BCCI, we can't sit back on judgement on personal life and take away his livelihood. Also Board doesn't have the powers to do so.'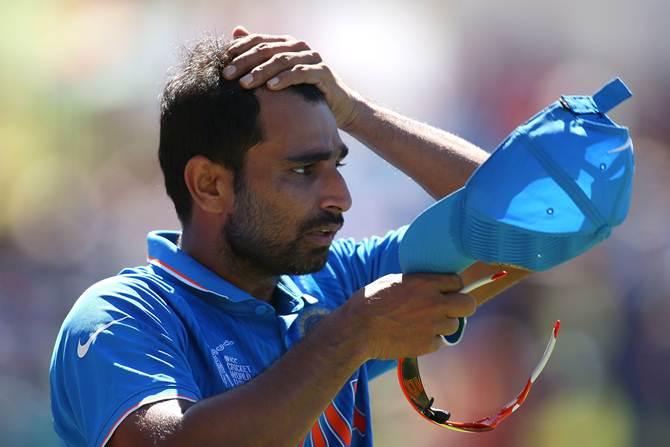 Fast bowler Mohammed Shami, in all likelihood, will find himself back in the list of centrally contracted players if the report filed by the BCCI's Anti Corruption Unit head Neeraj Kumar absolves him from any wrongdoing as per the Board's Code of Ethics.

BCCI's senior officials feel that allegations of domestic violence levelled by Shami's wife Hasin Jahan are completely under police jurisdiction and they have nothing to do with it.
"The brief is pretty clear. The BCCI's handbook has an 'Ethics Code' for cricketers with a specific clause regarding financial transactions. The ACU is only investigating Shami's dealings with Mohammed Bhai and Alishba and the alleged monetary exchange his wife is talking about. If Kumar's report absolves Shami of any wrongdoing, he will be immediately handed back his Central Contract," a senior BCCI official said on Friday.

The official made it clear that BCCI would not like to judge Shami on incidents related to his personal life.

"Yes, there are specific allegations levelled against him by his wife. But the Kolkata Police is doing its job and it's completely their domain. In BCCI, we can't sit back on judgement on personal life and take away his livelihood. Also Board doesn't have the powers to do so," the official, who is well acquainted with the judicial process, made it clear.

Asked what if the Kolkata Police arrests Shami, he replied: "It is a hypothetical situation. We can't sit here and pre-empt what the police authorities would be doing. It is not our job. You never know how long the investigations might take. We will cross the bridge when it comes," he said.

Once Neeraj Kumar's report comes out, the onus will be on Delhi Daredevils to decide on Shami's participation in the Indian Premier League.

Since IPL is an inter-club tournament, the franchise has to decide whether they want to play Shami.

"We have decided that we will go by the report submitted by ACU chief Neeraj Kumar. Based on recommendations, a final decision will be taken. We have nothing to do with anybody's private life. If he gets a clean chit, then he can play. If he doesn't, then he won't. This is what we have decided. The report will come in next four-five days, till then we will wait for the report," IPL Governing Council Chairman Rajiv Shukla said.

"I am sure the matter will be sorted. It's a personal thing (of Shami) and I don't wish to comment," CAB president Sourav Ganguly said.

Shami plays for Bengal in domestic cricket.
Photograph: Paul Kane/Getty Images
© Copyright 2023 PTI. All rights reserved. Republication or redistribution of PTI content, including by framing or similar means, is expressly prohibited without the prior written consent.