- 'Bowling flat with varied pace has been my strength. It has troubled batsmen more often than not. I don't think I will be as effective if I start flighting the ball more.'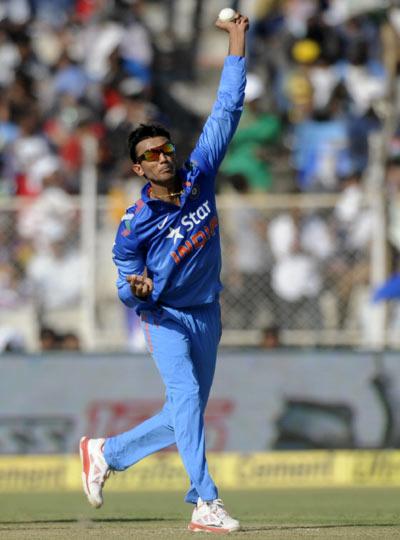 In-form Axar Patel believes he is fully ready for his second tour of Australia and not losing sleep over the close competition between him and Ravindra Jadeja for the number one left-arm spinner's role in the five One-Day Internationals Down Under.
Patel could not have made a stronger case for his inclusion in the playing eleven for the first ODI on January 12, after helping Gujarat win their maiden Vijay Hazare Trophy by lapping up 19 wickets in nine matches, at 14.63.
However, it will be hard for Mahendra Singh Dhoni to pick him as Ravichandran Ashwin's spin partner over Jadeja, who made a roaring return to international cricket in the Test series against South Africa and and was named in both the ODI and T20 squads for the Australia tour.
- India's Aussie team: Guess who has the best ODI, T20 records
"There is always going to be competition when you are playing for India, but it has not come in the way of the personal rapport I share with some of the team members.
"Jaddubhai (Jadeja) is back so there is going to be competition as most likely there will be only one left-arm spinner in the playing eleven. But that is how it is. It is nice that he is back in all formats. We are both from Gujarat and it is always fun to be in his company," Patel said on Tuesday.
The selectors are trying out different players for the three T20 Internationals in Australia and Patel, who earned his India cap courtesy a stellar showing in the seventh edition of the Indian Premier League last year, is disappointed to miss out from the T20 squad.
"It is disappointing, obviously! The World T20 is around the corner and it would have been good to play three matches in Australia. Having said that, my thinking is that if I keep doing well in ODIs and domestic cricket, it is a matter of time before I make a T20 return. There is nothing to worry as there is still some time left for the World T20," he said, referring to the tournament to be played in India.
The 21-year-old has copped constant criticism, a chunk of it from Sunil Gavaskar, for sticking to a flatter trajectory, maintaining that flighting the ball is not his forte.
He asserts there is no reason why he should change his bowling style though he has started making a conscious effort to toss up the odd ball.
"Bowling flat with varied pace has been my strength. It has troubled batsmen more often than not. I don't think I will be as effective if I start flighting the ball more. I work hard on my bowling, I have even tried to bowl slower but in match time I am more comfortable bowling flat, varying my pace and length four out of six balls.
"If Daniel Vettori can be so successful with a similar approach, why not me? I don't know why I am criticised for this (operating on a flatter trajectory)," he said.
He is also putting in the hours on his batting and it was evident during the Vijay Hazare Trophy tournament, in which he scored 220 runs, at 36.66, with a highest score of 75.
The all-rounder believes his Australia experience will come handy the second time as he was part of the Indian squad for the tri-series and World Cup earlier this year.
"I think it will come in very handy. I played in the tri-series and was also part of the World Cup squad (though he did not get a game). So I have a fair idea to where to pitch the ball, what the conditions will be. The first time I did not know how to go about it. Now I know that you have to bowl back of a length to extract bounce in Australia whereas in India you need to bowl fuller. There won't be much spin, so I will just try bowl flat, vary my length.My height also helps me extract the bounce on Australian pitches and it comes at a good pace," he said.
Patel has played 22 ODIs and four T20 Internationals since making his debut in June, 2014.
Looking back, he says it all happened a lot sooner than expected.
"I never thought I will play for India as a 20-year-old. The confidence grows when you are regular in the team and doing alright.
"I have done the hardwork but was lucky as well. I got play for India a lot earlier than I had thought.
"When I was young, I was nervous sharing the dressing room with cricketers I used to see on TV.
"When I played for the first time, everyone including the seniors, made me feel comfortable. Senior players advise regularly on tours; someone like Viratbhai (Kohli) will talk at length about how to read the batsman's mindset.
"With Ashwin, we usually talk about the mental side of bowling. He says 'don't think too much about others and just focus on yourself. If you take pressure, you won't be able to perform'."