'I faced Ashwin a couple times in IPL before this, so don't have much experience of playing him in Test cricket. But we have batsmen who can play spin well'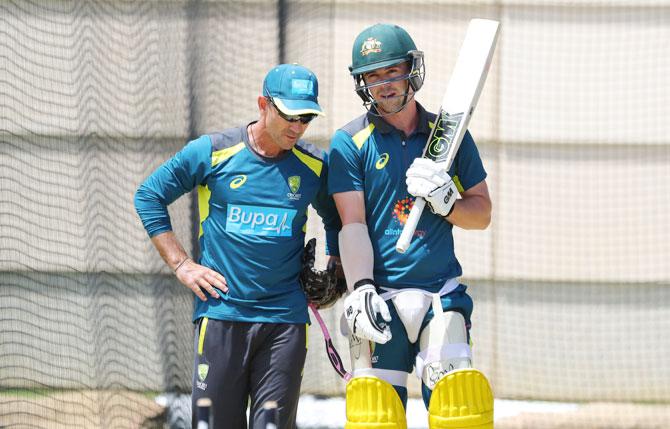 Left-handed Australian batsman Travis Head is looking to pick the brains of his junior state teammate Harry Nielsen to tackle formidable off-spinner R Ashwin during the opening Test against India starting in Adelaide on December 6.
South Australia's Nielsen (100), who is also a left-hander, negotiated Ashwin (2-122) well and scored a hundred in the warm-up game between Cricket Australia XI and India.
"Harry Nielsen (Cricket Australia XI) played him well enough in the practice game, so I am looking forward to having a word with him (about facing Ashwin)," said Head ahead of the first Test.
Ashwin has had a lot of success against left-handers during his career and Australia is likely to have at least four lefties in their playing XI but Head said his batsmen are capable of countering the Indian's threat.
"I faced Ashwin a couple times in IPL before this, so don't have much experience of playing him in Test cricket. But we have batsmen who can play spin well," he said.
"Look, it is not just about one spinner. If we play six right-handers, they will play Ravindra Jadeja who is another good bowler. I think it will be a good contest."
Head also believes Australian pacers will be able to put pressure on India skipper Virat Kohli, who has toured Australia twice in the past, scoring five centuries -- including three in Adelaide.
"I don't have to bowl to him so I don't need to work out his weaknesses. But I think our bowlers will have it under control," said Head.
"Facing our three pacers is hard work as it is. He is human after all, and if we can put him under enough pressure, it might work.
"We know he is a good batsman, but we have the bowlers to do a job. We have one of the best bowling units in world cricket so it will be an exciting battle. Hopefully we can come out on top."
There has been a lot of talk about changing Australia's team culture, following the year-long ball-tampering bans on Smith and Warner.
Head said Australia will look to be aggressive in their action rather than with words.
"I haven't played much Test cricket. In ODIs fielding on the boundary, it is not easy to get talkative. But I am sure we will look to play fierce cricket and look to be aggressive. Words are cheap. It is all about actions," he said.
"We will hit the lengths hard and be aggressive in the field. We will attack the ball and even when bowling defence, look to attack. We need to cut down runs and create pressure.
"When I am batting, I will try to get into the game and just look to compete. That's what it is about --enjoying, playing with a smile and winning the contest for your team."
Head, who played his two Tests against Pakistan in UAE, will be hoping to get the nod for this series, given the hosts are struggling to put together a proper batting line-up in the absence of Smith and Warner.
"Having seven batsmen in the side keeps you on your toes. When playing for Australia you have to be performing. There are a lot of spots on offer and lot of batsmen have been scoring runs in Shield cricket," he said.
It is exciting to be in that mix and fighting for that Test spot. It helps make for a good strong batting line-up."
Talking about his form, Head said: "I am reasonably happy with my form going into this series. Ideally I would have liked a few more runs and the last couple Shield games have tested me in areas I have been working on.
"I am looking forward to batting on a friendlier Adelaide wicket. We have three fierce pace bowlers to prepare against, and then also Nathan Lyon. We have three days to prepare and it will be a good workout for a challenging week ahead."
Last time India played at Adelaide, Lyon was the star as took 12 for 286 to help Australia notch up a 48-run win on a batting pitch.
"... I think it will be a good wicket this time too. The heat should help create a lot of rough for Lyon and for their spinners too," Head said.
"Hopefully it will have a lot of pace and bounce as well. I know they are trying to make it quicker each time and as the Shield season has gone on, it has gotten quicker. I think it will have something for everyone," Head said.
© Copyright 2023 PTI. All rights reserved. Republication or redistribution of PTI content, including by framing or similar means, is expressly prohibited without the prior written consent.