I may sound cliched but I am happy playing the game, says Ashwin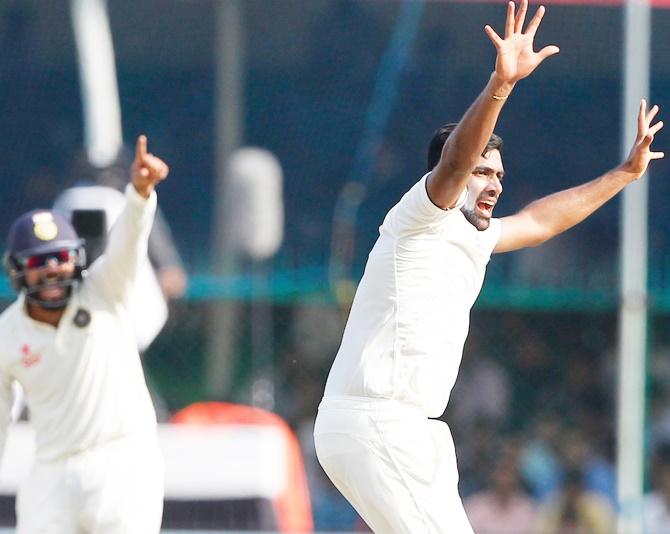 IMAGE: India's Ravichandran Ashwin, right, reacts after bagging the wicket of Kane Williamson (not in picture) captain of New Zealand. Photograph: BCCI.
He became the second-fastest cricketer in the world to reach 200 Test wickets but Indian off-spinner Ravichandran Ashwin says the thought of creating records never crossed his mind since he is 'happy competing with himself'.
New Zealand captain Kane Williamson was his 200th victim in his 37th Test match, as he overtook compatriot Harbhajan Singh (46), but remained behind Australian Clarrie Grimmett (36).
In the process he also surpassed a few legends of the game such as Dennis Lillee (38), Waqar Younis (38) and Dale Steyn (39).
"I am happy trying to compete with myself. When I say that, I might sound clichéd but I always say I constantly compete with myself. Trying to catch up with records, always teach you lessons. That is something Test cricket taught me pretty early in my career. I lost a good 12 to 18 months and that's good enough to teach me all the lessons," Ashwin said.
Talking about his five-year journey so far, since making his debut in 2011 against the West Indies, the wily off-spinner said he has created many cherishable memories for himself.
"Definitely the 200th one is very special so far. Kane Williamson is not a bad scalp. There have been quite a few good wickets I had over a period of time. Kane Williamson getting out in this Test match in first innings was a very good ball. Sangakkara in Sri Lanka, these are some special memories I cherish in my career. I hope I create more and more in the future," he said.
Asked if he feels that he could have done it more quickly as he has missed a good amount of cricket in the past.
"It had to be that way. There are a lot of good memories I have created in the last 5-6 years in my career. To look back and feel sorry about a few things, is not the right way to go about my career. I am very happy," he said.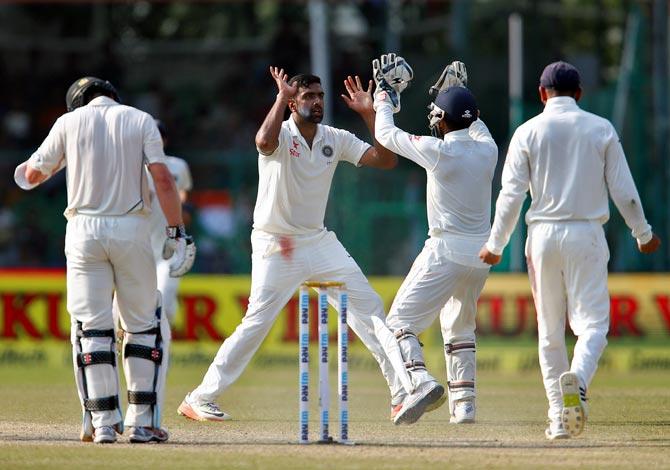 IMAGE: Ravichandran Ashwin, centre, celebrates. Photograph: Danish Siddiqui/Reuters .
Ashwin refused to predict his future as far as cricketing achievements were concerned.
"The next target is that we have to win this Test match. Everybody talks about 13 matches in the season. For me, it's one match at a time. Try take a 1-0 lead and take it forward."
Ashiwn said it will not be prudent to say at this moment that only two Indian spinners proved enough for the Kiwis.
"The game is not finished as yet. We are not jumping to any conclusions. The fact is we have to take six more wickets. It's too early to call anything. We should have got them five or six down today, I am a bit disappointed with that," he said.
Recently, Harbhajan had said that Anil Kumble and Virat Kohli should usher in an era where India play only on rank-turners. Ashwin said there's unnecessary focus on wickets in India.
"To be honest, playing on what kind of wickets we are playing is not something Kumble or Kohli can go and roll wickets or water it. What we get is what we are going to play.
We are looking to playing good cricket. It's not going to take sheen off. It's very unfortunate, people don't realise it but it is very important that we go and enjoy the brand of cricket we play. A win is a win and savour it. Test match gets over in two days in England, nobody talks about... why in India."
When asked by a Kiwi journalist what was the trick to get the visiting batsmen out consistently, Ashwin replied, "To be honest it is one of the better wickets that New Zealand people probably can get."
"It's very slow. They have enough time to go on the backfoot and adjust their shots. It's been a traditional aggressive Indian wicket."
© Copyright 2021 PTI. All rights reserved. Republication or redistribution of PTI content, including by framing or similar means, is expressly prohibited without the prior written consent.