A Motion was laid in the House of Commons in the UK congratulating batting maestro Sachin Tendulkar on his "magnificent" career and for being an able ambassador of the game.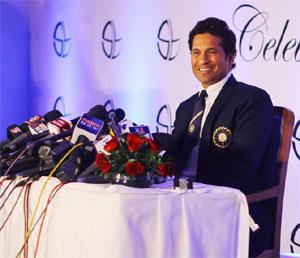 The Early Day Motion, moved by Indian-origin MP Keith Vaz, said Tendulkar served as an inspiration for millions around the world and recognised his "selfless dedication" to the sport.
"This motion is a fitting tribute to such an exceptional batsman. Tendulkar is adored almost as much in the UK as he is in India so it is only right that Parliament pays tribute to him," Rt Hon Keith Vaz MP said.
There was no debate on early day motion.
The Indian batting legend drew curtains on his 24-year-long illustrious career on Saturday after playing his landmark 200th Test against the West Indies in Mumbai.
That very day, Tendulkar was awarded the Bharat Ratna, India's highest civilian award.
Image: Sachin Tendulkar
Photograph: Hitesh Harisinghani