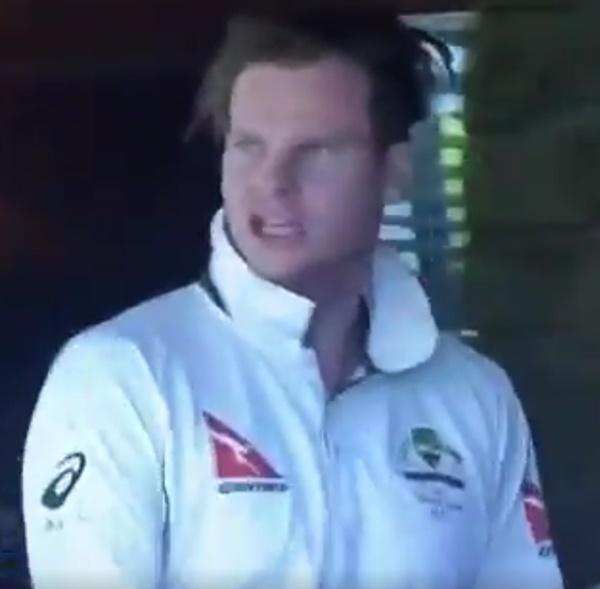 IMAGE: Video grab of Steve Smith abusing
There seems to be no love lost between India and Australia players as visiting skipper Steve Smith, on Monday, appeared to have used cuss words against Murali Vijay after the home team opener claimed to have taken a catch that was deemed not clean.
The four-match series that will be remembered as much for its off-field controversies as on-field exploits, had its fair share of drama on the third day of the fourth and final Test in Dharamsala.
At first, there were frayed tempers between Matthew Wade and Ravindra Jadeja after Glenn Maxwell's dismissal and then Smith looked very upset when Vijay claimed Josh Hazlewood's catch, which was later given not out by the TV umpire.
The Hazlewood incident happened in the third ball of the 54th over when he edged one to Vijay in the slips. Convinced that he has taken it cleanly, Indian players started walking back to the pavilion and being an opener, Vijay rushed back to put his pads on.
The TV umpire intervened after replays showed that the catch was not taken cleanly. The Indian players were called back and Smith, who was in the Australian dressing room, looked displeased with Vijay's quick run into the pavilion and was caught by television cameras mouthing the words f****** cheat.
Smith was heard using the cuss word in a video uploaded by the Australian broadcaster.
When questions were asked by the Australian media on the incident, team batting coach Graeme Hick presented a dead bat. Asked if Hick was disappointed with Vijay, the former England batsman sounded sympathetic.
"No, I mean having fielded in slips and close to the bat, sometimes, you are not a 100 per cent sure. He would have felt that got into his fingers and felt that it was a clean catch. If anything, once the batter or whoever maybe has gone for the review, yeah fair enough, maybe the fielder should stand around and wait. The processes are in place."
Hick said that despite the heated arguments, the series has been played in good spirit.
"At times, this series has been a little bit heated, but I think this game has been played in very good spirit and he obviously thought he had a clean catch. It goes upstairs, come back and get on with the game."
The incident took place in the 33rd over of Australia's second innings after Maxwell was adjudged LBW by South African umpire Marais Erasmus.
IMAGE: Ravichandran Ashwin acts as peace maker between Ravindra Jadeja and Matthew Wade. Photograph: BCCI.
Australian wicketkeeper Matthew Wade got into an argument with India's Ravindra Jadeja after Glenn Maxwell's dismissal.
The incident took place in the 33rd over of Australia's second innings after Maxwell was adjudged LBW by South African umpire Marais Erasmus.
Maxwell predictably took a DRS, which remained umpire's call even though it looked tight in TV replays.
As Maxwell started walking, an angry Wade tried to approach the melee of Indian players but Ravichandran Ashwin came in between and held back the Aussie keeper.
Wade was having an argument with Jadeja, who seemed equally involved before another player pulled him aside.
Wade was fuming and as he walked back to his crease, he was seen having another round of discussion with Murali Vijay. The two umpires then called India's stand-in skipper Ajinkya Rahane and Jadeja for a chat to cool things down.
When Jadeja was asked about the incident, he said in jest, "Nothing happened. I just told him, that once you guys lose the match, let's have dinner together."
It was later learnt that after Jadeja's sword wielding act, Wade told him: "Why don't you just go back and do all these... Your instagram is full of all these ****", prompting
Ian Gould to say, "Gentleman please continue with the game."
There has been a lot of acrimony between the two teams throughout the series. Steve Smith's 'DRS Brain Fade' started it all before rival captain Virat Kohli stopped short of calling him a 'cheat'.
The International Cricket Council had to broker peace between the teams.
The Ranchi Test match saw another round of controversy after Kohli's shoulder injury. Glenn Maxwell kicked up a storm by mocking the Indian captain.
To make matters worse, a section of the Australian media went on overdrive comparing Kohli to controversial US president Donald Trump -- something that didn't go down well with the Indian team.
© Copyright 2022 PTI. All rights reserved. Republication or redistribution of PTI content, including by framing or similar means, is expressly prohibited without the prior written consent.