'The batting of Shreyas Iyer was a big positive. He showed a lot of intent'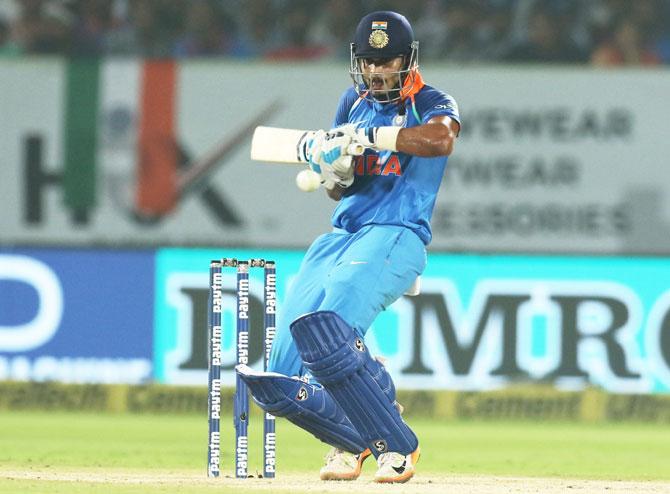 IMAGE: Shreyas Iyer plays a deft shot en route his well-made 65. Photograph: BCCI
India on Sunday recorded their eighth successive win in a bilateral series and stand-in captain Rohit Sharma said the team needs to maintain the consistency in the upcoming tours overseas.
Shikhar Dhawan struck a sublime hundred in the nick of time as India delivered yet again in a series decider to beat Sri Lanka by eight wickets in the third and series deciding final ODI.
India will next play three T20s against the Islanders before embarking on a long away journey, starting with the South Africa tour.
And Rohit feels the young lot of cricketers in the team are ready for the tough battles ahead.
"We need to continue this consistency. We are going abroad now, the next one and half year will be challenging and we have to be ready for that," Rohit said at the post-match presentation ceremony after clinching the series 2-1.
"The youngsters bring a lot of energy and I'm sure they are ready for all the upcoming challenges," he added.
The skipper hailed his team for the 'terrific comeback' they made after the morale-shattering defeat in the first ODI in Dharamsala.
Rohit also said that the just-concluded series gave him a toast of what captaincy actually is.
"(It was a) terrific comeback after the first game in Dharamsala. We showed plenty of character. This has been the hallmark of the team. Whenever we were defeated, we have always come back strong," he said.
"I think the first game was a bit testing as a captain, because we didn't put enough runs on the board, and in the second game since we had runs I had the luxury to try out a few things, and today was perfect," Rohit explained.
Terming the win as 'team effort', Rohit singled out Shreyas Iyer for special praise.
"Whenever we put into tough situations, we responded well. We played as a team and that's what counts at the end of the day."
"The batting of Shreyas Iyer was a big positive. He showed a lot of intent. The way he came and batted was brilliant. He batted fearlessly," he said.