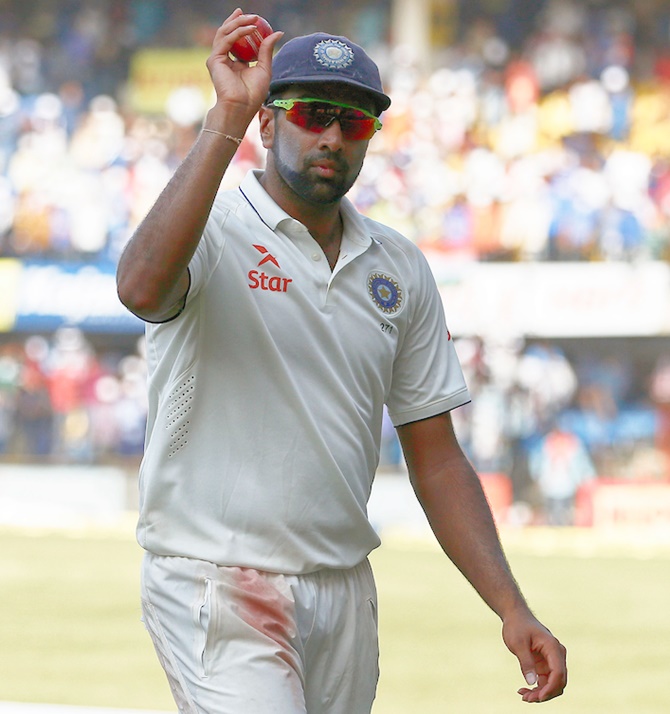 IMAGE: Ravichandran Ashwin of India shows the match ball during Day 3 of the third Test match against New Zealand, at the Holkar stadium, in Indore, on Monday. Photograph: BCCI.
Ravichandran Ashwin has been having a remarkable series against New Zealand with 20 wickets so far but India's off-spinner says he has struggled to get into rhythm at the start of his spells.
PHOTOS: Ashwin's six gives India a huge lead
Ashwin bowled superbly, on Monday to take six for 81 to skittle out the visitors for 299.
"It's very important for me to get into a good rhythm. Through this series I have not really started in a fine rhythm. I'm trying to get my alignment and rhythm properly, it's taking me a few overs. Once I go through it, and when my body starts going completely into the ball, the spells start getting better, and that was one of the spells after lunch," he said.
India, who made a massive 557 for 5 declared, thus grabbed a lead of 258 to place themselves in the driver's seat at the end of day three of the third Test.
"It's about getting into a good rhythm and being able to accelerate and get through the crease fast. So that's what I really look forward to and once I get into a good rhythm, I think I can beat any batsman in the world. That's where I stand right now," said the off-spinner who is the second fastest bowler in the world to reach the 200 Test wicket landmark.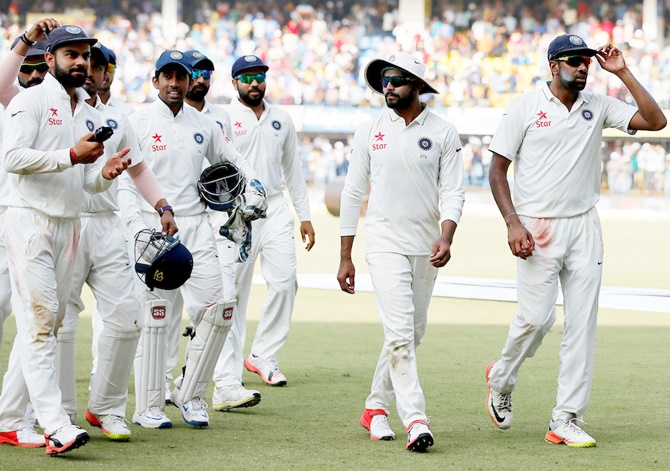 IMAGE: Ravichandran Ashwin of India is applauded by team mates as he leaves the field of play after taking six wickets. Photograph: BCCI.
"I come into a series with a plan, especially taking off from where Kane Williamson got out in Bangalore when they came here last year. He lunged forward and got out at slips. So that's one of the things I thought I would repeat in this series," he explained about his excellently planned dismissal of the visiting team's captain in the post lunch period.
Although Mohammed Shami and Umesh Yadav ended wicket-less, Ashwin praised the bowling of the pace duo.
"It (support) was very important, it was a very, very difficult wicket to bowl on. The way Shami and Umesh bowled in the morning, they never let go of the steam. Especially Umesh bowled very quick through the day. Hopefully they can get some good returns in the second innings."
About Ravindra Jadeja's support Ashwin said that the left arm spinner was good in deceiving batsmen with straight balls on a track with some help to the spin bowlers.
"That's Jaddu's strength, he does it well," he said.