'The wide yorkers backfired. We became very predictable. We didn't have a backup plan'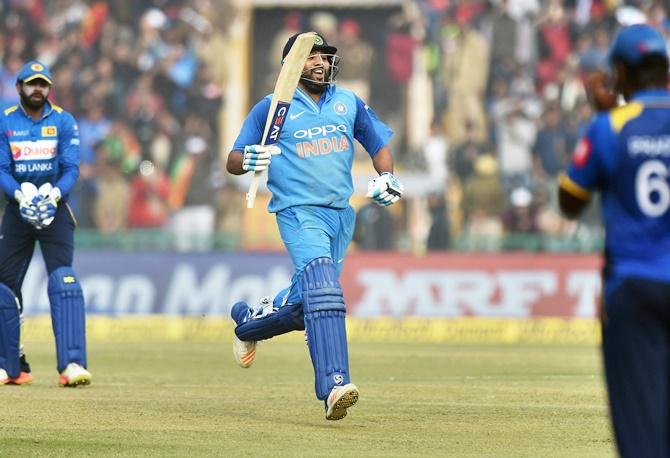 IMAGE: Rohit Sharma hits double ton as Sri Lankan players look on. Photograph: PTI
Sri Lanka batting coach Thilan Samaraweera said the bowlers let the team down in the second ODI against India where they conceded 50-60 runs too many.
"I think their plan was to bowl wide yorkers, but the execution was poor. Let's give credit to Rohit Sharma. That was a stunning knock. 390 was too much for us," said Samaraweera after the 141-run loss to India.
India ended up with 392 for four but Sri Lanka shouldhave restricted them under 330, said Samaraweera.
"The wide yorkers backfired. We became very predictable. We didn't have a backup plan. But for the third game we will come up with counter moves."
"As I said, credit to Rohit. But we should have bowled better. This was no way a 390 pitch. May be 320 or 330. I think we gave 50 runs too many. We bowled too many full tosses, too many short balls and we didn't execute the plans well. The second half when they came, they bowled the length well. It was a bit hard to go over the top then," he said.
The batting coach was all praise for India's stand-in skipper Rohit, who scored his third double hundred in ODIs and second against Sri Lanka.
"One hundred per cent," Samaraweera said when asked if it was one of the best knocks he saw.
"I saw his first one on television. This one was special as he scored the second hundred off just 36 balls. He hit 12 sixes today so he has got to be one of the best six-hitters around."
Sri Lanka's key player Angelo Mathews scored a hundred in a losing cause and also bowled four overs. He is back to bowling again but Samaraweera said there is still some time before Mathews starts bowling multiple spells.
"The strategy we have for him is that he will not bowl more than five overs. That is the plan. We are bringing him back to full strength slowly. We are not expecting 10 overs from him (as he is coming back from injury)," he said.
On Mathews' hundred, Samaraweera added: "He is a quality player. His mindset is the biggest thing. Prior to the Test series, I had a long chat with him and tried to tell him to play in a positive mindset.
"In Dharamsala, he batted well and it seems to be working. His strength is playing straight. So sweep is last option for him."