'I feel this was one game where we lost wickets against the run of play'
'I wanted to bat up and play a few more strokes. But it's not an easy thing when you are batting and if people keep losing their wickets at the other end'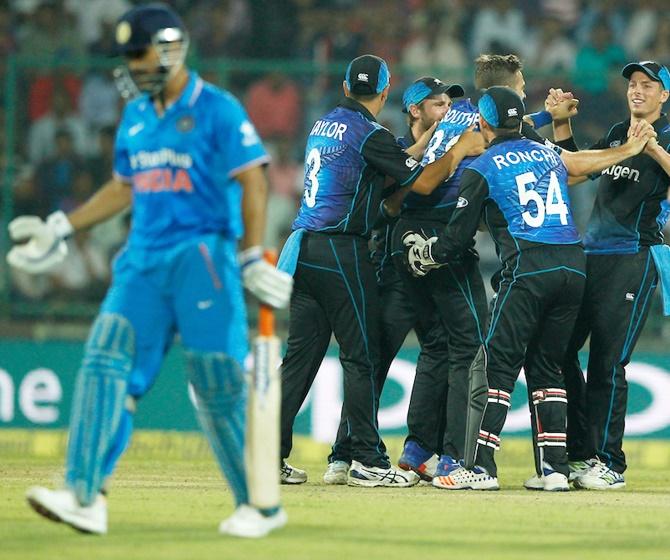 IMAGE: New Zealand's players celebrate the wicket of Mahendra Singh Dhoni. Photograph: BCCI.
India captain Mahendra Singh Dhoni said 'losing wickets against the run of play' while chasing a tricky target led to the home team's defeat against New Zealand in the second ODI, in New Delhi, on Thursday.
2nd ODI PHOTOS: Williamson ends New Zealand's winless run
The Black Caps levelled the five-match series 1-1 and in the process also won their first game of the tour. India were all-out for 236 in 49.3 overs while chasing a target of 243. It is also after 11 long years that India have lost an ODI at the Feroz Shah Kotla ground.
"I feel this was one game where we lost wickets against the run of play, it was not that the deliveries were good, we just kept losing wickets," Dhoni said.
"Until the end we had the run rate under control. When you're chasing you need to play 50 overs and at one stage it didn't look like we would," he said.
Dhoni also credited New Zealand as his own bowlers for the superb show in the match.
"I felt the New Zealand bowlers bowled really well but we just kept losing wickets. I don't think there was a lot of dew, it was not coming out to the bat," he said.
"I think we bowled really well, after the new ball it was key to get reverse swing and put pressure on the batsman, Mishy (Amit Mishra) bowled well and got crucial wickets."
"I wanted to bat up and play a few more strokes. But it's not an easy thing when you are batting and if people keep losing their wickets at the other end. You wanted to play big shots but if at that point you lose a wicket, you have to again build partnerships. Ultimately you have to chase down what the opposition has scored," Dhoni said.
"It's not about one batsman, may be if everyone would have done 10 per cent more," Dhoni stated.
He also explained that chasing 243 which he felt was a par-score on a difficult track is more challenging that chasing 300 plus totals.
"When you are chasing 310, you have a different mindset but if it's 240-245 on a slightly difficult track, it is different."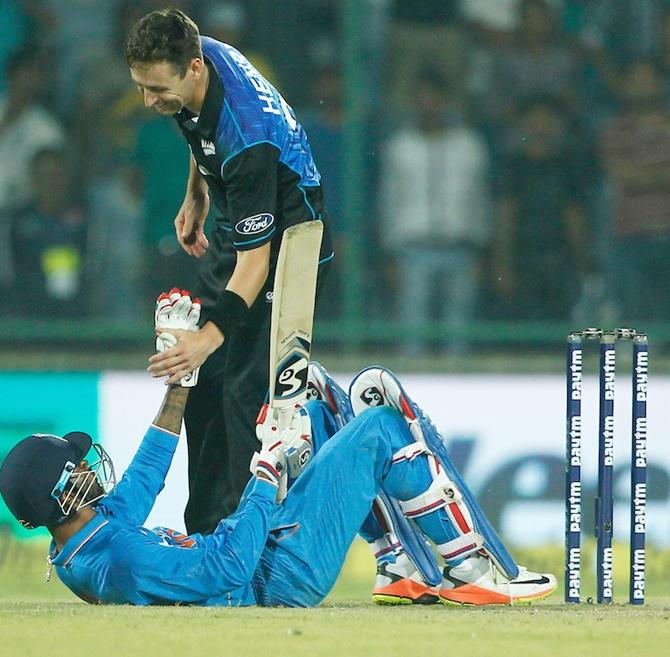 IMAGE: Matt Henry of New Zealand helps Hardik Pandya of India. Photograph: BCCI.
Dhoni said that the Kotla track got slower as the day progressed and it was best to bat in the afternoon.
"What happened was as the game progressed, the wicket got slightly slower. It was best to bat during day time. There was variable bounce. When you lose one or two wickets, you have to build partnerships and it slows you down."
On Hardik Pandya not finishing the game, he said, "In these situations, even the last ball counts. It's always a good exposure when you are put under the pump. It always teaches you a lot. May be that shot (one he got out) had gone over point, it would have been different. He will learn whether to finish early or keep it till last over as he will either have a batsman or a tail ender with him," Dhoni concluded.
New Zealand captain Kane Williamson was adjudged man-of-the-match for his 118-run knock which was largely responsible for the visitors 242 run score on the board.
Williamson too credited his bowlers for helping the Kiwis register their first win in the tour.
"The wicket wasn't easy to increase the scoring rate, at the halfway stage we were a few off where we wanted to be. A lot of credit to the way we bowled, to create pressure on that surface was key and Trent Boult was outstanding," he said.
"The bowling was huge for us. We were below par but we did have enough runs to create a squeeze, dealing with the dew is never easy. The dew didn't help the spinners and they did a great job. There wasn't much turn but they did great for us.
"Seam bowling was easier to face on that surface. It was a good game of cricket," Williamson added.