Former International Cricket Council CEO Haroon Lorgat was on Saturday appointed as the new chief executive officer of the Cricket South Africa (CSA), replacing the controversial Gerald Majola.

The CSA made the announcement in a terse statement after the board interviewed three shortlisted candidates for the position, although commentators have been saying that Lorgat was the top candidate.
- BCCI could pull out of SA tour if Lorgat is elected CEO

"Mr Lorgat's appointment follows a thorough and rigorous process to fill this important position," CSA president Chris Nenzani said in the statement.

"The quality of the candidates was exceptional and I would like to express my appreciation to the sub-committee of the Board as well as my colleagues on the Board who have brought this matter to a highly satisfactory conclusion," he added.

The candidacy of Lorgat was highly controversial amid earlier reports that the Board of Control for Cricket in India had tried to influence CSA not to appoint him.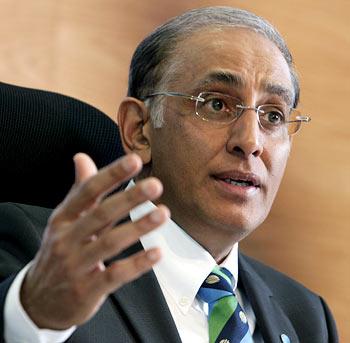 Lorgat had been at loggerheads with the BCCI during his tenure at the ICC.

But earlier this week, reliable sources said Lorgat had received the approval of former BCCI president Inderjit Singh Bindra, who is also the president of the Punjab Cricket Association for the past 35 years.

This, coupled with a change of guard at BCCI, including the departure of fierce Lorgat critic N Srinivasan, is believed to have eased tensions at CSA about the influence of the BCCI.

Lorgat served as treasurer to the forerunner of CSA, the United Cricket Board of South Africa, in 2004 and 2005 and as convenor of selectors for the national squad from 2004 to 2007 before taking over as ICC chief executive in 2008 for a four-year term.

Lorgat's appointment is expected to signal a new era in the administration of cricket in South Africa after the bitter in-fighting resulting from decisions by dismissed chief
executive Gerald Majola.

The almost three-year period of Majola, several top executives were ousted or resigned until Sports Minister Fikile Mbalula intervened by setting up the Nicholson inquiry which fingered Majola for breaches of corporate governance and recommended disciplinary action as well as criminal investigation.

Majola was subsequently fired in 2010 after refusing to continue with his disciplinary hearing.

Among Lorgat's major tasks will be re-instilling confidence in sponsors who increasingly shied away from CSA in the aftermath for the Majola saga.
Photograph: Jack Dabaghian/Getty Images for ICC