With his versatile talents, Hardik Pandya is the kind of unique cricketer the Indian team has always wanted, writes Dhruv Munjal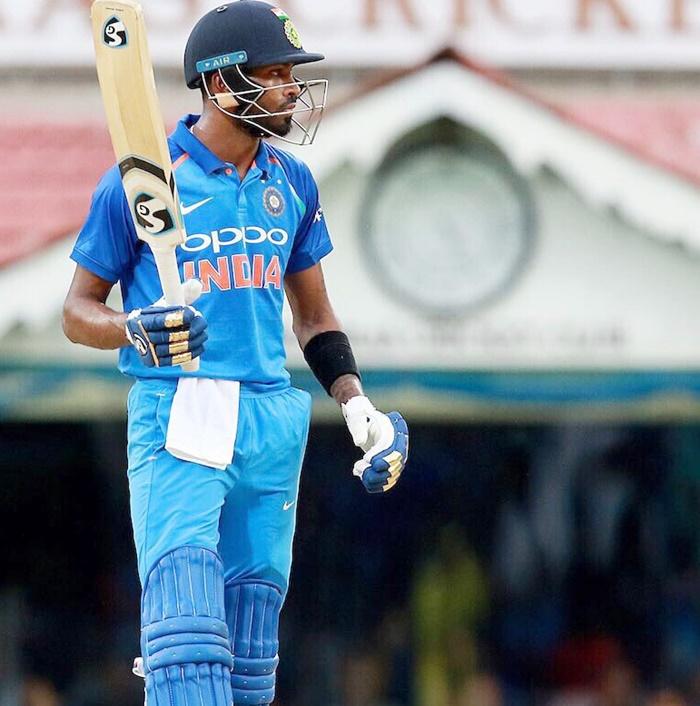 IMAGE: Hardik Pandya has tormented the Aussies. Photograph: Twitter
For some reason, Wikipedia has Hardik Pandya's nickname down as "Hairy". It remains unclear if the Gujarati twang ("Harry" becoming "Hairy") is responsible for that, or the sobriquet is actually a tribute to Pandya's very evident affection for experimenting with different hairstyles. Maybe it's a bit of both.
The folks at the Mumbai Indians have clearly done a better job, fittingly coming up with — many apologies, Ravindra Jadeja — "Rockstar". Of late, the crowd — and the opposition — has been swaying to his tunes. The batsmen preceding him have been made to look like perfunctory, meaningless opening acts, and the ones following him have tried to engage the audience powerless in the knowledge that the main event has come and gone. Unsurprisingly, they haven't been too successful.
His melodies have been a blend of entrancing heavy metal and soothing country music. Either way, the pyrotechnics have been aplenty.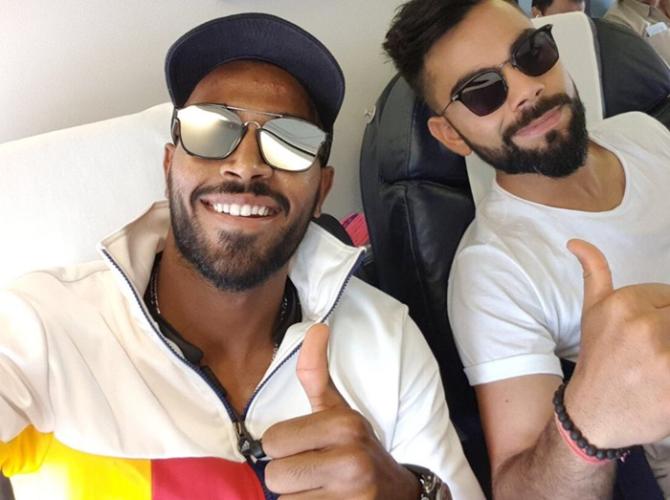 IMAGE: Hardik Pandya with Virat Kohli. Photograph: Twitter
"That's the kind of natural talent he has always had. There are some players — Virat Kohli and Virender Sehwag, for example — who are just special. The ball comes off differently from their bat. Hardik is one of them," says Kiran More, former Indian wicket-keeper and Pandya's childhood coach. In the past couple of weeks, Pandya has put even Kohli in the shade. And, in the modern limited-overs game, there can be no greater compliment.
This past Sunday after he had tormented Australia with a rip-roaring 78 in Indore, Kohli spoke glowingly of the all-rounder. You can easily understand why. Pandya espouses the same fearlessness that Kohli himself thrives on, often revelling in circumstances where the young Indian cricketer of old would've so easily capitulated. Indore, for instance, was a heated chirping contest in parts; the Aussies trying to make up for their lamentable lack of bowling depth with puerile verbal bullying. Pandya returned the favour orally, before summoning his reliable ball-clobbering prowess to send deliveries soaring into the inky Indore skyline.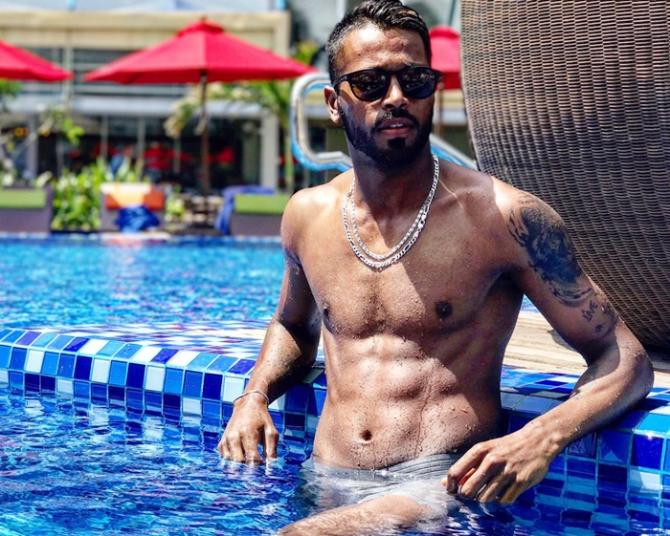 IMAGE: 'The added responsibility changed Hardik Pandya's approach'. Photograph: Twitter
It wasn't always like that for the 23-year-old. When Pandya first turned up at More's academy in Vadodara, his obvious ability was curtailed by a slight build and troublesome attitude — he would often run into trouble for openly expressing his feelings.
"He had a lot of energy, jumping around watching elder brother Krunal play. But he was devoid of any muscle," remembers More. That is no longer a problem — he's not fond of tiny sixes and mishits often fly over the fence.
"Fitness is the major change. That has helped take his game to the next level," says former India coach Anshuman Gaekwad, who, like Pandya, represented Baroda.
When Pandya swapped the dexterous craft of leg-spin for the punishing physicality of pace bowling during his under-19 days, occurrences of his body breaking down were routine. Unthinkable as it is, he was never meant to be a fast bowler. Now, he regularly clocks 140 kmph with the ball.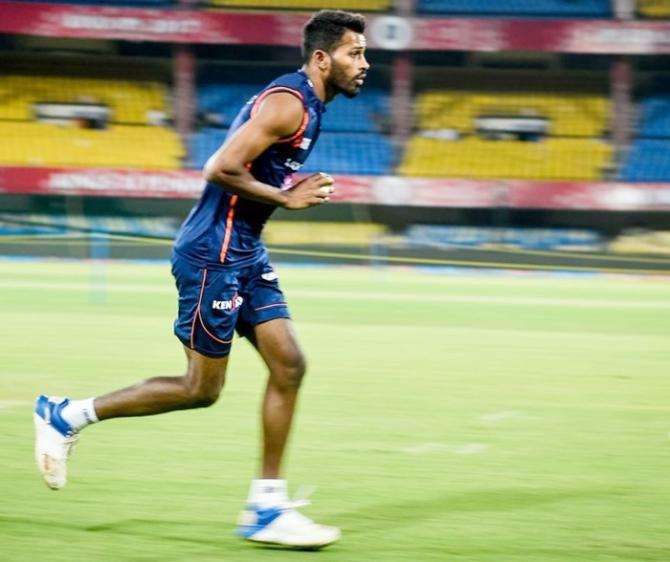 IMAGE: Hardik Pandya regularly clocks 140 kmph with the ball. Photograph: Twitter
The attitude, over the years, has been tempered with responsibility.
"There was a time when he was struggling to get picked for the under-16 and under-19 teams," says Nayan Mongia, another former Baroda player who has seen Pandya's rise from close quarters. As chairman of the under-16 selection committee, Mongia made sure Pandya was made captain.
"The added responsibility changed his approach."
In 2008, Mongia had the privilege of a front-row seat when Pandya blasted his way to a double hundred against a mighty Mumbai side in the Vijay Merchant Trophy.
"It was a sensational innings," recalls Mongia. His message to the teenager was simple: just keep going.
As an international cricketer, Pandya has succeeded in putting his belligerence to the right use; emotions now seldom spill over. In fact, Pandya has so masterly overcome his temperamental deficiencies that fervent celebrations at the fall of a wicket no longer appeal to him. He is accompanied by a nonchalance that is a reflection of enormous self-belief — an unwavering conviction that he was always meant for the grand stage.
Pandya is still driven by Mongia's advice from 10 years ago, just that the methods have evolved. In Indore, he was sent in at number four, ahead of two specialist batsmen in Manish Pandey and Kedar Jadhav. He initially did what he was sent out to do: whack the spinner, Ashton Agar, out of the attack. But once wickets fell around him, Pandya took charge, repressing his aggressive instinct, picking up singles instead. It was the kind of anchor-like innings that Pandya would've miserably failed to construct just a year ago.
"He is a very keen learner. He is always finding ways to tackle different situations. And, the confidence always helps," says Mongia.
In Bengaluru two nights ago, with India chasing a target in excess of 330, Pandya showcased the more natural side to his game: all-round attack. Turns out that the dimensions to his batting are no fewer than his constantly changing hairdos.
Despite two consecutive successes at number four, Gaekwad feels that he is best utilised when used lower down the order. "He is ideal at six or seven. He can hit the big shots and also rotate strike," he argues. Moreover, Mongia chooses to point out how he must not forget that he was first picked in the Indian side as a bowling all-rounder, not as a match-winning batsman.
A part of the adulation coming Pandya's way has its origins in the realisation that India hasn't seen a player like him since Kapil Dev. Comparisons seem unreasonable this early, and much of Pandya's future fortunes will depend on his efforts with the ball. He remains a steady first-change bowler, picking up wickets in the middle. But every once in a while, on batting belters, his limitations are ruthlessly exposed.
Against the West Indies in the World T20 last year, no one bore the brunt of Lendl Simmons' astonishing assault quite like Pandya. His strange romance with bowling short at middling speeds ended in a tournament-ending cataclysm for India. He did much of the same against Bangladesh earlier in the competition, only for Mahendra Singh Dhoni's unfading sprinting capability to rescue him in the end.
"He will require more consistency. The bowling will be more crucial than the batting," stresses Mongia.
Gaekwad brings up an old, forgotten name to warn Pandya against the harsh pitfalls of trying to do too much: Irfan Pathan.
"Greg Chappell tried converting him into more of a batsman. In the end, he struggled with both bat and ball."
While he's yet to fully fit the archetypal description of an all-rounder — one who can get into the team as either batsman or bowler, à la Ben Stokes or a young Jacques Kallis — Pandya possesses a rare potential that lends a balance to the Indian side unlike ever before.
"Right now, any captain would love to have him in his side," says Gaekwad.
More is expecting his pupil to make the graduation to an important Test player, too. Pandya himself would say he already has — the hundred against Sri Lanka last month being a case in point — but More talks of more regular games.
"Hard work will get him there as well. He will need to become more patient."
Given his talent, we are prepared to wait for that evolution. As for the awful monikers and the blonde streaks, we can endure them, too, as long as he retains the boldness that makes him so special.