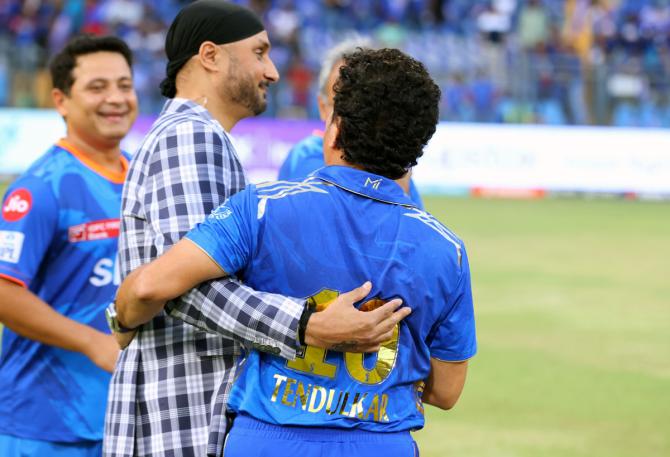 There are no perfect cricketers, but if there is someone closest to perfection the only name Harbhajan Singh can ever think of is Sachin Tendulkar.
One of India's greatest spinners, Harbhajan is a close friend of the maestro for more than 20 years and his "memory bank" is full of Tendulkar stories, both on and off the field.
"Paaji (as Tendulkar is referred to by junior teammates) is perhaps someone who is closest to being a perfect cricketer. Obviously, as a person he is a role model and an example of how to lead your life with dignity, humility, despite enjoying God-like status and insane following in our country," said Harbhajan, during an interaction ahead of Tendulkar's 50th birthday.
Asked to share his memories, Harbhajan laughed.
"There are way too many. He has a guiding light in my life. Some are too personal and emotional, which I will keep for my story. But I can share a few with you guys," the 'Turbanator' said.
"To understand the genius of Sachin Tendulkar, one little story will be enough. During the entire 2003 World Cup in South Africa, Paaji didn't bat in the nets for even one single day.
"The Indian bowling unit performed well, but neither Javagal Srinath, Ashish Nehra, Zaheer Khan nor Anil Kumble or myself bowled even once to him at nets during the tournament," Harbhajan recollected.
Tendulkar finished the tournament with more than 600 runs, including the epic 98 against Pakistan at the Centurion, the slash over third man off a short ball from Shoaib Akhtar still fresh in memory.
So how did he get match ready during that World Cup?
"In 2003, we didn't have those throw-down apparatus (Robo-Arm), like we have today. But we had a gentleman named Shyamal, who would give Paaji throw-downs from 18 yards, and, at times, 16 yards. He would take throw-downs for hours and that was his practice.
"He was very big on preparation and visualization of bowlers he would face. In those pre-analytical days (there used to be video analyst though), in his head, he knew how to tackle each bowler," Harbhajan said.
The reason he took throw-downs, at times from 16 to 18 yards, was to ensure that during the match the same delivery would come to him a split second late and give him that extra time to manoeuvre.
"He had all shots in the book. During my peak, no one played my doosra in the Indian nets as comfortably as Sachin did. Man, he could read the hand of the bowlers and in a flash would adjust his footwork.
"Yes, I have dismissed him a number of times in the nets but he has also hammered me.
"No one played the conventional sweep like he did. He knew when to play the sweep shot up in the air or when to just play the paddle and keep the ball along the ground."
T20 cricket has witnessed innovative shot-making being taken to a different level but Harbhajan felt that Tendulkar's basic game was so strong that he didn't need to play fancy strokes.
"I don't think in last 25 years among Indian batters, there has been anyone who has played more strokes in 'V' than Sachin. He could just play within the 'V' and if you can score in-front of the wicket, you don't need too many innovations."
Harbhajan is proud that he has been a part of an Indian dressing room and has watched Tendulkar hit at least 60-65 of his 100 international hundreds.
"I have been at the other end during some of those knocks. But nothing beats the feeling of watching those twin hundreds at Sharjah as an 18-year-old. Watching him scythe through Aussie attack was such a great feeling. I didn't play the finals, but I was a part of the eleven, when he scored the other hundred," Harbhajan recalled.
"Yes, he has 49 ODI hundreds but those two knocks in Sharjah and the 98 against Pakistan at Centurion are three knocks that I will remember till my last day. In 1998, 275 was like 350 and in a World Cup game in 2003, 270 plus was a par score. Chasing in high-stakes game requires a different mindset."
He then narrated a funny story when he was first selected in the Indian team and got a chance to bowl to Tendulkar in the nets.
"I had bowled to Sachin as an academy bowler when Indian team played its matches in Mohali, but once I was selected in the Indian team, it was a different atmosphere.
"So it happened that I got a chance to bowl to Sachin. Now, after a few deliveries, I felt that he summoned me by nodding his head upside down. So I just went up and asked him 'Haanji Paaji? Aapne bulaya'? (Did you call me Paaji?). Now Sachin, when he is batting he doesn't talk to anyone. He is just in his zone and told me 'No'."
"After a few minutes, again a nod of his head and I again went up and this time he seemed a bit irritated as it was hampering his practice. He asked, 'What happened, why are you coming up time and again'? I could gather enough courage to tell him that since he was nodding his head after each delivery, I felt he wanted to speak to me."
Then he laughed and told me the actual reason behind his nodding.
"In those days, he used to wear a helmet that was slightly over-sized or loose, I may say. So, after every delivery, he would just nod his head upside down to adjust the helmet before facing the next delivery."
Tendulkar was like a pillar of strength for Harbhajan during his lowest phase -- the 'Monkey Gate' scandal -- where he was accused of racially abusing the late Andrew Symonds.
Since the incident happened during a partnership between Harbhajan and Tendulkar, the legend was also summoned for a hearing, where he stood firmly by his younger teammate, who was later absolved of any wrongdoing.
Asked if he had any message for his "Paaji" on his 50th birthday, Harbhajan said, "Just pray for a long, healthy life and keep inspiring us like you have always done."