Legendary Pakistan batsman and former captain Hanif Mohammad is recovering well from liver cancer after undergoing a successful surgery in London, brother and former Test cricker Mushtaq Mohammad confirmed.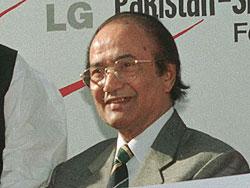 Seventy-eight-year-old Hanif underwent a surgery at the BridgeHospital last Tuesday to remove his right liver lobe and gall bladder to stop the cancer from spreading.
"Hanif bhai is doing well and is in high spirits and he has been following the Ashes Test on television after being shifted to his room after ICU," he said.
"The good news is that the cancer was diagnosed at an early stage and didn't spread anywhere else."
Mushtaq said the former captain was under observation in hospital but in good spirits surrounded by his family members including his daughter and youngest son Shahzeb Muhammad.
Hanif is revered as one of Pakistan's greatest batsman after he played the longest innings in Test history -- a mammoth 970-minute (16 hours and 10 minutes), 337 against the West Indies at Bridgetown in 1958.
A year later he followed it up with a record first-class score of 499, for Karachi against Bhawalpur in Karachi -- in which he broke Don Bradman's record of 452 runs.
Hanif's 449 remained a record for 34 years until West Indies star Brian Lara made 501 not out for Warwickshire against Durham in 1994. Mushtaq who also captained Pakistan said his elder brother had been advised rest for at least a month.
"He now spends most of his time watching cricket. It is still his passion," Mushtaq said.