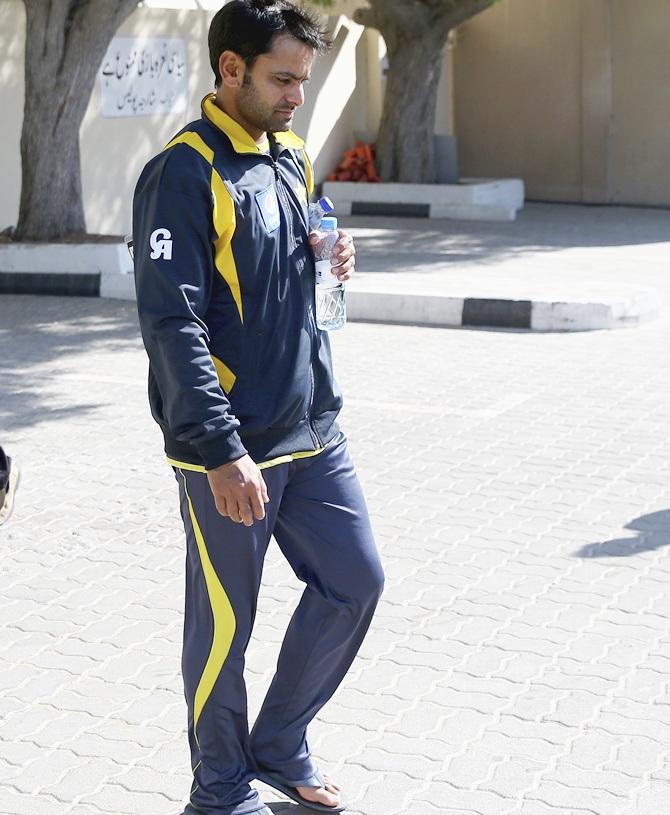 IMAGE: Mohammad Hafeez of Pakistan. Photograph: Francois Nel/Getty Images

The crisis that erupted in Pakistan cricket following the refusal of senior players Mohammad Hafeez and Azhar Ali to attend the national conditioning camp appeared to have been resolved on Saturday.

Hafeez and Ali had refused to join the camp in Lahore on Thursday, protesting against the presence of tainted left-arm pacer Mohammad Amir.

Following 48 hours of suspense, the two players met with the chairman of the Pakistan Cricket Board (PCB) Shaharyar Khan in Lahore after which the latter announced the two have agreed to join the camp.

"I listened to them patiently and I also understand some of their reservations. But some of their views are not justifiable. I told them they have to follow policy of the board in the case of Aamir," Khan said.

"They understand our position now and I am sure they will join the camp. I told them Aamir has just been invited to the camp and he is not selected in the national team as yet. But even if he is selected it is job of the senior players to allow him to reintegrate with them and guide him," Khan explained.

Khan had on Friday said if the two players didn't change their stance the board could take disciplinary action against them.

The PCB chief, however, admitted that they should have first spoken to all the players to address their reservations or concerns, "but at the same time even they could have come to us before hand."

Soon after the meeting, Hafeez spoke to the media in which he insisted his personal views on the matter remains unchanged.

"I understand there is a policy of the board and we have to follow it. But that does not change my view that anyone who has tarnished the image of Pakistan should not be allowed to play for the country again," he said.

"I have nothing personal against anyone it is a matter of principle stance for me that is all. My views are clear to everyone because to play for Pakistan is the biggest honor for me," he said.

He said the authorities had listened to his stance and taken it well with understanding.

"I have forgiven all with my heart but my stance will always remain the same. But now I am looking forward to working harder and harder for Pakistan cricket," Hafeez added.

His comments indicated he and Azhar had agreed to join the camp and train alongside Aamir.

Aamir, Salman Butt and Mohammad Asif all served five-year bans for spot-fixing from 2010 to September 2015 and also varying jail terms.

Aamir, who was given special relaxation by the ICC to resume playing domestic cricket before his ban ended, has been active on the domestic front since March 2015 and has already played in different non-first class, first class and T20 competitions and recently also appeared in the Bangladesh Premier League.

Former Test batsman Mohsin Khan said he appreciated the stand taken by Hafeez and Azhar.

"I don't think this issue is over as yet. The real test for Aamir will come when he is selected and gets back into the dressing room. It will matter a lot how the other players respond to him," he said.

"Right now only Hafeez and Azhar made public their concerns but I think they are other players as well in the national team who are still uncomfortable so it will be a test for the team management as well," Mohsin added.