'You just have to find a way to catch them ... sometimes you've got to catch them ugly.'
'You've got to trust your technique .. when you're put under pressure. And India can do that to a keeper. It can ask a lot of questions of your technique.'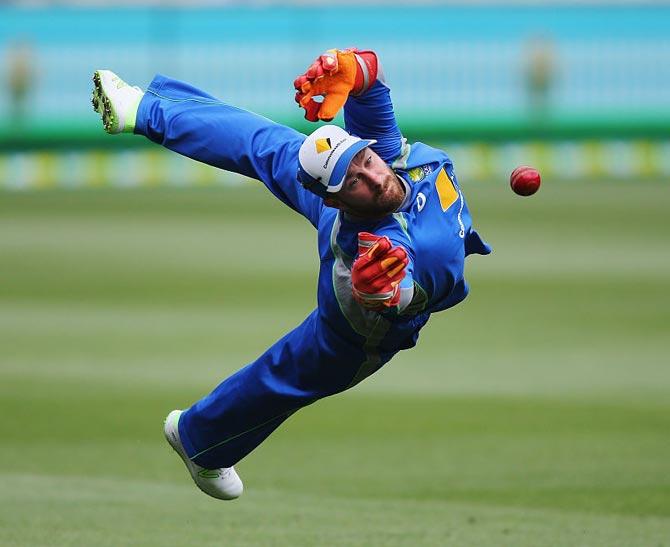 IMAGE: Australia wicketkeeper Matthew Wade during a practice session. Photograph: Michael Dodge/Getty Images
Former Australia wicketkeeper Brad Haddin feels India can be an unforgiving place to play Test cricket and said trusting one's technique will be the key for wicketkeepers when they are put under pressure during the four-Test series beginning later this month.

Australia's four-Test series against India begins in Pune on February 23 and wicketkeeper Matthew Wade, who is recovering from a back spasm, will play a important role if the visitors have to do well in India.

"You just have to find a way to catch them ... sometimes you've got to catch them ugly," Brad Haddin reflected, when asked what advice he passed on to Wade last week.

"You've just got to get something behind the ball if they're bouncing short, not carrying.

"It's an unforgiving place but this team, since the Hobart Test match, is really starting to move forward and this will be a great opportunity to see how far we've come," the 39-year-old was quoted as saying by Sydney Morning Herald.

Former stumper Haddin had gone to New Zealand as an assistant coach for the One-Day International series and he had a chat with Wade, who had to return home without playing a game because of a back injury.

"You've got to trust your technique .. when you're put under pressure," Haddin said.

"And India can do that to a keeper. It can ask a lot of questions of your technique."

Haddin also said Wade was hugely disappointed to miss out on becoming Australia's 24th ODI captain, with the role instead taken up by Aaron Finch.

"He was disappointed ... but there was a bigger picture in India he had to get right for," Haddin said.

Meanwhile, former Australian fast bowler Damien Fleming said skipper Steven Smith doesn't have enough support in the field when it comes to devising tactics and the India Test series will be a real test of his captaincy.

"Who is Steve Smith going to? [David] Warner is the vice-captain, he fields at mid-on ... who is in the slips?" Fleming said on RSN radio.

"The keepers always have a big say -- Ian Healy, Adam Gilchrist, Brad Haddin, also three very good leaders.

"This summer, Peter Nevill is there for two Test matches and did quite a good job. Matt Wade comes in ... is under pressure, no doubt you would be talking to them but it's not like you have got a senior lieutenant who you know is going to be there until the day they retire.

"Going into this Indian series, it's going to be a real test for Steven Smith. We talk about (Alastair) Cook getting burnout by 32, Smithy is only 27 -- he won't be captaining when he is 33, he will get burnt out," Fleming said.