'The only way in that scenario would have been a bat-pad opportunity. There was a slip in place so I chose the wrong 'un'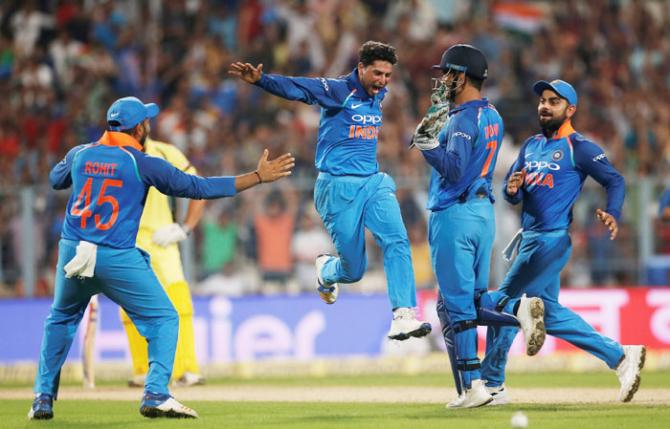 IMAGE: India's Kuldeep Yadav (second from left) celebrates with teammates after dismissing Australia's Pat Cummins and registering a hat-trick during the second ODI at Eden Gardens in Kolkata on Thursday. Photograph: Adnan Abidi/Reuters
Indian cricket's newest hat-trick hero Kuldeep Yadav feels had he bowled the traditional left-arm wrist-spinner's delivery, which comes into a right-hander, he possibly wouldn't have attained the coveted milestone.
Kuldeep dismissed Matthew Wade, Ashton Agar and Pat Cummins off successive deliveries in the second ODI against Australia, at the Eden Gardens in Kolkata on Thursday, to become third Indian bowler after Chetan Sharma and Kapil Dev to register a hat- trick in ODIs.
His hat-trick victim was Cummins, who edged a wrong 'un, which 'keeper Mahendra Singh Dhoni snapped up in a flash.
"For the hat-trick ball, I didn't think I would get a wicket if the ball spun in. The only way in that scenario would have been a bat-pad opportunity. There was a slip in place so I chose the wrong 'un," Kuldeep told senior teammate Bhuvneshwar Kumar during a customary post-match interview conducted by bcci.tv.
He said it was difficult to grip the ball initially, which is why he went for a few runs in his first spell.
"It feels really special now, as that start was not good. With the kind of start I had, I never thought I would end up taking a hat-trick. I did not bowl well from one end and it was getting difficult to grip the ball as it was getting wet.
"When my end was changed, I wanted to pick one wicket to put the pressure back on Australia. A partnership was built and it was crucial for us to get a breakthrough at that moment. I wanted to try out my variations, but was looking to land the ball in the right areas," the 22-year-old from Uttar Pradesh said.
Also familiarity with the Eden Gardens surface -- he has played for Kolkata Knight Riders for last three seasons -- has given him a fair idea of how to go about things at the venue.
"Yes, I have been playing at the Eden Gardens for a few years now as it is KKR's home ground. The pitch is familiar. It felt like a home ground to me today when I stepped out and that is why I wanted to leave a big imprint," Kuldeep said.