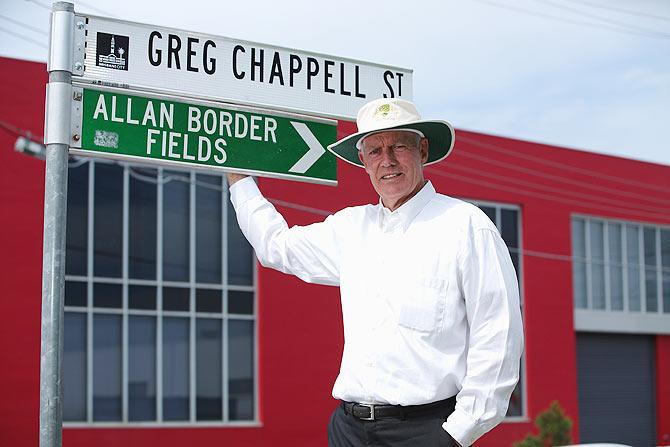 Greg Chappell poses for a photograph with the street sign named after him at the National Cricket Centre in Brisbane, Australia. Photograph: Chris Hyde/Getty Images
You know him as the batsman who captivated with his elegant skills. You also know him as the captain who asked his brother to bowl under arm to New Zealander Brian McKechnie in 1982 to deny him a possible winning six off the last ball. But the more you learn of Gregory Stephen Chappell as a cricket coach, the less you like him.
And no, it is not just Sourav Ganguly in the past and Sachin Tendulkar now who have spoken about the Australian's toxic relationship with the players under his charge. Even players in Australia weren't keen on his presence in the dressing room.
Chappell, now 66, came to India after a five-year stint as coach of South Australia, where he was noted by the Australian media as exhibiting "fantastic" individual skills, but proving "poor" when it came to group dynamics.
However, Chappell is a persuasive speaker, even an engaging one, and, armed with a PowerPoint presentation, he won over the Board of Control for Cricket in India.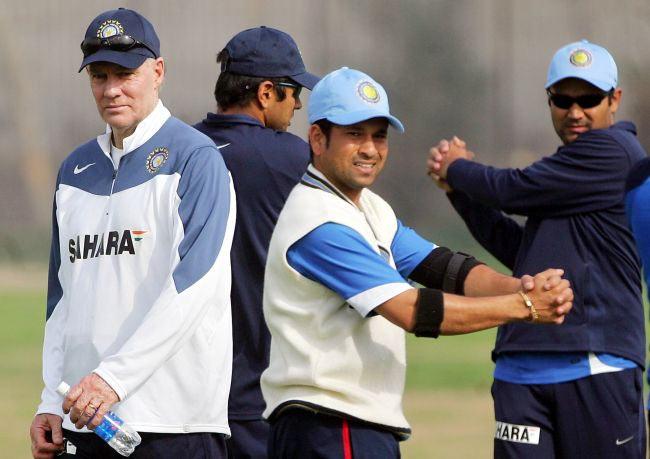 Sachin Tendulkar, Rahul Dravid and Virender Sehwag warm-up as coach Greg Chappell looks on. Photograph: Arko Datta/Reuters
India and Chappell was a pairing that was doomed from the start. Chappell was a child of his generation -- an imperious bully with a bloated sense of self -- who would never have fitted in with the easy ethos of the Indian camp.
So sure was Chappell of his own importance that he hired television crews to follow him for a couple of months prior to the 2007 World Cup. The footage resulted in a film called Guru Greg, shown in Australia and hastily withdrawn from circulation after India's disastrous outing in the World Cup.
He had quarrels with the highly individualistic Ganguly almost from the start. There were dozens of bust-ups even between John Wright, the coach Chappell succeeded and Ganguly, but things stayed in the dressing room because the idea of teamwork was sacrosanct to the pair as well as the entire squad. Under Chappell, things slid downhill, with the coach himself leaking confidential reports to the media.
"He was not very good at leaving his ego behind, and because of his stature in cricket, he had a bit of a God complex," says Sharda Ugra, senior editor, ESPNCricinfo.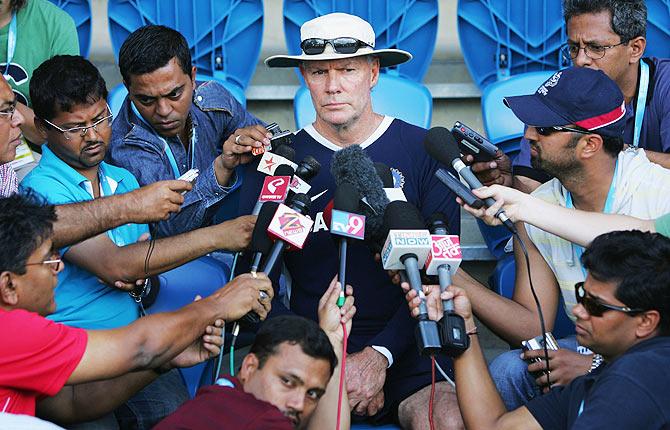 Greg Chappell of India speaks to the media. Photograph: Clive Rose/Getty Images
"He worked in India from an operational perspective of cultural superiority."
A reporter who has a degree in psychology recalls Chappell once asking her, "Oh, you have heard of Carl Jung here?"
Back home, Chappell failed to get along with the players after he became an Australian selector in 2010. The Herald Sun said : "Chappell's relationship with the Australian players broke down so badly during the summer's losing Ashes series, he was eventually banned from the dressing room while the team was batting. … Chappell was described as a caustic influence around the team.
'He drove us all mad,' one player said."
Ramrod straight, both in posture and in his batsmanship, Chappell was one of Australia's best cricketers.
In 87 Tests, he scored over 7,000 runs at an average of just under 54 with 24 Test hundreds. However, his captaincy was often under the shadow of the more belligerent and shrewder helmsmanship of elder brother Ian, a comparison with whom he always resented. He also undermined his own reputation by refusing to tour with the Australian team on some occasions.