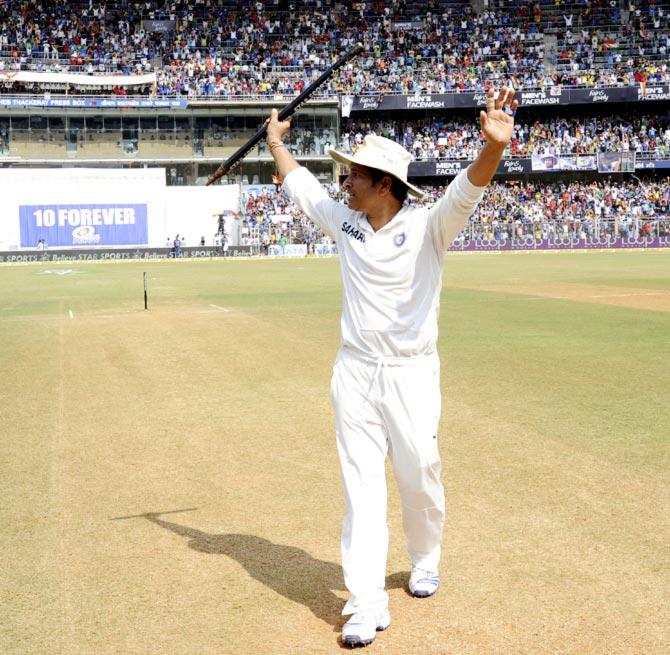 Sachin Tendulkar acknowledges the applause from the crowd after his final Test at the Wankhede stadium in Mumbai in November 2013. Photograph: BCCI
A special jersey which batting great Sachin Tendulkar donned for his farewell 200th Test has fetched a whopping Rs 6 lakhs during a gala auction hosted by Christie's at the imposing Umaid Bhawan Palace in Jodhpur.
Shiv Raj Singh, son of the host of the second edition of the Jodhpur One World Retreat, the erstwhile ruler of Jodhpur Gaj Singh II, bid for this jersey on Saturday night.
Tendulkar had retired from international cricket after playing his 200th Test against West Indies at Mumbai in November, 2013.
Besides Tendulkars jersey, a painting by Paresh Maity fetched Rs. 7.5 lakhs.
Among others, the auction list included hospitality offers like Royal Salute Scottish Serenade (Scotland), Escape to Cape Town (at La Quartier Francaise), a day on the set of Downtown Abbey (Yorkshire, UK), the great Pheasant Shoot (Yorkshire, UK), Royal Rendezvous (at Ahichhatragarh Fort, Nagaur), Holland & Holland's Closed Door Dinner (at Mayfair Gunroom in UK).
The proceeds from the charity event will go to the Indian Head Injury Foundation, set by Singh for spreading awareness and mustering resources for people suffering from head and brain injury, in a follow up of a fatal head injury sustained by Shiv Raj Singh in 2005.