The former Proteas skipper wants to test his skills in the UAE-based Masters Champions League Twenty tournament and decide on international comeback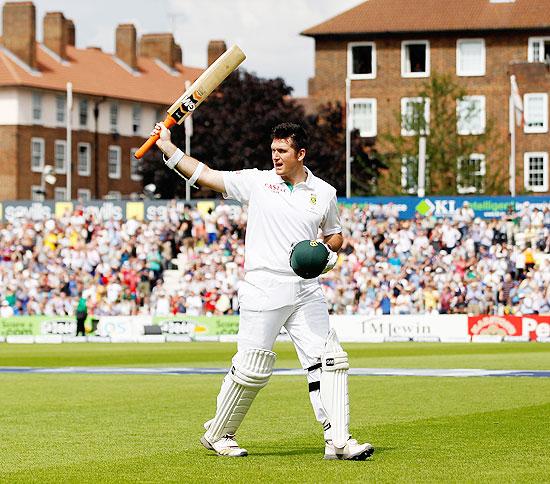 Image: Former Proteas skipper Graeme Smith acknowledges the crowd after his dismissal during a Test match between England and South Africa at The Kia Oval. Photographs: Tom Shaw/Getty Images
Test cricket's most successful captain is contemplating a return to the international game almost two years after he bid adieu to the game.
Graeme Smith, South Africa's greatest Test captain, retired in March 2014, but after signing with the UAE-based Masters Champions League Twenty tournament on Monday, he expressed his desire to play again at the highest level.
"For me, I'm at the cusp of whether I should play international cricket again or not," Smith told The National.
"I'm 34 now, retired at 33, there's always that question mark of whether I can play for another three-four years.
"I know I can. But, it's just about ... I'm at the cusp.

"I'm looking forward to the MCL and take it from there."
It's not first the time the 109-Test veteran has expressed missing cricket after he retired at the end of South Africa's 2-1 series loss against Australia in Cape Town.
Smith said playing in the 2015 Cricket World Cup and taking on England at home this summer would have been the ideal conclusion to his prolific career.
While the World Cup has been run and won, with South Africa again falling agonisingly close to a maiden final appearance, and the England Test tour less than three weeks away, those ambitions are dashed, but the Proteas could use Smith's vast experience at the top of the order.
Since Smith bowed out of Test cricket, South Africa have used four different opening combinations with Dean Elgar the only constant.
Alviro Petersen failed to scores a half-century after Smith retired, while Stiaan van Zyl hasn't passed 36 since making an unbeaten 101 on Test debut against the West Indies a year ago.
The Proteas were humbled in their recent Test series in India where they were unable to counter the turning tracks and rampant spin attack the hosts employed.
Hashim Amla could have used Smith's obdurate approach in the final innings 'blockathon' in Delhi. Only Sachin Tendulkar has more fourth innings runs than Smith but a significantly lower average (37 to 52).
With 53 Test wins as captain, no leader has tasted victory more than Smith, and his return to cricket in the MCL in January, where he will play alongside former greats Brett Lee and Jonty Rhodes, could be the spark to reignite his international career.
"Who knows the MCL could be a platform back into the international game?" Smith told ARY TV.
"I get asked this question a lot. It does spend time in your head, especially when you see the boys struggling in India you think you can contribute, but we'll see.
"I'll go back train, prepare and get ready for the MCL."