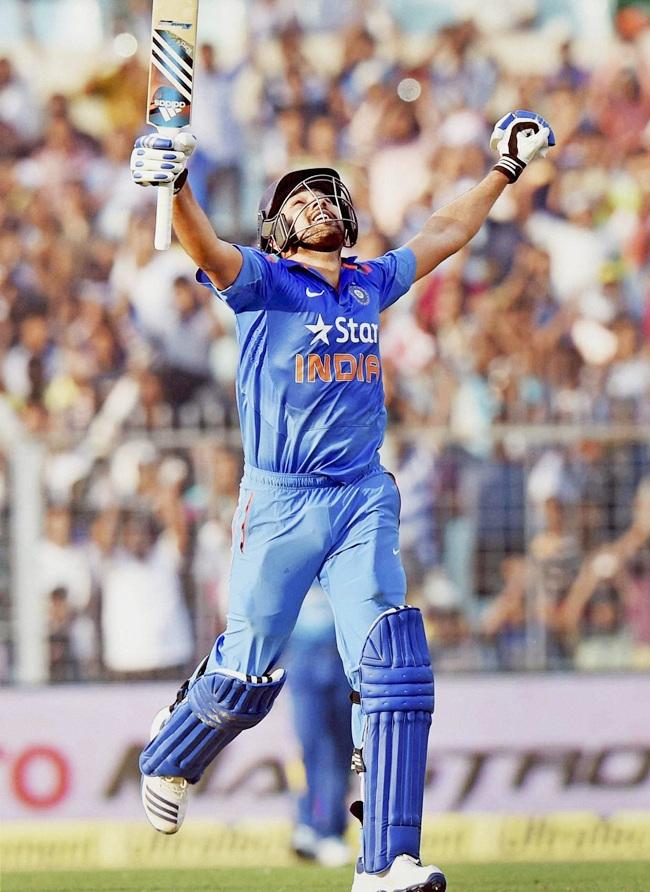 Rohit Sharma celebrates after getting to hundred in the fourth ODI against Sri Lanka at the Eden Gardens in Kolkata. Photograph: BCCI
From Rohit Sharma's record breaking double century in One-Day Internationals, the team's never-ending woes in overseas Tests, to the controversy surrounding Board of Control for Cricket in India's president-in-exile Narayanswami Srinivasan over the Indian Premier League spot-fixing scandal, Indian cricket had the good, bad and ugly in equal measure in 2014.
- IPL spot-fixing saga

Rohit's epic innings of 264 against Sri Lanka on the hallowed Eden Gardens turf in Kolkata, against Sri Lanka, was the stuff of legends.

The innings spoke about how One-Day cricket has evolved over time. There was a point in time, even 10 years back, when 264 was considered a good enough team total in ODIs.

No one could ever imagine that someone would break the 200-run individual barrier in ODIs till Sachin Tendulkar became first among equals. Then Virender Sehwag bettered it and Rohit also scaled the 'Mount 200' peak. But 264 not out was something that few could have ever imagined, though the batsman's Test form still remains a cause for concern.

The year was also the first time since 1989, when an Indian cricket team's list didn't have Sachin Tendulkar's name in it.

Life without Tendulkar actually started in 2014 and it's been more lows than highs, if the parameter is performance in the Test matches played on foreign soil.

It was also the year that probably saw the end of another glorious bunch of Indian cricketers, who had played with distinction over the last decade.

Sehwag, arguably the biggest impact player after Tendulkar, probably might not play for India again after being overlooked from the 30-men probables for the 2015 World Cup.

Similarly, it looks like the selectors have 'shut the door' for good on Yuvraj Singh, Harbhajan Singh, Zaheer Khan and Gautam Gambhir.

Off the field, it was a series of court cases that saw Srinivasan remaining in exile on directives of Supreme Court. Yet he managed to wield enough powers to become the first chairman of International Cricket Council and India will now enjoy bigger pie of revenues generated by the governing body.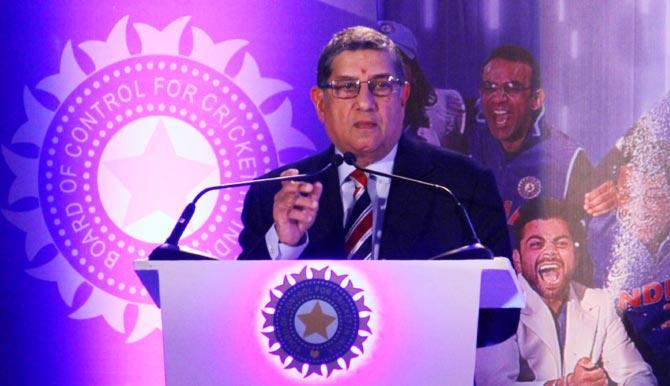 ICC chairman Narayanaswami Srinivasan. Photograph: BCCI
The Tamil Nadu strongman is embroiled in a legal tussle with unsanctioned Cricket Association of Bihar secretary Aditya Verma, who is believed to be funded by Srinivasan's bete noire Lalit Modi.

As the New Year dawns, one would watch with intrigue as to who gets to control Indian cricket with the BCCI Annual General Meeting scheduled next month where a new president will be elected.

Outside India, world cricket was left shocked and heartbroken following the death of Australian batsman Phillip Hughes.

While Rohit's innings will always be remembered, the tragedy that snatched away Hughes, aged 25 at the time of his death, will never be forgotten, especially by the visiting Indian cricketers.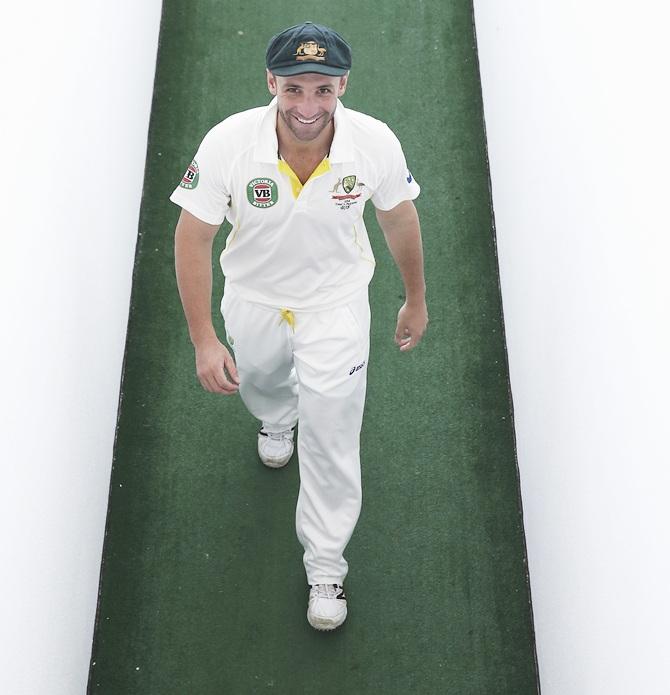 Australia cricketer Phillip Hughes. Photograph: Ryan Pierse/Getty Images
An innings of 63 not out normally doesn't ring a bell but but Hughes, who was gearing up to wear his favourite 'Baggy Green' for the 27th time in a Test match, found his life cut short three days ahead of what would have been his 26th birthday. He was struck on the head by a bouncer from Sean Abbott during a domestic match, and that was the beginning of the end.

The number '63' became immortal and Hughes became '63 not-out Forever'.

It was tragedy that brought the cricket community together. From Karachi to Christchurch, Kolkata to Melbourne, London to Cape Town, everyone came together in the hour of grief.

While an emotional Australian captain Michael Clarke broke down on a number of occasions while fondly remembering his 'Little Brother', one also saw an otherwise bullish David Warner wipe a tear as he completed his century against India in the first Test against Adelaide.

Back to the field, even the exclusion of the likes of Sehwag and Yuvraj didn't change Mahendra Singh Dhoni's poor away record as Test captain with India losing series in South Africa, New Zealand and England. India also lost the World T20 finals to Sri Lanka as Mahela Jayawardene and Kumar Sangakkara brought the curtains down on their T20 international career.

The tragic part of India's series defeat in England, was that it happened after recording a memorable win at Lord's, India's first victory at the venue since 1986 courtesy of lanky pacer Ishant Sharma, who bounced the Englishmen out.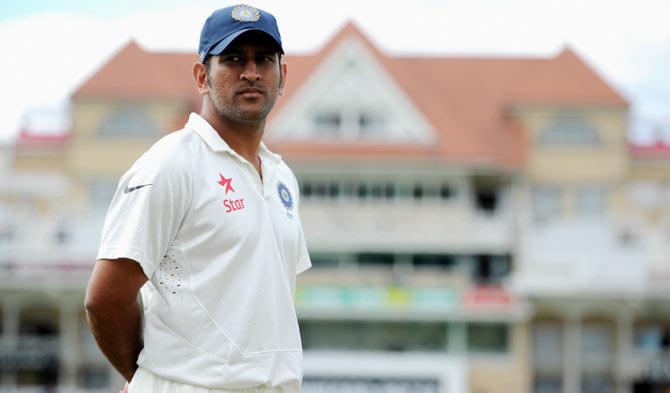 India captain Mahendra Singh Dhoni. Photograph: Gareth Copley/Getty Images
Strangely, the momentum was lost in the next Test at Southampton as Ishant was out injured. England duly levelled the series and there was more embarrassment waiting for Dhoni and Co. as they lost the next two Test matches at the Old Trafford and the Oval in under three days due to poor technique in adverse conditions.
- Revealed! Why Dhoni has failed the Test

While Jimmy Anderson no doubt made life difficult for Virat Kohli and company, it was intriguing to find Moeen Ali, with his part-time off-breaks walk away with 19 wickets in the five-match series.

India's problem against off-spinners was not one-off and that was proved when Nathan Lyon scalped 12 wickets in India's 48-run defeat in the first Test of the ongoing series.

Murali Vijay emerged as one of the most improved batsmen in the past year. Ajinkya Rahane looked one solid player in the middle-order. Cheteshwar Pujara and Rohit's form have been patchy but they do have the talent to overcome difficulties, be it in technique or temperament.

The bowling is a cause for concern as Ishant, Varun Aaron and Umesh Yadav have not been consistent enough. Ravindra Jadeja and Ravichandran Ashwin are yet to prove their mettle away from home.