'I feel my bowling is all about reading what batsman is trying to do. The other part is executing what I am trying to do.'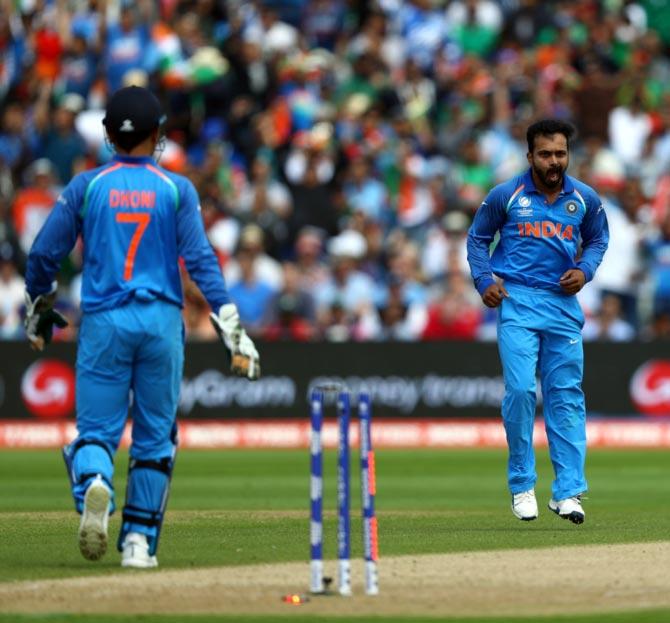 IMAGE: Kedar Jadhav celebrates a wicket with Mahendra Singh Dhoni. Photograph: Michael Steele/Getty Images
Mahendra Singh Dhoni is known to extract the most out of street smart cricketers and turn them into match-winners.

He has done that successfully with Ravindra Jadeja when he was the captain and now he is helping Virat Kohli mould Kedar Jadhav into a potential game changer.

It was evident in part-time off-spinner Jadhav effecting twin dismissals of set batsmen like Tamim Iqbal and Mushfiqur Rahim, which played a big role in India's convincing nine-wicket victory in the semi-finals of the ICC Champions Trophy on Thursday.

"From the time I have been in this Indian team, I have been spending a lot of time with MS Dhoni, trying to soak in all the knowledge he has.

"I share a bond with him and if I can read from his eyes as to what he wants me to bowl. I just try to bowl that delivery and it works," Jadhav's revelation made it clear as to what role the former India captain plays in fine tuning the strategy for Kohli.

In fact, Kohli admitted that it was Dhoni, who suggested that Jadhav be brought as the Bangladeshi batsmen were playing other spinners comfortably.

"Yeah, when moves like this pay off, I won't take the whole credit. Obviously, I asked MS (Dhoni), as well, and we both decided that Kedar is a good option at the moment, and he bowled really well. Credit to him," Kohli had said after the match.

"Kedar doesn't bowl much in the nets, but he is a smart cricketer. He knows where the batsmen will be troubled, and if you can think like a batsman when you are bowling, it's obviously a bit of an advantage to any bowler. So I think that today he executed plans perfectly," the skipper said.

Even Jadhav agreed what his skipper felt.

"I feel my bowling is all about reading what batsman is trying to do. The other part is executing what I am trying to do. It is one of those days when I read them well and executed my plans perfectly," India's pocket dynamo said.

The confidence he has in his bowling comes from the fact that Dhoni used him as a surprise weapon during the ODI series at home against New Zealand last year.

"I have been bowling in the nets also. Before this game, I had six wickets in ODIs, most of them were pure batsmen and not tail-enders. I had that confidence in my bowling that if a batsman tries to go for big shots, he will find it difficult because of my variations in pace," he explained.

He is primarily a batsman but is not worried that due to stupendous performance from the top-order, he is yet to get considerable amount of batting time.

"As long as the team is winning, I am not worried whether I don't get to bat for 5, 10 or 15 matches. Whatever my team wants me to do, I should be able to do that for them."
© Copyright 2023 PTI. All rights reserved. Republication or redistribution of PTI content, including by framing or similar means, is expressly prohibited without the prior written consent.